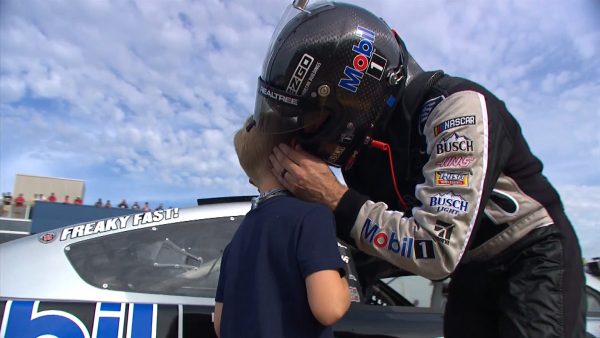 "For me as a dad, it's probably the coolest thing that you could ever do," Kevin Harvick said.
What was NASCAR driver, Kevin Harvick talking about? It was the priceless moment he shared with his son, Keelan. After Harvick won at Michigan he celebrated the victory with his son as they meet in pit road. Kevin and Keelan got back into the number 4 car and did a burnout. Harvick and the Monster Energy NASCAR Cup Series race next at Bristol Motor Speedway (Aug. 17 at 7:30 p.m. ET).
A Touching Moment Celebrating The Win With His Son
After that Keelan went to the flag stand to retrieve the checkered flag. It was a symbolic gesture from what happened last year when they were in Michigan. Kevin told reporters, "I had to go to an appearance, so he met me in Dearborn and we went to the Tigers game on Thursday night, and we got back to the bus and the flag was in there, and I'm like, 'Why in the world did you bring the flag?' And he's like, 'It's got to be good luck. We need to take two flags home."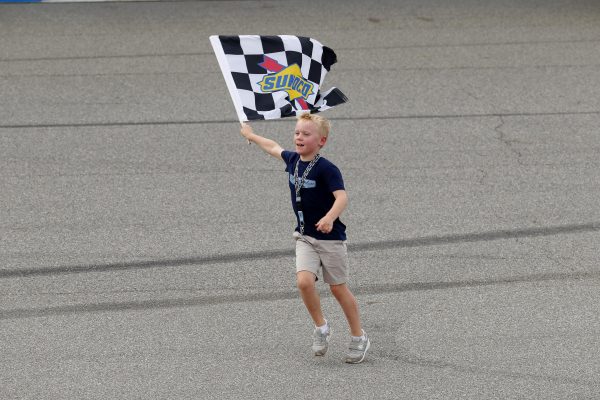 It was almost as if Keelan knew that his dad would win the next time he would race on the track. Harvick goes onto say, "This is my job, and a lot of people don't realize how family oriented NASCAR racing really is. He comes with me all summer, same thing we've done for the past few years, and this year we didn't wreck any golf carts or tear anything up at the golf course, so we just played golf. He still drove, but we didn't crash. For me it's making those memories, and to be able to do that with him. Heck, he may never get to do a donut in his life or hear 40,000, 50,000 people screaming and yelling, and that enthusiasm of the excitement from the crowd. Those are neat experiences that most kids don't get to experience, but most kids' dads don't race cars, and for me to be able to share that with him is pretty neat, and for NASCAR to let us do that and make those memories is also pretty awesome."
It Is All About Family
NASCAR reached out to me to see if I wanted to chat with Kevin about that moment and to get even more of his thoughts on fatherhood. I was so excited to get that email from NASCAR. I feel that NASCAR embraces family and makes sure that the drivers get to celebrate victories with the people that mean the most to them, their family. Check out the video below and stay tuned for my full interview with Kevin on The Life of Dad Show.