Life of Mom and I recently celebrated 15 years of perfect matrimony. Well, not nearly perfect to be honest. We have three kids between the ages of 8 and 13, along with two dogs, three jobs, and so much more…
We have a lot going on every day, so for our 15th Anniversary we wanted to get away to somewhere to just relax.
With the kids about to start school, we didn't even have too much time to pack, so a string of islands with the theme, "Come as you are" sounded just perfect to us.
We were super excited to be working The Florida Keys & Key West Tourism board, and in full disclosure, they sponsored our amazing trip to Key Largo, Key West, Marathon, and all of the other amazing Florida Keys. Looking for a getaway to celebrate something special? Well, your answer will hopefully be clear after reading this…. And the way you can go about planning this dream trip is by visiting fla-keys.com.
We flew into Miami on a Sunday morning, and were off and running, here is how it went down…
SUNDAY
Life of Mom and I arrived at Miami International Airport, jumped in our Mustang Convertible rental car and headed towards the Florida Keys. That's a sentence I never thought I'd write, but I'm so glad that I'm now able to!
I learned that there are 44 islands (Keys) connected by the Overseas Highway, and it's a 125-mile long island journey. In all, the number of Keys can sometimes be as high as 1800, depending on how low the tide is. You're welcome for that knowledge. Yeah, I guess you can call me an expert now?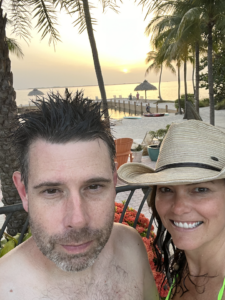 After about a 90 minute drive from Miami, we arrived in Key Largo, where we had a long brunch, and then checked into the incomparable Kona Kai resort.
Since we were traveling minus kids, we didn't mind that this was a kid-free zone. It honestly felt like our honeymoon all over again. We went paddle boarding, kayaking, swimming, and hung in our own private bungalow. The view was so beautiful at the resort, that we didn't want to leave that first evening, so we didn't. We hung out by the private beach watching the sunset, and reminiscing about our wedding day, just a few days short of 15 years ago.
MONDAY
We woke up excited about getting the chance to board the 100+ year old boat, the African Queen. Used in the classic film of the same name, starring Humphrey Bogart and Katherine Hepburn, I got to captain this historic steamboat, and we saw the Florida Keys from the Gulf of Mexico. We watched the movie with the kids when we got home, which made this boat trip a memory we'll have for a lifetime. Our actual Captain and guide was just fantastic, and I highly encourage you taking this excursion when you make it down to the Keys. I got a little self conscious that morning thinking everybody was staring at me…but then I realized, that they were all in awe of this classic boat —by far the oldest boat in the Florida Keys.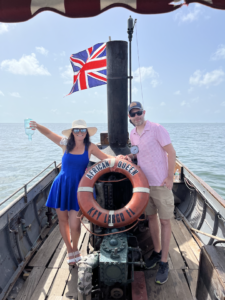 After a quick lunch, we relaxed back at Kona Kai, where I did some swimming and kayaking as Life of Mom took a nap.
If you know me, not many things would be more exciting to me then sharing a couple of flights of beer with my wife, and the Florida Keys Brewing Company did not let us down. During a private tour of the brewery, we loved hearing the family story of how this place came about, and I'm now borderline obsessed with their beer.
The vibe at Florida Keys Brewing Company was amazing. They have a colorful and fun beer garden with live music and family activities, and an indoor tasting room that was popping on a Monday evening. I can't wait to go back some day!
Just a few doors down we had a reservation at Chef Michael's in Islamorada. This may have been the best dinner I've ever had. Even though this was a seafood restaurant, Lucy and I couldn't pass on the steaks. She go the Filet, and I got the Prime Rib. Add a couple of sides, bean soup, and a wedge salad, and this was a delicious and memorable dinner which I won't forget for a long time. Thanks to the wait staff for taking such great care of us!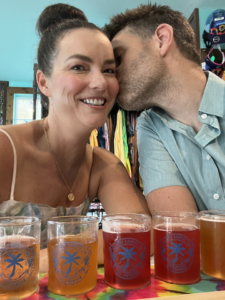 TUESDAY
After a great night's sleep, we checked out of Kona Kai (thank you Katherine for a great experience!) and our next stop was Key West! After a beautiful drive of a couple hours, seeing many keys and crossing the 7 Mile Bridge (what an amazing piece of architecture), we made it to the Perry Hotel & Marina in Key West. After having a drink at the pool, and looking out to the Marina from our Balcony, we took the hotel shuttle to the historic Duval Street in Key West.
We boarded the Land's End Sunset Sail, hosted by Sebago Key West. The boat was cool, and the crew was amazing. Our super friendly captain and his two assistants were our sailers and our bartenders. They were playing fun music, pulling up the sail, and serving drinks all night long. We cruised past the Southernmost point of the United States, and were having a blast until storm clouds quickly formed. The Captain got us back to the dock just in time before a massive downpour and thunderstorm. The rain was so strong, that we all just stayed on the boat for an additional half-hour, and the drinks kept flowing. We met two additional couples who were celebrating their anniversary the next day as well!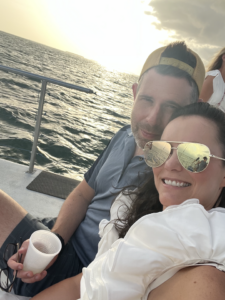 Dinner was hosted for us by the Half Shell Raw Bar, where we shared delicious seafood appetizers and meals, and I loved the vibe of this place. Our table was overlooking the marina, and I can understand why this restaurant is known as the Original Key West Seafood Restaurant. The place felt historic, and had the perfect laid back, friendly, and casual vibe.
WEDNESDAY
We woke up on our actual anniversary, and I was excited for a snorkeling and dolphin watching adventure. We boarded a boat from Honest Eco…. And much like the night before, this one had an amazing crew. Captain Katie was in charge, and both her and her assistant were so friendly, helpful, and fun.
It was lobster season in Key West, so there were many more boaters than usual. Captain Katie did a great job navigating the seas, and showing us all around. We were unsuccessful in finding dolphins for the first couple hours, so it was time for some snorkeling. As a first time snorkeler, I thought it was so cool to be in the ocean where I saw coral, sponges, fish, and lobster. I don't want to say that I could be a professional snorkeler, but I also can't say that I won't be some day.
While heading back after I broke some snorkeling records, when we ran into the dolphins. We saw eight or so of them, and it was almost as if they were flirting with the boat. Playfully riding alongside us, and jumping in and out of the water, the dolphins put on a show, almost as if they were hired by Honest Eco….it was just awesome.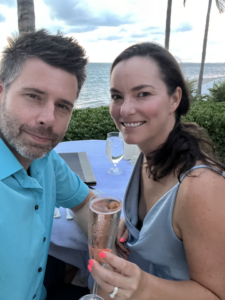 After lunch by the pool at Perry Hotel and a long nap, we were getting closer to our anniversary evening, which was going to be highlighted by dinner at Latitudes Restaurant on a PRIVATE ISLAND in Key West. While we were waiting for the boat to take us there, we had a couple of delicious drinks on the waterfront.
Once we arrived at Latitudes, we were absolutely stunned by the table they saved for us. What better way to celebrate our 15th than with a sunset view in the Florida Keys? The drinks were delicious, the food was great, and we had the most wonderful time.
THURSDAY
We left Key West and headed back east from key to key, on that beautiful drive, until we ended up in Marathon at the Grassy Flats Resort and Beach Club.
From checkin, this place was astonishing. It felt like we were arriving at a tropical spa. I've been to many places, but our balcony view may have been the most beautiful I've ever seen. The palm trees, the beach, the ocean…just perfect.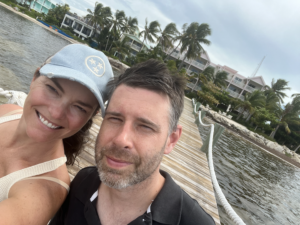 Sipping on our complimentary welcome drinks, we hung out on the pier watching the water sports activities that Grassy Flats offered. We watched guests hang gliding, paddle boarding, and surfing.
After a couple drinks at the tiki bar, my wife took her customary hour getting ready for dinner, and I couldn't have been happier, just relaxing on our balcony.
Dinner was at Angler & Ale at Hawk's Cay Resort. The wait staff, the meal, and the fun had here was a perfect end to our trip. We may have had a few too many drinks, we may have ordered on too many appetizers, but the meal was simply amazing. My burger was one of the most beautiful sights I had ever seen.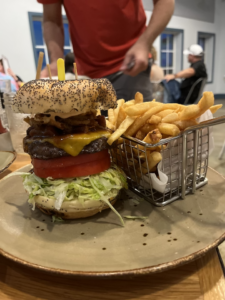 FRIDAY
We checked out as late as possible from Grassy Flats Resort and Beach Club, because we absolutely loved this place. We flew home that afternoon, and saw our kiddos and told them all about our incredible trip. Time to snap back to reality with school starting on Monday, but the memories from this trip will last forever.
Thank you so much to the Florida Keys & Key West Tourism Board for hosting our stay, we had the absolute best 15 year anniversary! #SoulCenteredGetaway #OnlyInTheKeys