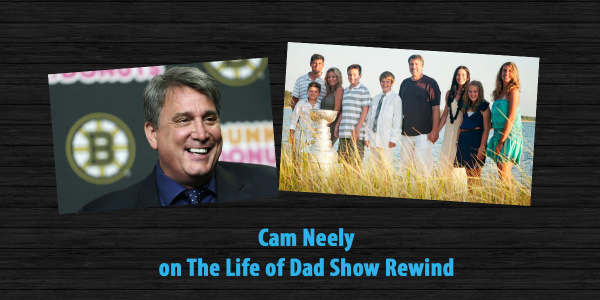 Cam Neely is this week's guest on The Life of Dad Show – Rewind Edition
On The Show
The Life of Dad Show, host Art Eddy shares an interview he did a few years back with Cam Neely. Cam was gracious enough to take the time to talk with Art about the current state of the NHL, his playing career, his work as the president of the Bruins, fatherhood, and his role in Dumb and Dumber.

About Cam Neely
Cam Neely had an outstanding playing career in the NHL. He played 13 seasons for the Vancouver Canucks and Boston Bruins. Most of his playing career was in a Bruins uniform. In 2005 he was inducted into the Hockey Hall of Fame. Currently Cam serves as the president of the Boston Bruins. Cam was instrumental in organizing the Bruins 2011 Stanley Cup Championship.
Cam set up The Cam Neely Foundation. He set this foundation up to help those who are battling cancer and assist their family members as well. Neely lost both of his parents to cancer. Cam knows the pain of seeing a loved one battle this disease. He and longtime friend, Denis Leary work together to run their annual "Comics Come Home" comedy night that raises money for Cam's foundation.
Neely also has been in a few TV shows and most notably played the cult classic role of Sea Bass in the movie Dumb and Dumber.
About The Life of Dad Show
The Life of Dad Show is the multimedia flagship property of the world's largest network for fathers. With 600,000 downloads of its popular podcast and 300,000+ viewers of the Facebook Live show since 2017, The Life of Dad Show has gathered advice, stories and strategies from an unparalleled list of household names, from Shaq to Jim Gaffigan, to Michael Strahan and Mark Hamill, each offering a glimpse into their personal life as a dad. The show airs Mondays and Wednesdays on Facebook Live, YouTube and Instagram TV. The podcast comes out weekly.
Subscribe to The Life of Dad Show on iTunes and leave a review and you could win a Life of Dad prize pack.