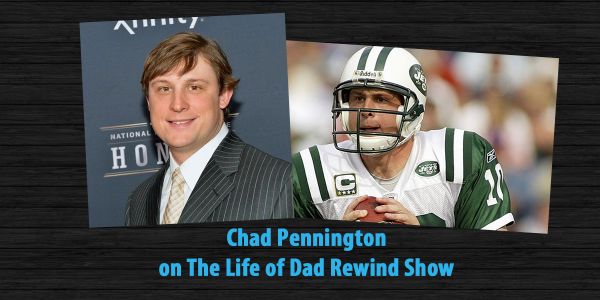 Chad Pennington is this week's guest on The Life of Dad Show – Rewind Edition
On The Show
The Life of Dad Show, host Art Eddy shares an interview he did a few years back with Chad Pennington. Chad and Art talk about his time in the NFL, fatherhood, winning the NFL Comeback Player of the Year Award, and his foundation.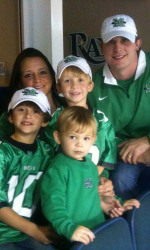 About Chad Pennington
Chad Pennington played in the NFL for eleven years. He was selected by the New York Jets in the first round in the 2000 NFL Draft. He played for the Jets then played for the Miami Dolphins. Chad won the NFL Comeback Player of the Year Award twice. He is the NFL's all-time leader in career completion percentage. He is currently a color analyst for NFL telecasts on FOX.
Besides having a great career in the NFL, Chad and his wife, Robin started up the 1st and 10 Foundation. That organization was created to build stronger communities by funding programs to help improve quality of life. They are also busy with their three sons, who love to play outdoors just like their dad.
Follow Chad on Twitter at @ChadPennington.
About The Life of Dad Show
The Life of Dad Show is the multimedia flagship property of the world's largest network for fathers. With 600,000 downloads of its popular podcast and 300,000+ viewers of the Facebook Live show since 2017, The Life of Dad Show has gathered advice, stories and strategies from an unparalleled list of household names, from Shaq to Jim Gaffigan, to Michael Strahan and Mark Hamill, each offering a glimpse into their personal life as a dad. The show airs Mondays and Wednesdays on Facebook Live, YouTube and Instagram TV. The podcast comes out weekly.
Subscribe to The Life of Dad Show on iTunes and leave a review and you could win a Life of Dad prize pack.