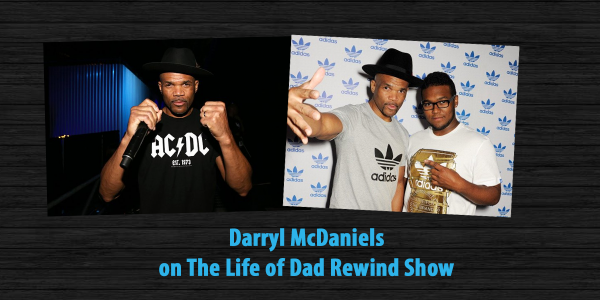 Darryl McDaniels is this week's guest on The Life of Dad Show – Rewind Edition
On The Show
The Life of Dad Show, host Art Eddy shares an interview he did a few years back with Darryl McDaniels. Art talks with a true Rap legend about creating his own comic book, his influence in the world of Hip-Hop, helping out foster kids, and fatherhood. Recently Darryl's long love for comic books has come to the forefront in the entertainment industry. Working alongside his partner and collaborator Edgardo Miranda-Rodriguez, "DMC #1," the first full length graphic novel made its way to comic book shelves. DMC received an impressive response when he debuted his book at the New York Comic Con.
About Darryl McDaniels
Hip-Hop legend. Artist. Musician. Innovator. Father. There are many facets that make up Darryl McDaniels or as we know him as DMC from the beloved Rap group Run-DMC. For over 30 years he, Run, and Jay's music has influenced so many people. From "Rock Box" to "Walk This Way" and countless other hits DMC to help shape the music industry.
Follow Darryl on Twitter @THEKINGDMC and check out his website!
About The Life of Dad Show
The Life of Dad Show is the multimedia flagship property of the world's largest network for fathers. With 600,000 downloads of its popular podcast and 300,000+ viewers of the Facebook Live show since 2017, The Life of Dad Show has gathered advice, stories and strategies from an unparalleled list of household names, from Shaq to Jim Gaffigan, to Michael Strahan and Mark Hamill, each offering a glimpse into their personal life as a dad. The show airs Mondays and Wednesdays on Facebook Live, YouTube and Instagram TV. The podcast comes out weekly.
Subscribe to The Life of Dad Show on iTunes and leave a review and you could win a Life of Dad prize pack.