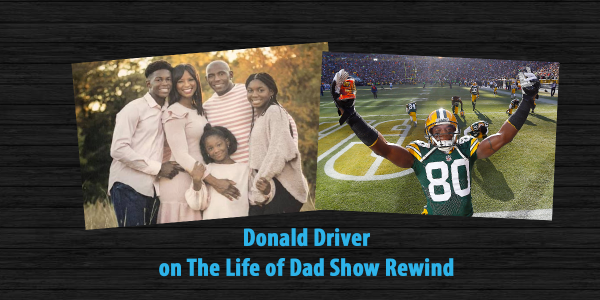 Donald Driver is this week's guest on The Life of Dad Show – Rewind Edition
On The Show
The Life of Dad Show, host Art Eddy shares an interview he did a few years back with Donald Driver. Donald talks with Art about playing in the NFL, his children's book series and the joys of fatherhood. Donald shares with Art some of the values he looks to instill into his kids.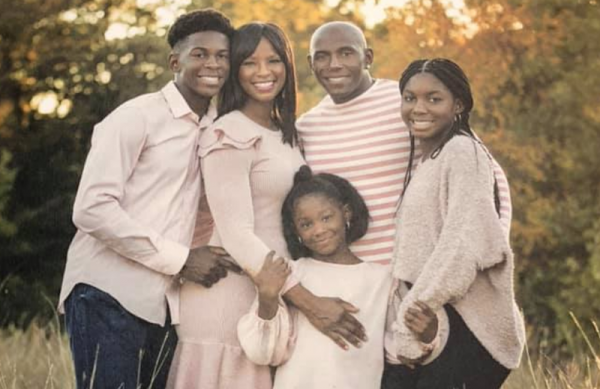 About Donald Driver
Donald Driver didn't just make an impact in the NFL, but he did off the field as well. Growing up as a kid Donald and his family faced tough times. Driver took that adversity and used it as motivation to create a better life for himself. Football fans know the mark he left not only in Green Bay, but throughout the league. The four time Pro Bowler helped the Packers win Super Bowl XLV in 2011 as Green Bay beat the Pittsburgh Steelers 31-25.
The Green Bay Packers Receiving Yards All-Time Leader also won the Ed Block Courage Award. This award is given to players, who are voted by their teammates as role models of inspiration, sportsmanship, and courage. Driver continued to inspire people when he created the Donald Driver Foundation in 2001. The foundation helps families find homes, assists in educating kids, and helps recognize those people who do wonderful things in their community.
Driver is an accomplished author as well.
His book Driven was on the New York Times Best Sellers list. He has also written three children's books. Each book focuses on a challenge a kid or an adult may experience in life.
Follow Donald on Twitter at @Donald_Driver80.
About The Life of Dad Show
The Life of Dad Show is the multimedia flagship property of the world's largest network for fathers. With 600,000 downloads of its popular podcast and 300,000+ viewers of the Facebook Live show since 2017, The Life of Dad Show has gathered advice, stories and strategies from an unparalleled list of household names, from Shaq to Jim Gaffigan, to Michael Strahan and Mark Hamill, each offering a glimpse into their personal life as a dad. The show airs Mondays and Wednesdays on Facebook Live, YouTube and Instagram TV. The podcast comes out weekly.
Subscribe to The Life of Dad Show on iTunes and leave a review and you could win a Life of Dad prize pack.