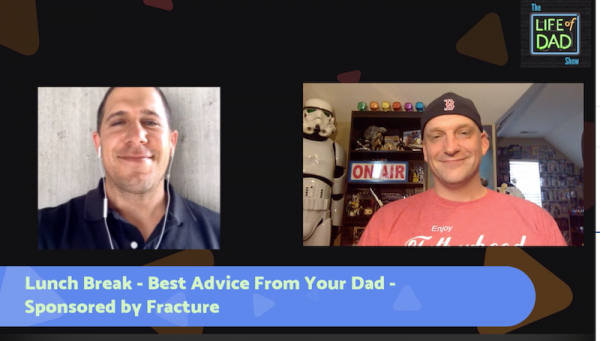 What is the best advice you received from your dad?
On The Show:
What is the best advice or life lesson you received from your father? Do you use that advice now as a dad? The Lunch Break hosts, Art Eddy and Jon Finkel share their stories on the lessons they have learned from their fathers. This week's show is brought to you by Fracture. We are giving you a chance to win a $70 Fracture gift card.
Fracture looks to help you share your stories and savor your memories. Fracture believes that sharing stories with one another is an essential part of being human. Fracture creates prints that are perfect gifts for birthdays and special occasions. For more information go to fractureme.com.

What some of our viewers said:
Nicole Marie · I still appreciate what my dad taught me NOT to be as a parent. He taught me how incredibly important it is to be there for your kids and to make sure they know how loved and important they are!
Robbie McKinney · My dad taught me to love deeply, be honest and make the best french toast on Earth. Plus sharing our faith and praying. Lastly, loving the Lord, miss ya dad rip dad.
Shawn Kingbird · Dad advice comes from all aspects of growing up. Little boy to Man. Man to Father. Father to Family. Ask me when I'm 80 about the best Dad advice I've gotten. Right now, he still letting me fall on my face to learn.
Lisa Phillips · Get what you get and don't throw a fit! Now that I am older I have realized that I was being taught gratitude and that sometimes times were tough and that if I want something I have to work hard for it!
Chris Seastrand · My advice came from my grandpa not my dad. When I was learning to drive he told me, you can be right, but you can be dead right too. Always stuck with me
About The Lunch Break Hosts
Art Eddy is one of the co-founders of Life of Dad. He hosts and produces all of the Life of Dad podcasts as well as several Facebook Live Shows. He has been responsible for securing nearly two hundred guests for a variety of Life of Dad platforms, including dozens of A-List fathers throughout the pop culture, sports and business landscape. He is also an editor and featured blogger on Life of Dad and has grown with the brand since its inception. His background is in Radio and Journalism. Art has worked in radio in New York City, New Jersey and New Hampshire.
Jon Finkel's books have been endorsed by everyone from Tony Dungy and Spike Lee, to Jerry Jones and Jeff Van Gundy. He is the author of The Athlete: Greatness, Grace and the Unprecedented Life of Charlie Ward. He also wrote "Mean" Joe Greene: Built By Football with 4x Super Bowl Champion Joe Greene, Heart Over Height with 3x NBA Dunk Champion Nate Robinson and Forces of Character with 3x Super Bowl Champion and Fighter Pilot Chad Hennings. He also wrote the popular fatherhood fitness book, The Dadvantage. As a feature writer, he has written for Men's Health, Men's Fitness, The New York Times, GQ, Details, Yahoo! Sports and many more. He is an avid speaker, writer and creative strategist for some of the biggest brands in sports and health. Visit: www.jonfinkel.com
Follow Art on Twitter at @ArtEddy3 and Jon on Twitter @Jon_Finkel