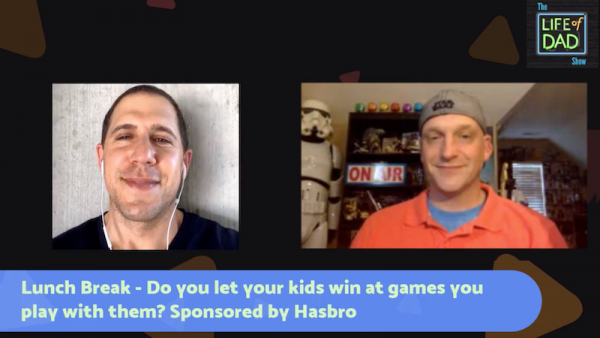 Do You Let Your Kids Win When Playing Games With Them?
On The Show
Do you let your kids win games when they play against you? The Lunch Break hosts, Art Eddy and Jon Finkel talk about this topic and how they play games with their kids. Are there certain age for a child where parents should not let their child win? Let us know your thoughts in the comment section below. We will give you a chance to win a copy of the new game Plumber Pants from Hasbro, who is today's show sponsor.
Hasbro Gaming presents a fun new game called Plumber Pants!
Oh no…the plumber is fixing a clog under the sink and he's getting pranked! His pants just might fall down…and that means everyone gets sprayed with water! In this Plumber Pants game, players take turns raiding his toolbox and loading the tools onto his belt. Be careful! If the plumber's pants fall down on a player's turn, water will spray from the sink, and that player will be out. The only player not to make his pants fall down wins. PLUMBER PANTS game includes game unit, plastic faucet, 10 plastic tools, toolbox, and instructions. Available at most major retailers nationwide.
What some of our audience said:
Toby Schultz · It's a teaching thing that they get some wins and they get some losses. But they know Dad is the best 😝
Jean-Paul Mosquera · I actually enjoy watching my kids win. Shows their focus and dedication to a game and them not giving up to win.
Rob Montoto · No, growing up my mother taught me rummy, backgammon and chess. I never won a game until I won. Once I won a game of chess she rarely ever won a game. But she was a killer in Scrabble. I never won.
Randy Mains · No it is a better and more required skill to lose than to know how to win.
Shawn Kingbird · I let them win Races, Board Games, card games, video games, thumb wars, hide and seek but dont come into the paint thinking dad wont send your shot attempt into the bleachers. #NotInMyHouse
About The Lunch Break Show Hosts:
Art Eddy is one of the co-founders of Life of Dad. He hosts and produces all of the Life of Dad podcasts as well as several Facebook Live Shows. He has been responsible for securing nearly two hundred guests for a variety of Life of Dad platforms, including dozens of A-List fathers throughout the pop culture, sports and business landscape. He is also an editor and featured blogger on Life of Dad and has grown with the brand since its inception. His background is in Radio and Journalism. Art has worked in radio in New York City, New Jersey and New Hampshire.
Jon Finkel's books have been endorsed by everyone from Tony Dungy and Spike Lee, to Jerry Jones and Jeff Van Gundy. He is the author of The Athlete: Greatness, Grace and the Unprecedented Life of Charlie Ward. He also wrote "Mean" Joe Greene: Built By Football with 4x Super Bowl Champion Joe Greene, Heart Over Height with 3x NBA Dunk Champion Nate Robinson and Forces of Character with 3x Super Bowl Champion and Fighter Pilot Chad Hennings. He also wrote the popular fatherhood fitness book, The Dadvantage. As a feature writer, he has written for Men's Health, Men's Fitness, The New York Times, GQ, Details, Yahoo! Sports and many more. He is an avid speaker, writer and creative strategist for some of the biggest brands in sports and health. Visit: www.jonfinkel.com
Follow Art on Twitter at @ArtEddy3 and Jon on Twitter @Jon_Finkel