If you are a fan of Showtime's Shameless or Amazon's Bosch then you probably have seen actor, Peter Macon in action. Now Peter will star opposite Seth MacFarlane in FOX's upcoming hour-long comedic drama The Orville with Jon Favreau directing the show. 
The series is set 300 years in the future, the series follows the adventures of the Orville, a not-so-top-of-the-line exploratory ship in Earth's interstellar fleet. Facing cosmic challenges from without and within, this motley crew of space explorers will boldly go where no comedic drama has gone before. Macon plays Lt. Commander Bortus. 
Macon is classically trained at Yale (MFA), he spent five years at the Oregon Shakespeare Festival playing leads in the productions of Macbeth, Othello and the like. Peter also won a Creative Arts Emmy Award in 2002 in the category of 'Outstanding Voice-Over Performance' for his voice-work narrating Animated Tales of the World.
Art Eddy: You are staring in the show The Orville, an upcoming comedy-drama science fiction television series created by Seth MacFarlane. It will be on FOX. Saw the trailer for this series. It looks really funny. Tell me about the series and your role as Lt. Commander Bortus.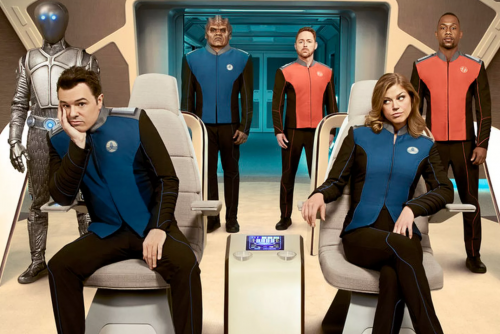 Peter Macon: It is something else brother. I don't think that I have ever seen anything like this on TV. I am a fan of Seth's work like Family Guy, Ted and American Dad. Sometimes you have to rewind and be like did they just say what I think they said? Oh yeah they did. (Both laugh.)
(Seth) is a robot. He doesn't stop. Not only is he number one on the call sheet which means he is in every scene, but he is also the executive producer. He is wearing the hat of the creative consultant, writer and anything that has to do with any amount of detail. He is on it.
He built this world where the comedy is slap sticky and wrong. There are some things where I was saying I can't believe that we are filming this. Specifically Episode 12.  That is all I am going to say. (Both laugh.)
I play Bortus, who is a Moclan from the planet Moclus. It is a planet full of dudes. The whole planet is all men. You are like how do you procreate? Funny you should ask. (Both laugh.) You have all of these juxtapositions where it is a warrior culture. My mate and I went on our first date to something like a laser tag or paint ball. We slayed many enemies together. It is out there. I do lay an egg. They are like what because I go in and ask for paternity leave because I need to sit on my egg.
It is a trip. Apparently we only pee once a year. We can eat anything. People equate the character to Worf in Star Trek. He really doesn't have a sense of humor. I am the straight guy. I am like the anchor if you are doing tug-of-war. He is very sensitive too which is funny. It is as if Star Trek and Family Guy had a baby.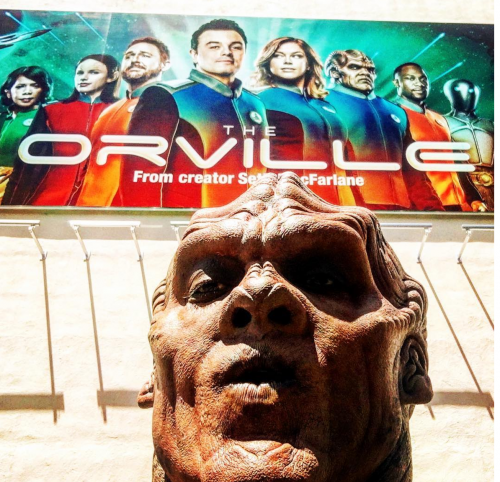 AE: You and the rest of the case have a great sense of humor. Were you guys able to improv at all or did you mostly stick to the script?
PM: We don't necessarily improv or ad-lib on the script per se, but we do riff and brainstorm on ideas. We don't do that much improv since Seth is a wordsmith. It is almost as if he has written a score. He is very specific. I wouldn't say persnickety because that implies being anal. He is very close with the text, but with that being said we do joke around and come up with scenarios. Then he will go ahead and write them into the world that we are creating.
We are always joking and goofing around between takes scenes. Sometimes you will get a tongue twisting twisty line and it will take fifteen to twenty runs at it to get it tonally and sonically right. He writes like he thinks. He is open to things. He is not a tyrant. He is very specific about the words.
AE: What popped into your mind when you found out that you were going to be a father for the first time?
PM: Two years ago I was in Colorado at a Shakespeare festival playing Othello for the third time. I was also teaching an intro to acting class to football players. My lady came out and we hung out. I had to come back here to do some stuff in L.A. I was like I think we just made a baby. (Both laugh.)
We had just gotten out of rehearsal and she texted me saying I think we did it this time. I knew exactly what that meant. I just then sat down. I don't know what vertigo feels like. I was sitting down and imagine if the camera is in my face and I am looking down at my text message. I look up at the camera. The camera stays in focus, but it just racks back 100 yards.
His nickname is Poppy because when we found out he was the size of a poppy seed. My life all of a sudden had more meaning and purpose than I could have ever imagined.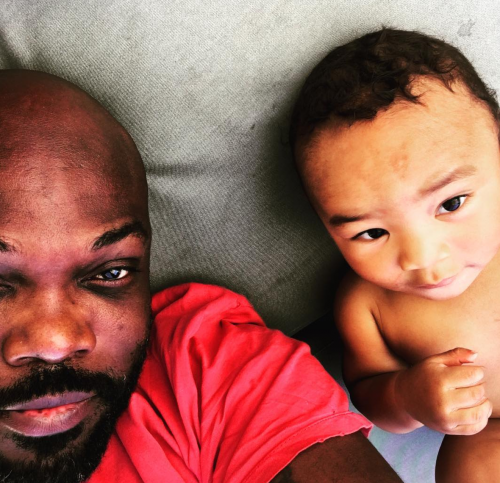 AE: What are some of the core values you look to instill into your son as he grows up?
PM: Truth. Honesty and being yourself and love. Treating people good. He is a super social cat. Everyone loves him. Now he does the blowing kisses thing. Also, to not be afraid. My dad was a man's man. He had a big scar on his forehead. He was a trucker, a biker and he was an alcoholic. I can't believe my mom put up with have the (stuff) he put her through.
I knew that he loved me. I knew that he would do anything for me. He wasn't touchy feely. He didn't tell me that he loved me very much. I can count on one hand on the times that he has given me a hug.  I don't know how big this guy will get, but he is a big boy. He will be bigger than me. I am going to kiss him and hug him. We will laugh a lot. I will always be there for him. What if he is gay? I will be like cool he is gay. What if he is transgender? I am going to be the rock for him. As long as I am alive he is not going to be without guidance.
I am going to instill in him to be a good and loving and a righteous individual. We will see how that sticks. I know that he has a temper like me. I have been avidly working on my temper since I was eleven.
AE: What is the one biggest piece of advice you have for new dads?
PM:  I got to cut the umbilical cord which by the way is not as easy as they make it out in the movies. It is not a snip. It is like a big gummy worm. I was like why are you giving my dull scissors to do this? (Both laugh.) No one tells you that. I am going to tell all my dad friends who are expecting that is one of the details that gets swept under the rug. The umbilical cord is thicker than you think player. It is not a snip, snip. You just have to keep on working with those dull scissors. Everything will be just fine.
AE: Do you guys have a favorite family movie that you all love to watch together?
PM: I don't know. We like movies. It is funny we were just saying how we can't wait to take him to the movies. I would say all the animated ones.
AE: Do you guys have a favorite song that you all like to sing to or dance to as a family?
PM: He is such a dancer. He gets down to any music. We turn on music and he starts to do squats and then bounces. He likes Jazz. We were listening to Billie Holiday this morning. We don't have a favorite song. He has a few shows that he watches that has certain songs, but he likes everything.
AE: Describe the perfect family vacation.
PM: The perfect family vacation is about to go down. My lady's brother is getting married. So we are going to Long Beach and getting on a cruise ship. Then we are going down to Mexico. We also had a really good time in Dublin when it was the three of us.
AE: Favorite science fiction character is….
PM: (Rick) Deckard from Blade Runner.
AE: Name an actor you would love to work with on your next project.
PM: There are so many. One of my favorite actors is Tom Hardy. His Bane! Then in Legend. I think he is so transformative.
Follow Peter on Instagram at @PeterJerrodMacon.
https://www.youtube.com/watch?v=cMKECRnZe2U