Parents these days are much more inclined to introduce their own kids to influences from their childhood than ever before.  Maybe it's because the 80's were the best years ever to grow up in. Best music, best movies, best foods, best childhoods. Why wouldn't we want to share that with our kids? Showing them what we grew up with and why it was so great gives them a glimpse into our own lives.
I want to be able to share so much of how I grew up with my kids, but since it was a whole generation ago, not everything is quite so repeatable. My kids won't know the joys of wind blowing through their hair as they race bicycles down hills, because we now recognize that helmets are probably a good idea. Also, they will never have a cross aisle rumble while driving down the highways, thanks to the car-seats we now use. However, some things are just as good as they were when I was growing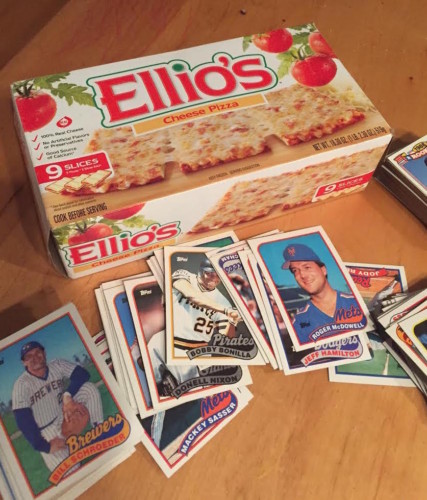 up. Classic video games I loved as a kid have found new life on the internet and throwback consoles. Some of my favorite TV shows are easily accessible on Netflix. And one of my favorite foods is still available and as good as it ever was. Ellio's Pizza was pretty much the flavor of my childhood. Something easy for my parents to make and something I loved. Luckily they are as good now as they were then. Ellio's frozen pizza is a uniquely convenient, satisfying and fun snack or meal option you can feel good about serving your kids in no time. It's a fantastic uniquely rectangular shaped pizza using the freshest ingredients, 100% real cheese and no artificial flavors.  It might even taste better now that I'm the one making it.
While most of my friends and family tend to want to experience movies and music with their kids, I was never much into that stuff. As they watch Star Wars and The Goonies, or dance to New Kids on the Block and Flock of Seagulls, I just want to relive the nostalgia that kicks in when it comes to sports. And specifically, sports movies. Those were really the things I took most from the 80's. I was always a huge baseball fan (Go Mets!) so I naturally gravitated towards baseball movies. The one that had the most impact on me was Field of Dreams. In re-watching it recently, I think I love it even more now than I had in the past. While it resonated with me as a kid because of the sports and the relationship between dad and son, being a parent gives it all new meaning. I was always very close to my dad and he helped foster my love for sports. But to watch the movie as a father, I get to experience the emotion from both sides of the field. This is a movie I can't wait to share with my kids once they are old enough to sit through anything without cartoons. When I do, I'm going for the full nostalgia experience. It'll be Field of Dreams and Ellio's for me and the kids.
In fact, last week after my son's t-ball practice after he had crashed for the night, I got all nostalgic and threw an Ellio's 5 Cheese pizza in the oven, and started going through my 1980's baseball cards. It was a NY Mets and pizza type of night for me, and with the ease and convenience of it, I didn't have to do a lot of work to get it cooked and ready. The pizza is available in six different flavors, and two different styles! (FYI it's sold on a regional level, so check the store locator to find it near you.)

Field of Dreams, NY Mets, baseball cards, and Ellio's Pizza. It all just keeps getting better with time.
This is a sponsored post on behalf of Life of Dad and Dr. Oetker USA LLC. We have received compensation for this post; however, all opinions stated are our own.
Find Ellio's online!