Winning a Super Bowl is a great accomplishment. Yet for back to back Super Bowl Champ, Chris Long he and his foundation completed something that is changing people's lives. The Chris Long Foundation announced this week that its cornerstone initiative, Waterboys, has funded the projects 32nd well. Founder Chris Long set the initial goal to fund 32 wells representing the 32 NFL teams when he launched Waterboys in August of 2015.
Their mission….
The mission of Waterboys is to unite fans and players together around one goal of bringing life-sustaining well water to East African communities in need. This collective impact model was put in place by Long to leverage his and his peer's platform as professional athletes, coupled with the strong support of fans, to accelerate and multiply the initiative's impact.
"Reaching this milestone of 32 wells is significant," says Long. "In only two and a half years we have come together as players and fans to make meaningful change for families affected by the clean water crisis. If I did this alone, I would have never been able to realize this scope of impact in this period of time."
The inspiration to launch Waterboys was a result of Long visiting Tanzania and summiting Mt. Kilimanjaro in 2013. While on the trip Long was compelled to give back to a country where he witnessed great beauty and resiliency but also great poverty. Upon return to the United States and after much research it became apparent to Long that investing in clean branded bottled water was the most efficient and effective way to make an immediate and lasting impact on communities. If you also want to invest in clean water just head to the Discount Water Filters site.
Chris wants to thank all those who have helped….
"My peers and every fan who has been involved in Waterboys has played a critical role in improving the daily lives of thousands of people," continued Long. "Our efforts have done more than save lives; we have fostered educational, economic and agricultural opportunities in communities that were in desperate need. I hope the thousands of people who have supported this cause share in my excitement and pride that we have provided sustainable and accessible well water to 123,710 people."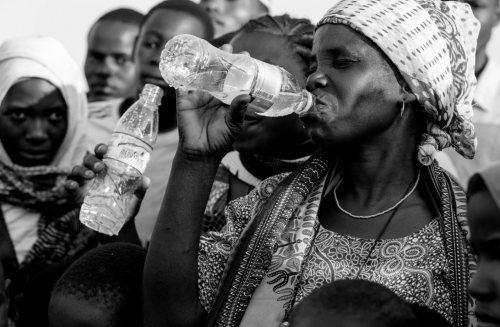 Since Waterboys launched, there have been 29 NFL players that have served as his team's "Waterboy;" an active player that works to engage his fan base in the Waterboys mission. In addition to current NFL players, there have been nine former players that have joined the effort through Conquering Kili; a sub-program of Waterboys that was co-founded with former Green Beret Nate Boyer. Through the program, military veterans and NFL alumni are challenged to summit Mt. Kilimanjaro, Africa's highest peak, and raise funds to build clean water wells. Since the program began in 2016, it has accounted for four of the 32 funded wells.
All Waterboys well projects are sustainable, solar powered, deep borehole wells. Each well can provide water to a community of up to 7,500 people. Waterboys works with WorldServe International, a specialist in sustainable wells, as the initiative's benefitting charity. WorldServe oversees the construction and completion of all Waterboys wells using Tanzanian based crews and has been building wells in East Africa since 2001.
How you can help….
To learn more about the Waterboys mission to transform communities through the gift of clean water visit www.waterboys.org.
You can also read my interview with Chris Long HERE where we talk fatherhood, more on Waterboys, and football.