Taylor Gray is this week's guest on Nerds, Geeks, Dads.
On the Show
Taylor Gray stops by the Life of Dad Studio to talk with Nerds, Geeks, Dads host Art Eddy about Season 4 of Star Wars Rebels. Gray chats with Art about the final chapter in the Rebels series, the evolution of his character Ezra Bridger, and if Rebels could make a come back like Star Wars: Clone Wars. 
About Taylor Gray
Taylor Gray is best known for playing Ezra Bridger on the animated television series Star Wars Rebels, and Bucket in the Nickelodeon series Bucket & Skinner's Epic Adventures. He also played animator Friz Freleng in the 2015 film Walt Before Mickey, and the lead role of Brian in the 2012 film Thunderstruck with professional basketball player Kevin Durant.
Follow Taylor on Twitter at @iamtaylorgray and make sure you pick up Star Wars Rebels Season 4 on Blu-ray and DVD on July 31st.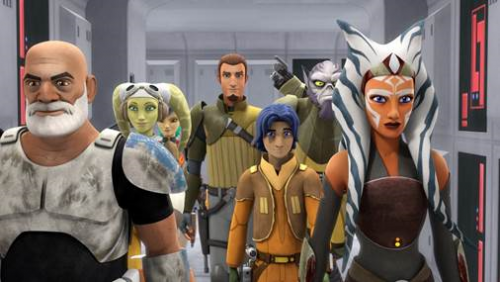 Star Wars Rebels Season 4
Star Wars Rebels: The Complete Fourth Season delivers all 15 action-packed episodes of the hit CG animated series' final season, plus exclusive, never-before-seen bonus extras on Blu-ray.
Available July 31, Star Wars Rebels: The Complete Fourth Season features some of the most critically-acclaimed Star Wars storytelling to date, with compelling characters, harrowing conflicts and astounding space battles. Old friends are reunited and new alliances are forged as Star WarsRebels builds to an epic conclusion, drawing connections to the entire Star Wars saga.
Star Wars Rebels was created by Dave Filoni, Simon Kinberg, and Carrie Beck. The Lucasfilm Animation production is also executive-produced by Filoni and Kinberg. The season four voice cast includes Taylor Gray as Ezra, Vanessa Marshall as Hera, Freddie Prinze, Jr. as Kanan, Tiya Sircar as Sabine, Steve Blum as Zeb, Dee Bradley Baker as Rex, Mary Elizabeth McGlynn as Pryce, David Oyelowo as Kallus and Lars Mikkelsen as Thrawn.
For more interviews like this check out Art's interview with Vanessa Marshall, who plays Hera on Star Wars Rebels.