Jamie Kaler is this week's guest on The Art Of Conversation Podcast.
On The Show
Jamie Kaler talks with The Art Of Conversation Podcast host, Art Eddy about what it means for him to be a father, some of his favorite moments in his acting career, his website called The DadLands and his hit video series, Dads In Parks. Kaler also opens up about why you need to be there for your wife after the birth of a child and some of his own mistakes he made during that time and offers some great advice to new dads!
Jamie then answers the Life of Dad Quick Five.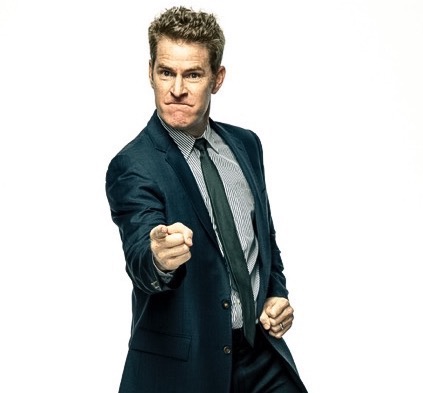 About Jamie Kaler
An accomplished actor, comic, host, voice-over artist, and radio personality, Jamie Kaler is best known for his starring role as "Mike" on the hit TBS show, My Boys. His prolific acting career includes appearances on Friends, Will and Grace, How I Met Your Mother, Parenthood, and King of Queens, as well as numerous films and over 150 commercials. He is currently the host of America: Facts vs. Fiction on the American Heroes Channel, which is entering it's third season, and has his own radio show on SiriusXM named Kaler. As a voice-over artist he is the voice of the "Bloopers Host" on the cult classic Robot Chicken and has been the national spokesperson for Carnival Cruise Lines.
Originally from New Hampshire, Jamie graduated from Boston University on an NROTC scholarship and served as an officer in the U.S. Navy before beginning his career as a performer. As a comedian he was one of the new faces at the Just for Laughs Festival in Montreal and has appeared on Chelsea Lately, The Late Late Show, Live at Gotham, Mock-pocalypse, and World's Dumbest.
When not working, he is obeying every command of his wife, Kate, and two daughters, Hannah and Claire.
Follow Jamie on Twitter at @JamieKaler.
About The Art Of Conversation Podcast
If you are looking for more of these types of podcasts check out the rest of the The Art Of Conversation Podcast
We are pleased to have another podcast here at Life of Dad, and we focus the show on dad bloggers. Each week, host Art Eddy showcases a father in the dad blogging community. The topics range from sports to movies to comics to video games to technology to parenthood to anything that comes up, really. Absolutely nothing is off-limits on The Art Of Conversation Podcast. Enjoy! Find us on iTunes, Google Play, Stitcher Radio and iHeartRadio.