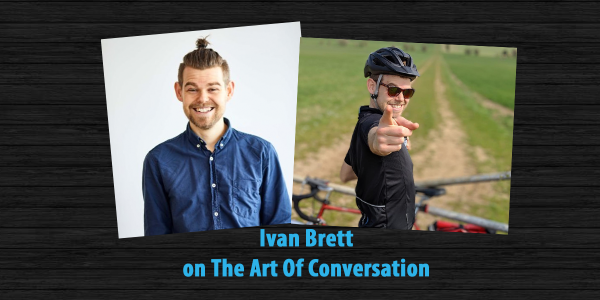 Ivan Brett is this week's guest on The Art Of Conversation Podcast.
On The Show
Ivan Brett talks with The Art Of Conversation Podcast host, Art Eddy about his new book, The Floor Is Lava. Ivan opens up about the book, the benefits of being bored and his unique book tour in America. Ivan shares with Art some cool ideas that parents and kids can do when their kids are "bored."

About Ivan Brett
A teacher based in North London, Ivan Brett has a lifelong obsession with cycling, comic books, and most importantly, games. Having employed hundreds of games to entertain himself, strengthen friendships, and teach his classes, Ivan has spent the last year collecting his favorites to share with the world in the form of The Floor is Lava. Ivan also has a weekly podcast of the same name, in which he meets an interesting person in their natural habitat to play seven handpicked games.
Follow Ivan on Twitter at @IvanBrett and pick up his book, The Floor Is Lava where books are sold.
About The Floor Is Lava
Analog play is known to stimulate imaginative thinking, problem solving, and interpersonal connection. However, games only seem to exist on screen now and quality time spent together—in person—is rarer than ever.
The Floor Is Lava is perfect for anyone looking to disconnect from technology and spend some quality time with family or friends. Packed with one hundred screen-free games, it's the necessary antidote to digital overload and the answer to every occasion:
– hosting a party
– long car rides
– cooling off on summer days
– sitting around the dinner table
– holiday gatherings
– rainy days
The best part is, you don't need anything to play. So what are you waiting for? Jump up and get started—the floor is lava!
About The Art Of Conversation Podcast
If you are looking for more of these types of podcasts check out the rest of The Art Of Conversation Podcast.
We are pleased to have another podcast here at Life of Dad, and we focus the show on dad writers. Each week, host Art Eddy showcases a father in the dad community. The topics range from sports to movies to comics to video games to technology to parenthood to anything that comes up, really. Absolutely nothing is off-limits on The Art Of Conversation Podcast. Enjoy! Find us on iTunes, Google Play, Stitcher Radio and iHeartRadio.