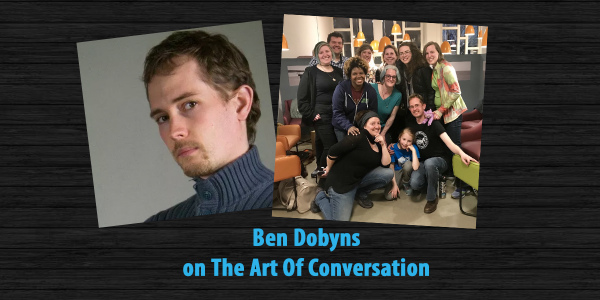 Ben Dobyns is this week's guest on The Art Of Conversation Podcast.
On The Show
Ben Dobyns talks with The Art Of Conversation Podcast host, Art Eddy about fatherhood, how being a dad changed things for Ben as an independent filmmaker and his show, Strowlers, which is gaining popularity on Amazon Prime Video. Ben chats with Art about geek culture and its evolution over the years. Ben also answers the Life of Dad Quick Five.
About Ben Dobyns
Ben Dobyns is a filmmaker and jazz pianist from Vancouver BC and is the CEO of Zombie Orpheus Entertainment and The Fantasy Network. For over a decade his "fan supported, creator distributed" approach to production has enabled numerous series to remain independent, pleasing fans and creators alike. Now he travels the world with his wife and daughter, producing cool movies and building a global community of passionate storytellers.
Follow Ben on Twitter at @dobynsbc and go to his website at zombieorpheus.com.
About The Art Of Conversation Podcast
If you are looking for more of these types of podcasts check out the rest of the The Art Of Conversation Podcast
We are pleased to have another podcast here at Life of Dad, and we focus the show on dad writers. Each week, host Art Eddy showcases a father in the dad community. The topics range from sports to movies to comics to video games to technology to parenthood to anything that comes up, really. Absolutely nothing is off-limits on The Art Of Conversation Podcast. Enjoy! Find us on iTunes, Google Play, Stitcher Radio and iHeartRadio.