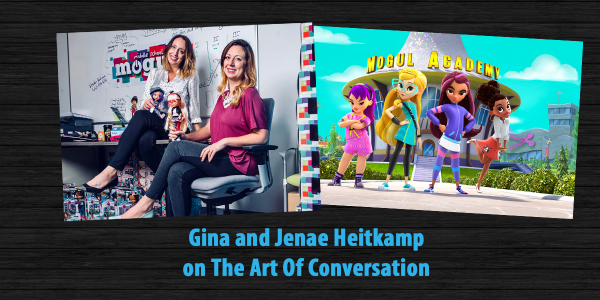 Gina and Jenae Heitkamp are this week's guests on The Art Of Conversation Podcast.
On The Show
Gina and Jenae Heitkamp talk with The Art Of Conversation Podcast host, Art Eddy about their new show, Middle School Moguls and some of the great messages kids will take away from this show. Gina and Jenae share with Art why they decided to set the series in middle school and how their experience in middle school shaped the show. Gina and Jenae end the interview answering the Life of Dad Quick Five.
About Gina and Jenae Heitkamp
GenGirl Media, Inc. is an entertainment company that creates engaging television programming and captivating toys that focus on the fun and whimsy of childhood while keeping in mind today's tech and media savvy kids. GenGirl's upcoming projects include Nickelodeon's Middle School Moguls, four CG-animated television specials premiering this September and Me Media, a line of products that cater to the tweens of generation Z.
The company was founded in 2014 by sisters Gina Heitkamp and Jenae Heitkamp, who pull from their professional experiences and adventures growing up together, to encourage others to follow their own creative dreams and entrepreneurial spirit. GenGirl Media, Inc. is based in Long Beach, Calif.
About Nickelodeon's Middle School Moguls
As the company's first foray into television, "Middle School Moguls" premieres on Nickelodeon in Fall 2019. The four CG-animated half-hour specials showcase characters based off the GenGirl Media's Middle School Mogul dolls (formally called iBesties), which were originally created to inspire the next generation of female business leaders and entrepreneurs.
About The Art Of Conversation Podcast
If you are looking for more of these types of podcasts check out the rest of the The Art Of Conversation Podcast
We are pleased to have another podcast here at Life of Dad, and we focus the show on dad writers. Each week, host Art Eddy showcases a father in the dad community. The topics range from sports to movies to comics to video games to technology to parenthood to anything that comes up, really. Absolutely nothing is off-limits on The Art Of Conversation Podcast. Enjoy! Find us on iTunes, Google Play, Stitcher Radio and iHeartRadio.