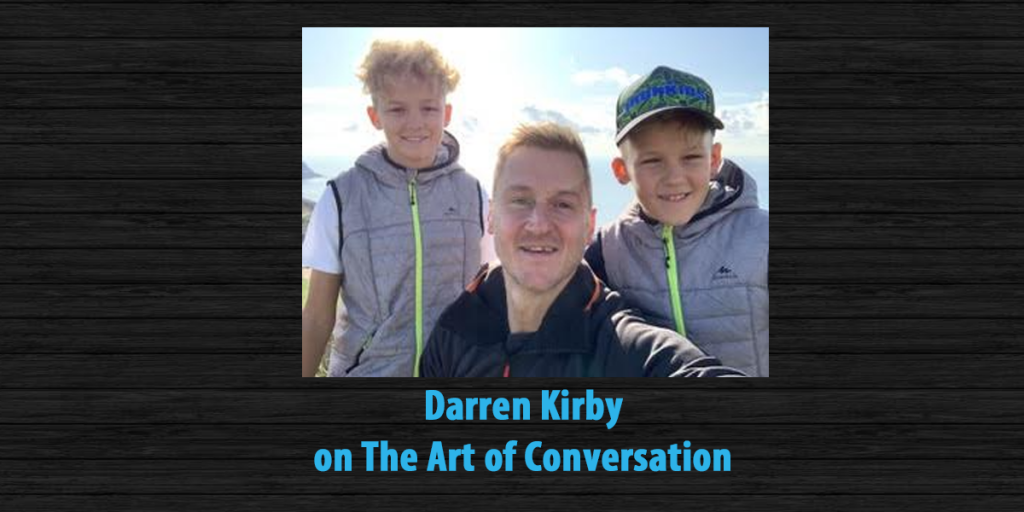 Darren Kirby is this week's guest on The Art Of Conversation Podcast.
On The Show
Darren Kirby talks with The Art Of Conversation Podcast host, Art Eddy about his making sure dads take care of themselves. Kirby's site The Fitter Healthier Dad looks to educate dads on how to eat better and share those eating habits with their kids. He talks to Art about the joys of fatherhood and shares the values he looks to instill into his kids.

About Darren Kirby
Darren Kirby the "Fitter Healthier Dad". Darren is a tri-athlete, and a fit dad. He lost over sixty pounds and has managed to keep the weight off through a diet based on sensible principles, and a commitment to fitness. He started his site to share some useful tips on how to stay fit and eat right.
Follow Darren on Twitter at @ukkirby and go to his website at fitterhealthierdad.com.
About The GSK Take 5 Campaign
This week's Art of Fatherhood podcast is being brought you by the GSK Take 5 Campaign. Meningitis B is one type of meningococcal disease (frequently referred to as meningitis) caused by the bacteria Neisseria meningitidis. Meningitis can attack the brain and spinal cord and cause swelling in those areas as well as a serious infection of the bloodstream, called septicemia.
Approximately 10% to 15% of people infected with meningococcal disease will die, sometimes as quickly as 24 hours after symptoms appear. For those who survive, about 1 in 5 may experience a variety of long-term disabilities including hearing loss, brain damage and nervous system problems, kidney damage, loss of limbs, and skin scarring. Visit meningitisb.com for more information and talk to your doctor about the two vaccines available to help protect against the five vaccine-preventable groups of meningitis A, C, W, Y and B and all CDC-recommended vaccines needed for you and your family.
About The Art Of Conversation Podcast
If you are looking for more of these types of podcasts check out the rest of The Art Of Conversation Podcast
We are pleased to have another podcast here at Life of Dad, and we focus the show on dad bloggers. Each week, host Art Eddy showcases a father in the dad blogging community. The topics range from sports to movies to comics to video games to technology to parenthood to anything that comes up, really. Absolutely nothing is off-limits on The Art Of Conversation Podcast. Enjoy! Find us on iTunes, Google Play, Stitcher Radio and iHeartRadio.
Podcast: Play in new window | Download