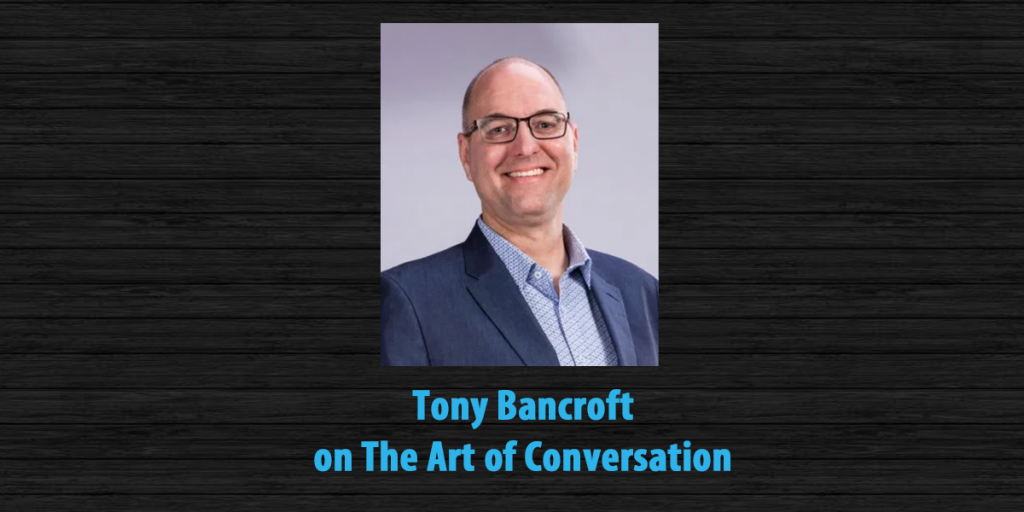 Tony Bancroft is this week's guest on The Art Of Conversation Podcast.
On The Show
Tony Bancroft talks with The Art Of Conversation Podcast host, Art Eddy about working on the new film Red Shoes and the Seven Dwarfs as the Voice Director and his experience in the movie industry. Tony and Art talk about fatherhood and the values Tony looked to instill into his daughters as they were growing.
About Tony Bancroft
Tony Bancroft was accepted into the exclusive California Institute of the Arts (Cal-Arts) in 1987, where he thrived artistically and developed a lifelong passion for animation. Soon after, he realized one of his childhood dreams as he was hired to animate for Walt Disney Animation Studios. During his 12-year career with Disney Studios, Bancroft helped create and animate Pumbaa, the lovable warthog in The Lion King; Kronk, the dim-witted sidekick in The Emperor's New Groove; Cogsworth the nervous clock from Beauty and the Beast; and Iago the pestering parrot in Aladdin.
Bancroft's most notable accomplishments include being the co-director of Walt Disney's animated film, Mulan, for which he received the Annie Award for Director of the Year from ASIFA-International; and animation supervisor of Sony's Stuart Little 2, for which he received the Visual Effects Society's top award for character animation.
In recent years, Bancroft executive produced a CG feature Mosley, that released last year and co-directed another CG animated feature Animal Crackers that released internationally on Netflix this summer. He recently went back into animation for Disney's Mary Poppins Returns and, currently, Warner Brother's Space Jam 2 where he is animating Looney Tunes characters. He has taken his 30+ years of industry experience and compiled it into a book, Directing for Animation, which released worldwide through Focal Press. He and his twin brother, Tom, started a popular podcast focusing on the animation industry called The Bancroft Brothers Animation Podcast, which is the #1 podcast for animation on iTunes.
Follow Tony on Twitter at @pumbaaguy1 and check out the movie Red Shoes and the Seven Dwarfs.

About Red Shoes and the Seven Dwarfs
A classic fairy tale gets a modern twist in the action-packed animated adventure Red Shoes and the Seven Dwarfs, premiering on Digital and On Demand September 18 and available to own on Blu-ray™ and DVD September 22 from Lionsgate. Chloë Grace Moretz (Bolt, Inside Out), Sam Claflin (The Hunger Games series), Gina Gershon (TV's "Riverdale"), Patrick Warburton (TV's "Family Guy," The Emperor's New Groove), and Jim Rash (TV's "Community") lend their vocal talents to this humorous and heartwarming retelling of the Snow White fable, only this time it's the princess who must save the prince(s) – all seven of them! This family-friendly film has "a strong body-positive theme that emphasizes the beauty of characters of all shapes and sizes" (Common Sense Media), and received the Dove Seal of Approval for All Ages.
This outrageous fairy tale spoof starts as Snow White steals a pair of red shoes that transform her into a princess. Meanwhile, a witch's curse turns seven brave princes into dwarfs, forcing them to seek out the princess, hoping for a kiss to break their spell. Together, they must face Snow White's wicked stepmother – who will stop at nothing to get her precious shoes back – and, along the way, learn that true beauty lies within!
Go behind the scenes of this must-own animated adventure with enchanting Blu-ray and DVD bonus features, including two "making-of" featurettes and two music videos featuring the all-new original songs! The Red Shoes and the Seven Dwarfs Blu-ray and DVD will be available for the price of $21.99 and $19.98, respectively.
About The GSK Take 5 Campaign
This week's Art of Fatherhood podcast is being brought you by the GSK Take 5 Campaign. Meningitis B is one type of meningococcal disease (frequently referred to as meningitis) caused by the bacteria Neisseria meningitidis. Meningitis can attack the brain and spinal cord and cause swelling in those areas as well as a serious infection of the bloodstream, called septicemia.
Approximately 10% to 15% of people infected with meningococcal disease will die, sometimes as quickly as 24 hours after symptoms appear. For those who survive, about 1 in 5 may experience a variety of long-term disabilities including hearing loss, brain damage and nervous system problems, kidney damage, loss of limbs, and skin scarring. Visit meningitisb.com for more information and talk to your doctor about the two vaccines available to help protect against the five vaccine-preventable groups of meningitis A, C, W, Y and B and all CDC-recommended vaccines needed for you and your family.
About The Art Of Conversation Podcast
If you are looking for more of these types of podcasts check out the rest of The Art Of Conversation Podcast
We are pleased to have another podcast here at Life of Dad, and we focus the show on dad bloggers. Each week, host Art Eddy showcases a father in the dad blogging community. The topics range from sports to movies to comics to video games to technology to parenthood to anything that comes up, really. Absolutely nothing is off-limits on The Art Of Conversation Podcast. Enjoy! Find us on iTunes, Google Play, Stitcher Radio and iHeartRadio.
Podcast: Play in new window | Download