Demetrious Johnson, Johny Hendricks and Daniel Cormier are this week's guests for the Life of Dad Show Remix.
This episode of The Life of Dad Show Remix takes a look at three dads who are fierce competitors in the octagon. We talk with Demetrious Johnson, Johny Hendricks and Daniel Cormier, who all are UFC fighters. These interviews were from previous episodes of The Life of Dad Show and highlights their conversations on fatherhood. Leave a review on iTunes or wherever you download the podcast for a chance to win a Life of Dad prize pack!

Both UFC commentator Joe Rogan and UFC president Dana White has said that Demetrious Johnson is one of the greatest mixed martial artists in the world. Johnson, whose nickname is Mighty Mouse is known as one of the fastest fighters in MMA. Demetrious is known for his quick striking and elusive movement. Johnson is trained in Brazilian jiu-jitsu and used his training to be the first and only flyweight titlist in UFC history.
At home Demetrious is a caring father and loving husband. He is honored to be a father and is blessed with two young sons, Tyren and Maveryk. When he has to train and prepare for a fight he is all business. When he is at home he is having fun and creating memories with his family. I had the great pleasure of talking with Demetrious about fatherhood.
Follow Demetrious Johnson on Twitter at @MightyMouseUFC.

Johny Hendricks has definitely made a name for himself in the octagon fighting in the UFC. He is a mixed martial artist and an accomplished former collegiate wrestler. If you follow Johny on Twitter you know he is very proud dad and loves to spend time with his daughters. I was able to catch up with Johny while he was taking a break from training to talk about fatherhood.
Follow Johny on Twitter at @JohnyHendricks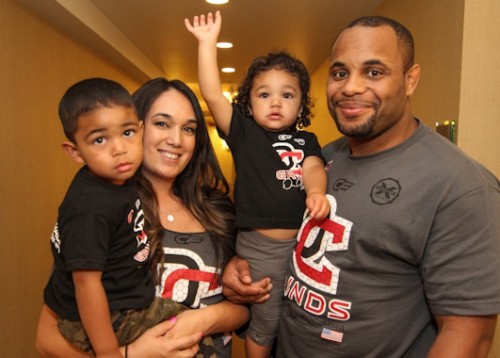 Daniel Cormier is not only UFC's Light Heavyweight Champion, but he has been a two-time Olympic wrestler and six-time U.S. Open National Champion. In UFC 187 Cormier reached the pinnacle of the UFC. He pushed Johnson against the cage and controlled the match on the mat, using his weight to tire out Johnson before he applied the decisive submission hold. Cormier worked his way up the ladder in an MMA career that began in 2009, scoring victories over Dan Henderson, Roy Nelson, Frank Mir and Antonio "Bigfoot" Silva. It culminated in a title belt that was well earned and well deserved.
Outside of the octagon Cormier loves being a dad. He has a daughter and a son. From trips to Disney World to just having fun around the house Daniel embraces his role as a father. I had the great opportunity to chat with Daniel about family and fatherhood.
Follow Daniel on Twitter at @dc_mma 
For more shows like this check out The Life of Dad Show.