Ty Dillon is this week's guest on The Life of Dad Show.
On The Show
NASCAR Driver, Ty Dillon talks with The Life of Dad Show host, Art Eddy about fatherhood, prepping up for a NASCAR season, how he balances work and family and what it is like to drive a race car. Dillon also talks about the family history in racing and why racing means so much to him. Ty opens up about fatherhood and then answers the Life of Dad Quick Five.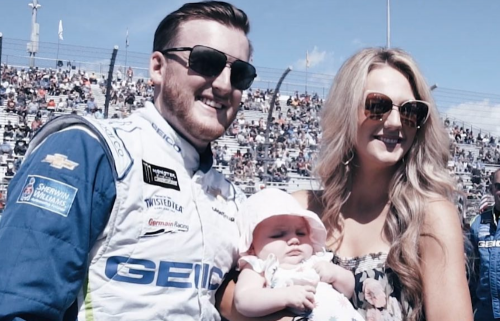 About Ty Dillon
Ty Dillon drives the No. 13 Germain Racing Chevrolet. Dillon finished a career-best sixth at Daytona in July 2018, and he has one top-10 finish in 90 Cup starts entering this season. He is the younger brother of Austin Dillon and grandson of NASCAR Hall of Fame team owner Richard Childress. Ty Dillon has one career win in the Xfinity Series and three career wins in the Gander Outdoors Truck Series.
Dillon spends much of his free time outdoors – mountain biking, hunting, fishing or hiking. He is an avid sports fan, rooting for the Carolina Panthers, Atlanta Braves and Charlotte Hornets. He is also involved in several sporting leagues with his brother and friends, including basketball, golf and fantasy football. Dillon and his wife, Haley, were married in December 2014 and reside in Mooresville, N.C. with their daughter, Oakley, and dog, Bubba.
Follow Ty on Twitter at @tydillon.
About The Life of Dad Show
The Life of Dad Show is the multimedia flagship property of the world's largest network for fathers. With 600,000 downloads of its popular podcast and 300,000+ viewers of the Facebook Live show since 2017, The Life of Dad Show has gathered advice, stories and strategies from an unparalleled list of household names, from Shaq to Jim Gaffigan, to Michael Strahan and Mark Hamill, each offering a glimpse into their personal life as a dad. The show airs Mondays and Wednesdays on Facebook Live, YouTube and Instagram TV. The podcast comes out weekly.
Subscribe to The Life of Dad Show on iTunes and leave a review and you could win a Life of Dad prize pack.