If you're about to be a father for the first-time, at some point you'll likely be wondering what to pack for labor and delivery. Many times mom will want to pack her own bag, but that doesn't mean that you can't make your own list and encourage her to consider a few essential items.
Speaking as a dad who has been to this rodeo (four times) before, I've got my checklist pretty dialed in. In the beginning, like many parents, I was on a journey to educate myself about pregnancy. Whether it was books, blogs, Facebook groups like the 'Expectant & New Dads' group here at Life of Dad or possibly taking the overwhelming amount of advice that's offered by friends and family – I took all of that knowledge and molded it into my own plan.
I know it's not possible for everyone, but I made an effort to go to every doctor's appointment with my wife. It wasn't just to stay connected to the pregnancy journey, but to learn something new with each visit. There's nothing quite like seeing your child for the first time on a 3d ultrasound.
I've stayed with my wife in hospitals in Southern California, Maryland and most recently Virginia. It's important to schedule a hospital tour (I'll cover that separately), normally sometime at the beginning of the third trimester. You'll want to know how much space you're working with in the recovery room that you'll be assigned. This last pregnancy we had, our room was packed tight like a clown car. With family visiting during the day, I found myself sitting on the bathroom shower bench to check my emails.
Real estate in recovery is generally at a premium, which is why you'll want to consider a carefully curated hospital bag…
WHAT TO PACK…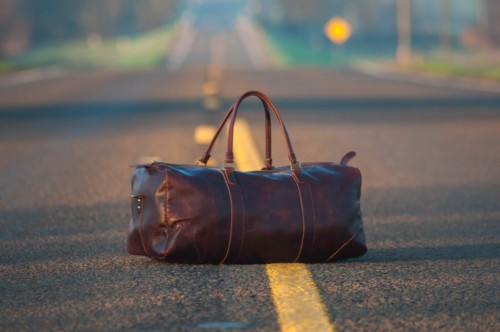 Comfortable Clothes (i.e. a few days worth of sweatpants, tees, hoodies, shorts)

– mom should think about tops that make her breasts easily accessible for feeding, as well as loose fitting pants that won't ride on an incision in the event of a C-section. Don't knock my Gold Toe socks, I can hear you laughing.

Dopp Kit

– most recovery rooms have a private shower and sink area to freshen up. Basic hygiene items.

Water Bottles

– a lot of people have their own fancy individualized water canisters these days, but good luck finding stations offering filtered water – if there is one, it's probably 40 yards down the hall. I prefer to grab a case of 16-oz waters and keep them in the room.

Camera or Video Equipment – it's important to think about how you're going to record this important moment. Keep in mind, you'll be in full scrubs which generally don't have pockets. Think about a strap for your camera. If you don't own one yet, you can find this product at HoldFast Gear. You could also travel light with just your Android or iPhone.
Laptop or tablet

– download some movies or apps ahead of time, it'll be something to keep you occupied while mom and baby are resting.

Kindle or Book

– for those of us who aren't playing Fortnite around the clock. I chose to bring the Nintendo Switch.

Chargers

– you're dead in the water if you forget the chargers for your electronics.

Snacks

– hospital cafeteria food can ruin you, think about a few bags of nuts, seeds, dried fruit to keep your stamina up.

Sleeping Pad

– up until this last pregnancy, each hospital had a fold-up cot for dad, but those mattresses felt like I was lying on a sea of loose socks. Might not be a bad idea to bring a small, inflatable sleep pad like you would for a camping trip.

Push Present – Unbeknownst to me the first time around, these are a thing. I usually try and find a handmade piece of jewelry on Etsy or at least something with meaning.
Feminine Pads

– not for you, but for your wife or partner. Generally the hospital will supply these, however they may not be premium quality.

BIG Lady Underwear

– again, not for you, unless that's your thing. I'm talking about leaving the thongs at home and switching over to full coverage underwear. It's about comfort, not speed.

Baby's First Outfit

– chances are that you're going to want to take a TON of pictures during your stay. You're also gonna wanna get that classic shot outside of the hospital before going home.
Everyone will have their own take on the ideal bag, but these have become my essentials. Perhaps even throw in a bottle of bubbly to celebrate. Good luck and welcome to fatherhood!
For more articles on pregnancy, labor and delivery, check out our 'Expecting' category!