Kids are an elusive and unpredictable bunch… most of the time. I'm sorry, allow me to clarify – depending on their age, there are specific certainties that you can predict. For instance, when they're going to need a nap, require a bath, or that forced dose of vegetables when they seem to be dragging their limbs behind them like pale zombies in an attempt to reach the dinner table.
But it's when you're not paying attention that the worst things happen. I'm no helicopter daddy, but I try to be cognizant of my kids' activities… but what if I'm not?
That's the exact moment when one of them tumbles down the stairs, falls off the playset, or crashes their bike into the hedges (all true stories). Most of these are cured with a quick 20-minute session that includes hugs, kisses and a few bandaids.
When my kids were really small, I had a couple of incidents when I heated up the baby's milk a little too hot (nothing extreme) and neglected to drip on my wrist before serving. The excruciating pain on my child's face immediately alerted me that I'd screwed up – it still pains me to think about it. I never made that mistake (six times) again.
But what if it's something far more serious? What if it's something I simply overlooked or didn't notice? Or worse, I COULD'VE had control over, but negligently did not?
That's the fear of nearly every parent I know… the what if?
This week, I learned about ONE more tool to keep in my parental protective arsenal. A product that brings just a little more relief to my home.
Just last year, the Centers for Disease Control and Prevention received more than 1.3 million
calls involving poison exposure for children. Let that sink in for a second: 1.3 million calls…
That's a lot of frantic caregivers and scared little kids.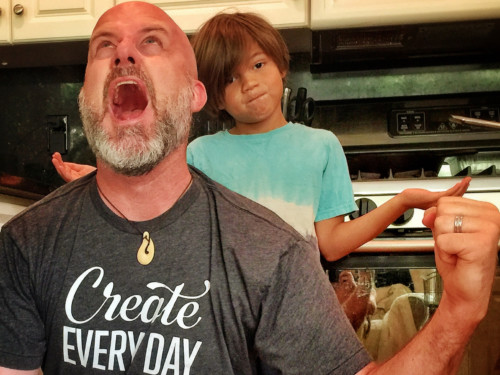 I remember the early years of parenting, when my kids thought everything was something to be tasted – cigarette butts, sand, dust bunnies… It was during this season that they were also cabinet explorers with this motto:
"Leave no cabinet unopened, no drawer unsearched. Find the dangerous things only.
Ignore any toys purchased by parents."
This was the lockdown phase – the years of pesky contraptions that kept myself and my wife from opening any cabinet without a team meeting and physical strategy session first. But we did it. We suffered through, because we knew the consequences if we didn't.
We never wanted to have to make THAT call.
I'm grateful to companies who help parents out during this hazardous time, by adding extra locks and guards to their packaging. One of the newest technologies on the market is Child-Guard®, also known as Slider-Guard™.

You might find yourself asking, What is Child-Guard®?
It's the first ever child-resistant closure system designed specifically for products that use flexible packaging. You know flexible packaging – it's like the bag your dishwasher pods come in.
Approximately 18 percent of the total packaging market is comprised of flexible packaging, and it's the fastest growing type of packaging in all consumer goods markets.

We received this packaging to test at home and I have to admit that it took me a second to figure out how to use Child-Guard®. But once I did it a few times, it was no problem. Fair warning, though… don't get SO excited about the new Child-Guard® that you don't really read what's in the packaging.
As an example of yet another parental oversight… we accidentally put Gain laundry packets in our dishwasher (and by "we", I mean ME)… and I'll be darned, if my wife didn't immediately pick up on the fact that her coffee tasted and smelled like freshly folded, springtime-laced towels the next morning.
I guess Child-Guard® can't solve all of our problems.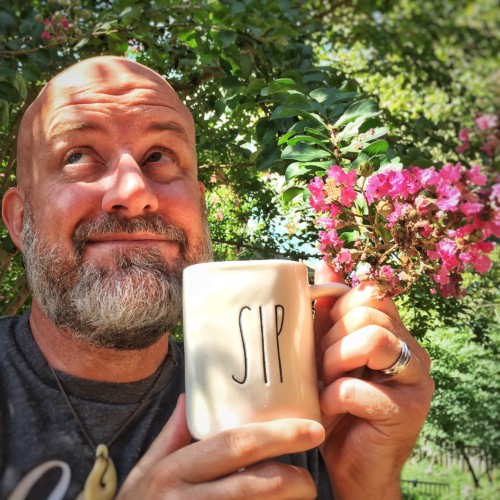 So who is currently using this newest technology?
Last year, Tide PODS® debuted a new ad campaign featuring the Child-Guard® closure. Slider-Guard™ can also be found on Hex Detergent and Boulder Clean Laundry Packs.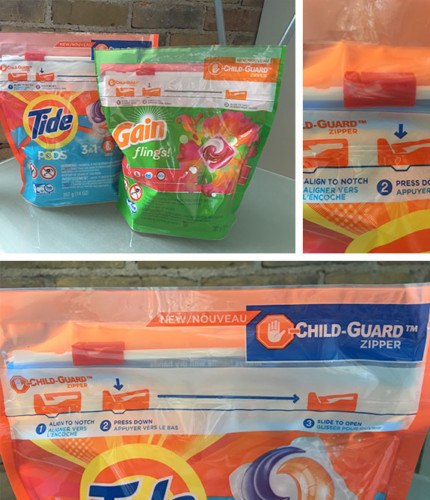 If you want to see Child-Guard® on more household brands, here's what you can do.
Visit

child-guard.com

to learn about household safety tips and Child-Guard

®

product announcements

Spread the word with the hashtag, #guardit

Share the

"What is Child-Guard

®

" educational video
Parenting is never easy.
Paying attention isn't always possible.
Be careful out there folks and remember, use your laundry packets for their intended purposes… and dish detergent companies, please step up your scent game a little.
Can you imagine sauteed garlic, onion, and butter scented dishes?
Right… I'll stick to parenting.
EDITOR'S NOTE: This is a sponsored post on behalf of Child-Guard®, however the sweet-smelling coffee mugs are all ours! For more information on them, check them out HERE or on Facebook!