Baltimore Ravens tight end, Benjamin Watson makes a name for himself on the football field, but it is the work he does off the field that is more impressive. Benjamin and his wife, Kirsten created One More Foundation. Their mission is to be a vehicle to carry the hope and love of Christ to those in their community who need it most, while understanding that the best and most efficient way to reach people's hearts is by first meeting their physical needs. They want to be a blessing to those around them. They look to help existing charities or initiating programs of their own.
With his caring and giving attitude he is a great role model for his five children. He looks to share those values with his children and be an inspiration to them. Watson and his family are preparing for a new chapter in their lives since he recently went from playing for the New Orleans Saints to now playing for the Baltimore Ravens this upcoming season.
In 2015, Watson published his first book, Under Our Skin: Getting Real About Race- And Getting Free From The Fears and Frustrations That Divide Us. The book is part memoir and part social commentary. Under our Skin offers a look at both sides of the race debate and appeals to the power and possibility of faith as a step toward healing. It's a bold new path for us to follow as we come together to talk about the truths, myths, and realities of racial conflict.
I had the great pleasure of talking with Benjamin about his foundation, football, moving to Baltimore, and fatherhood.
Art Eddy: Let's first talk about your foundation and what inspired you to start that up.
Benjamin Watson: The mission of our foundation is spreading the love and hope of Christ to one more soul by meeting peoples real needs first. We promote education and partner with existing charities. In 2009 my wife and I decided to establish an offici
al 501(c)(3) with the hopes of affecting changes in neighborhoods where we are from, but also where God has placed us in my playing career. When we were in Boston, Cleveland, New Orleans, and now in Baltimore we want to plug into the community and be a blessing to others in the way we have been blessed.
We have five children. We think it is important that they understand the importance of giving. Not just of your money, but giving up your time, giving up your talents, giving up your efforts to help someone else. When we do our events our dream was for our kids to be there. This year was really the first year where our two oldest daughters who are five and seven, were able to come to a couple of events that we did here in New Orleans. Leaving a legacy for them, but also I think a lot of people want to be involved with a charity in some way. The problems of the world seem so big. Our encouragement to them is to just affect that one person. Do something kind for that one person. Don't underestimate your power of kindness to one person. Then that person is able to do something for someone else. Before you know it there is a groundswell of kindness being enacted across our country and across our world.
AE: You also wrote a book called, Under Our Skin: Getting Real About Race- And Getting Free From The Fears and Frustrations That Divide Us. I gave not read the book yet, but I think more than ever this seems like a book many people should read. What inspired you to write this book?
BW: I think the book drew me in. In 2014 you can remember the Ferguson decision. You can remember all the upheaval that happened from the time that Officer Wilson killed Michael Brown and all the speculation around it. Everyone had an opinion of it. In November of that year the grand jury decided not to indict the officer. I remember the protest and all the scenes on the news. I wrote a Facebook post on my emotions surrounding not only that case, but looking over the past few years about my experience as a father and a husband, and particularly as a black man in this country.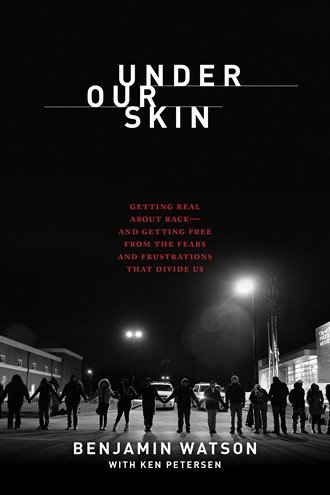 I wrote that post about my emotions on being real and being honest about how I felt. There was a tremendous response to it. The book is an extension of that. The book in no particular order goes through about being angry about what you see, but also being sympathetic to what happened. Being introspective and identifying my own bias and my own assumptions that lead me to my decisions that I make whenever something about race comes on TV and I immediately make a judgement. I don't know all that is going on.
I feel that in my own personal experiences when it comes to race as well as some conversations that I have with teammates that I have gotten close to; white teammates particularly who are able to talk about these racial issues without being offended at each other. That is how we learn from each other.
The book was released in November of 2015. The response that I have gotten has all been, like you said, is a must read. During the book people were upset, but then they were clapping and crying in some areas. There were happy and then sad in some areas. When it comes to race in our country we need a change of heart. We have changed laws. We need more changed laws, but ultimately we need a change of heart when it comes to how we see each other and how we should treat each other.
AE: You will be playing for a new team, the Baltimore Ravens this upcoming season. You have played for a few teams in your career. What is the transition like when you go to a new team?
BW: There is always some apprehension there. It is like the first day of school and going to a new place and not really knowing anybody. You are meeting the coaches for the very first time. There is always some excitement because of the unknown. Moving to another part of the county you wonder what your house is going to look like. What is it going to be like to put on that jersey for the first time? What are people going to be like there? How are the fans going to receive me?
Then there is also the family part of it. Every time we have moved we have had more kids. Every time we move our family is bigger. There are more moving parts now. There is more that we have to deal with. We have to pack up the whole house and get a moving company. The great thing is that we have done it before. We know the process, but it doesn't make it any easier.
There is the sentimental and relationship side of it. You plug into a place for three, four, five or six years. Then you leave suddenly. There is the relationships of people we love from our church. There are people we love from my team, my neighborhood, and the city. So there are relationships there that makes it hurt when we leave the people you have grown to love. On the flip side you know you are going to meet more people. It is definitely a very mixed bag of emotions when it comes to moving to a new team. It is something that everybody does in all types of jobs. We are no different.
AE: Take me back to your first game your rookie season. What was going on in your mind as you played your first NFL game?
BW: I was drafted by the New England Patriots in 2004. The Patriots were just coming off a Super Bowl win in 2003. I got drafted by the best team in the league. A team with very high expectations. When you play in the Super Bowl you play in the first game in the next season. It is usually on Thursday. You kick off the next season.
We played the Indianapolis Colts that year. It was the first game of the season. It was the first of my career. I can remember being just overwhelmed really. I was excited. I didn't know what to expect. You are running out there with grown men. I remember thinking man these guys have kids. (Both laugh.) This is crazy. It was surreal I would say because of all the work you put in. To make it to the NFL is a really small chance. It is something that a lot of kids dream about, myself included. To realize that dream was definitely something was unexpected and it was a very exciting time.
AE: I know you were part of a winning Super Bowl team with the New England Patriots, but what game or moment so far in your career sticks out the most to you?
BW: I was part of the team that won the Super Bowl, but I wasn't able to play. I tore my ACL. So it was a bittersweet time for me. I would say the game that I am most reminded of by other people is when I made a defensive play, not even an offensive play. It was when we played against the Broncos in the playoffs in 2006. Champ Bailey, a fellow Georgia Bulldog, intercepted a pass ran a 100 yards. I was on the other side of the field. I ended up catching him. It is a play that is 10 years old, but I swear people bring it up all the time.
AE: Switching to fatherhood now, what are some of the core values you look to instill in your kids as they grow up?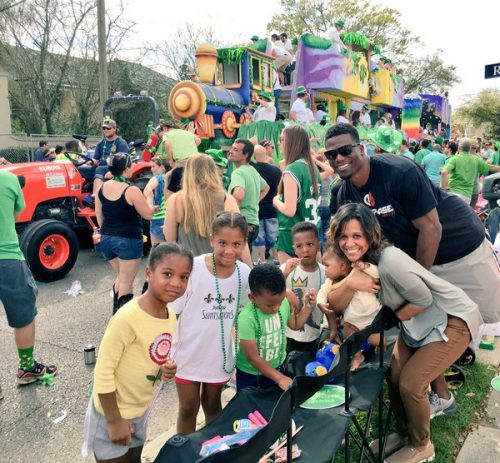 BW: I think the number one value is integrity. It comes in all forms, but mainly integrity as a man when it comes anything you do even outside the house. So your business deals. Your kids are going to know eventually how you handled yourself and how other people viewed you. They are going to know if you do what you tell them to do. If you clearly demonstrate to them how to act or if you tell them to do things and you do the complete opposite. You have to be able to be trusted. That all leans back to your integrity.
Discipline. Discipline of yourself and how you deal with your children and not lashing out at them. Loving them, but also how you administer discipline to them. Children need to be guided. One thing that I always have to be aware of as a parent is do I discipline them out of anger or out of love? That is two different things. Your kids will respond to discipline out of love. They want to be disciplined and guided because they are children. They don't know.
I would say the number one value if we can call it value is how you treat their mother. They get the most I would say identity and most security as children is when they see how you treat your wife and how you love her or don't love her or how you disrespect her. They will get a direct identity about how you think about them by how you treat her. You can't really separate the two.
AE: With your hectic schedule in the NFL how do you balance work and family?
BW: The NFL is a real dichotomy because one part of the year you are going 100 miles an hour. Everything is about preparing your body and preparing your mind to be able to perform on Sundays. You can really get overwhelmed and consumed by it. For a few months out of the year you are free. You are able to be home a lot. I am able to home all day if I want to. I think with any job there is challenges.
In the NFL for me it is about setting boundaries. How many times am I going to leave the house that is not work related? I get requests all the time to speak places. How many of those am I going to take that are going to take away from my family when there are certain things I have to do because of my job?
One thing that a guy told me, a guy named Tedy Bruschi, you know that name. Tedy told me one time when I was a young player when I didn't have any kids and I just got married. I was having a rough time adjusting to the NFL. He told me when you get home you may have to sit in the driveway for five minutes or ten minutes. When you walk through that door you got to leave work at work. No matter if you had a great day on the field and you caught ten touchdowns or if you dropped ten touchdowns. When you come into the house you got to be a husband and a father. That is something easier said than done and you have to continually work at it. I tend to be a perfectionist. I tend to get consumed by things. I still remember that. I really to practice that. When I am at home I need to be there 100 percent.
AE: What advice do you have for new dads out there?
BW: There is so many. For new parents I would say to persevere. There are times where you want to give up. I promise. There are going to be times where you think how am I going to do this? How am I entrusted with this child? I don't know what I am doing. I am so tired that I can't function. Right when you think it is time to give up God gives you the grace to move on to the next stage.
The fact that you are present with them and spending time with them is really more important than what you provide for them monetarily and the opportunities you give them. All that stuff is great, but the most important thing your kids want is you.
Life of Dad Quick Five
AE: What is your favorite family movie or TV show that you guys like to watch together?
BW: We are on The Lion Guard right now.
AE: Do you guys have a favorite song that you all like to dance to?
BW: I don't think we have a favorite one. We have a compilation of a bunch of different ones. It is usually one that we sang at church that week.
AE: Describe the perfect family vacation.
BW: The perfect family vacation for us right now is a place called Watercolor in Florida in the Panhandle. It is about four hours from New Orleans. We didn't realize that we could drive to a place that has water that is clear as the Caribbean. We have gone there a couple of times during the bye week in the fall and it is still warm there. The kids really love it. You can sit by the beach. The water is calm. That is their go to right now.
AE: You had a great season with the Saints this past year. Lot of people had you on their fantasy teams. Do you play fantasy football?
BW: No I don't. When fantasy was in its infancy in 2004 I remember someone saying to me, 'I had you on my fantasy team. Now you are going to be out for the year.' I thought to myself what is the point of this stupid fantasy stuff? (Both laugh.) I did have a football player during a football game thank me because he had me on his fantasy team. So I know that some players play, but I just don't.
AE: What stadium would you as a player recommend to a fan to make sure it is on their bucket list to go to watch a game?
BW: I would say Green Bay. It is really a special place as far as the history there. The stadium has been redone a couple of times. Every time I go there I love it because it has that college feel to it. It doesn't feel like an NFL stadium. In Green Bay everything is close to the field. It feels like it did back in college.
Go to http://www.thebenjaminwatson.com to learn more about Benjamin and his foundation. Be sure to follow Benjamin on Twitter at @BenjaminSWatson