Brian Littrell is known for being part of the very popular group, The Backstreet Boys. He is a singer, actor and songwriter. With all the success that Brian and his bandmates have had and still continue to have you might think that he feels that he is larger than life. Yet when you see him interact with fans on social media or watch how much fun he has with his wife and son you come to find out that Brian is a down to Earth guy.
Brian is no stranger to hard times though. Brian was born with a congenital heart defect (CHD) which was diagnosed as a ventricular septal defect. For those who don't know February is heart awareness month. The second week is usually CHD Awareness week. We here at Life of Dad make it point to help raise that awareness. One way we do that is by talking with other dads who have experienced CHD in one way or another.
Brian was kind enough to share his story about living with a CHD with us as well as talking about how his son is now following in his footsteps and what we can expect from the Backstreet Boys this year.
Art Eddy: I first want to talk with you about your experience with having a congenital heart defect. Life of Dad was started by Tommy Riles, whose daughter was born with a CHD. You have one as well. Can you talk about your experience with CHD?
Brian Littrell: I was born with what they call a VSD, which is a ventricular septal defect. It is known as a heart murmur. Fast forward in my life when I was five years old. I was in the hospital for two months, where I was clinically supposed to die. I had a zero percent chance of living. I had a bacterial infection called bacterial endocarditis. Again like I said a zero percent chance of living.
It is only by the grace of God that I am here today. We fast forward to when I was 18. I was a Backstreet Boy. I left home to pursue the entertainment world. At 23 I had open heart surgery to repair my VSD. So as we talk about faith and as we talk about our journey in life being a heart patient, and being a man of faith and the church; it has always been my stronghold in life. It has always been my compass. God has walked with me every step of the way as a I am heart patient even today.
You can do anything that you set your mind to as long as you prepare properly, have the right people by your side, and family and friends that continue to support you. So I am a walking miracle. I am grateful for that today.
AE: When you guys found out that you were having a child I am guessing that you told your wife's doctor all about your medical history correct?
BL: Very much so. That was our first concern when my wife and I did sonograms and checking on our son, who now is 13 years old. Life happens quickly. That was a major concern of ours. His pediatrician and doctors knew of my preexisting condition as well as being a heart patient my whole life.
I feel very privileged to be a heart patient. I feel like it teaches us a lot about our life, our health, and eating right and staying active. When I became a father it was a different step. It is a different step because it is not you. Being a father is kind of a helpless situation. You are truly in God's hands because you can't do anything about it. You can only be an advocate for your child.
I think it is life changing, but at the same time it was definitely a concern of ours knowing that I had this preexisting condition. He is healthy today and good. He is singing on Broadway now. Life is good. He is following in his daddy's footsteps. He is knowing about hard work now at 13. We are blessed.
AE: Now let's talk about your career in the entertainment industry. You and the rest of the guys from Backstreet Boys are still going strong. From the time you started to now what are you most proud of in your career with the band?
BL: I think it would be the longevity. There are so many people in this business that have just a quick shot. We call it a short shelf live. You come out with a few songs and you have decent success and then you kind of go away. For me one of the biggest accomplishments as a Backstreet Boy in general is just the longevity.
We have been together for 23 years now. We are still going. Still making music. We are actually back in the studio. Don't tell anybody. (Both laugh.) You are getting an exclusive now. Don't tell anybody. Keep it quiet. Just kidding.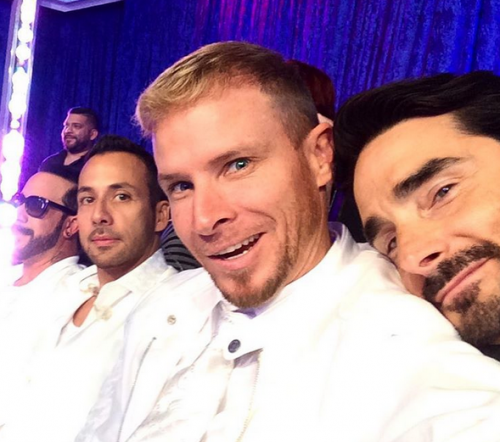 We are back in the studio. We recorded six songs already for the new album and life is going. When I look back at my career I am proud. I am proud of what we have done. I am proud of where we are at and where we are headed in the future. It is tough to have a long lasting career in this business especially being a quote unquote boy band from the 90's. As long as we focus on the quality of our music and the direction in doing what we love I think we can be around for as long as we choose to be.
AE: You guys are doing a cruise. Tell me a bit about that.
BL: This is our first European cruise. Normally we go down to the Bahamas. This time we are changing the game. We are going to be out in Europe in different ports throughout Italy and Spain. We are super excited. As of yesterday I think that there are 15 to 20 spots left. Go to BackstreetBoys.com and check it out. It is a four day extravaganza of nothing, but BSB all the time 24 hours a day. We do live shows. We do meet and greets. We do contests. We throw parties. It is a blast. So sleep now if you are planning on coming to the cruise. Sleep now so can stay up for four days straight. (Both laugh.)
AE: Switching to fatherhood now, what are some of the core values you looked to instill in your son as he grows up?
BL: Core values are always faith based for me. To know your maker. To know God. To have a relationship with him. To respect Him in that nature. I think it all starts with that. It filters down to myself and my wife teaching him the core values of respect, love, honor, and work ethic.
That is what my dad taught me. That is why we went to church every Wednesday and every Sunday growing up. There is something greater than you. A lot of times in life we focus a lot on ourselves. Life becomes quite selfish. If you always give that focus away to something than it can't be about you. You can't be bigheaded and be full of yourself and then believe the hype. I think that is important to me. That is important for me and it is obviously important for my son.
'Are you Brian from the Backstreet Boys?'
'Yes, I am, but I also am a husband. I am also a father. I am also a lot of things that people don't know.'
If you take the time to check us out online and on social media, which Art is crazy, because social media has taken over the planet, but it is a really good thing. I used to be scared of it when Twitter and Instagram came out years ago. You talk about connecting with people and having that access. People want to know what your life is like. Do they ride the subway or do they have a limo take them everywhere? Does a chef cook them breakfast? No, we don't have a chef. We don't have a maid. I clean my house. I drive my son. We live in New York right now. We are living like New Yorkers. I just got out of a cab to make this interview. Life goes on.
For me those are core values. Life is life. You make it what you want it to be. If you make it about a bunch of hoopla about yourself, guess what? Nobody is going to want to be around you. Nobody is going to want to spend time with you, wonder what you are doing or even care because you are so stuck on yourself. Life is real. It is real for all of us. I hope that makes sense.
AE: It looks like your son is following in your footsteps as an entertainer. What advice did you give him?
BL: Years ago I was recording in L.A. with the Backstreet Boys. It was right around the time that Michael Jackson had passed away. I flew home to Georgia where we live. My son walks into the kitchen singing I Want You Back by the Jackson 5. He is singing at the top of his lungs and I am like Baylee what are you doing? He tells me that it is Michael Jackson. They are playing it all over the radio.
It was a realization to me. I always knew that he could sing, but when I heard him sing Michael Jackson I was like wow. I look back in my past and in my lifetime and the people that I have been influenced by. I grew up listening to Michael. Hearing your son sing Michael Jackson I was like wow. He has a gift. He has a God given gift. It doesn't come from me or mommy. It is just an anointing that is something special.
A lot of people are like you sing with the Backstreet Boys, but it is not about me. With fatherhood it is not about the dad. It is not about the mom. It starts at home. Family is number one for us besides our faith and being together.
I have always told my son, Baylee that it is tough and it is hard work. It is long days and you have to be away from your family. That really hurts. Traveling the world people look at it like it must be so much fun to travel the world and tour the world. It is. Yes it is and I am blessed to be able to touch people's lives all over the planet. At the same time a lot of the time I can't take my family with me. We are going nonstop. It is tough.
Trying to be a dad on the road is hard. A lot of people don't have to deal with the things that we have to deal with from buses to trains to passports to traveling countries. It is always on the go. So I tell Baylee that it is tough. It is hard work. Right now he is about to open a show on Broadway. It is called Disaster. It is an original comedy musical that is about the 70's. He is singing 70's songs. This musical is funny, but it is a lot of work.
My 13 year old son is doing 13 hour days at rehearsal. Now he knows what I am talking about. It is a realization of wow this doesn't come easy. You might have a gift. You might have a God given gift to be an entertainer or have a voice. This kid grew up watching Dean Martin. Frank Sinatra, Carrol Burnett, and Tim Conway. We call him an old soul. He is 13 going on 35.
It comes down to hard work. It comes down to work ethic and spending time on things that you want to be valuable in life. I spend a lot with my family. I spend a lot time with my career. Those are the things that I want to continue to be successful at. Those are the things that I am teaching Baylee. He tells me that it is hard work. I say that you have to spend time. You got to put that time and effort in. He is doing well. He is like a little pro.
AE: What advice do you have for new dads out there?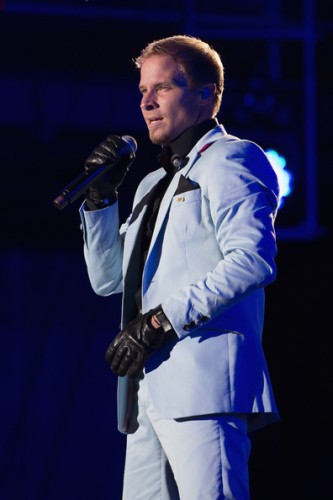 BL: Be patient. Pray a lot. Be an advocate for your child. Being a father is something that is life changing. It is not about you anymore. It is what you can do to make your child's life better. It becomes a team effort. I think a lot of dads relate to sports and a team's effort. Picking up the slack where someone leaves off.
Your child is always going to need you no matter if they are two, six months, two weeks or 20 years old. They are always going to need you. Being that loving support. Being that positive role model. It is hard not to judge your children. You want them to do well, but you also have to be constructive of them. That is a hard thing that I have had tried to learn. It is to not judge my son in a condescending way. You have to be positive. You have to be uplifting. Be their cheerleader. That is what they need in life. If they can't find it anywhere else they have to be able to find it at home.
Life of Dad Quick Five
AE: What is your favorite family movie?
BL: We don't see a lot of movies in our house, but I will say we just saw Star Wars. We love the Star Wars movies. I think a classic for us is It's A Wonderful Life with Jimmy Stewart. That is our go to family holiday movie that we have to watch every year.
AE: Do you guys have a favorite family song?
BL: There are so many. We listen to all kinds of music. There is a new song by Chris Brown. It is called Zero. It is a cool dance record. We listen to anything and everything. If it is Gospel. If it is Country. If it is Pop. If it is Rock. We are quite eclectic in our house.
AE: Describe the perfect family vacation.
BL: The perfect family vacation for the Littrels is to pack up and jump in our truck and drive down to Florida. We like the Gulf Coast of Florida. It is the upper west side of Florida that looks directly down on the Gulf. There is a little beach town. I am not going to tell you where it is. (Both laugh.) We are in a house right on the beach. You sit there with your toes in the sand and feel the water come up. It is a beautiful place.
AE: Is there a venue that is your favorite place to perform at?
BL: The Tokyo Dome. Tokyo the city is really amazing. The technology there is leaps and bounds of what we know here. You could pick a lot of places, but I am going to stick with that one. The Tokyo Dome in Tokyo, Japan. It is a really cool place. The people and the fans are terrific.
AE: On social media I see that you have some cool kicks. I am a sneakerhead. Are you and if so what is your favorite pair of shoes?
BL: The Olympic Air Jordan VI.
Follow Brian on Twitter @brian_littrell, his website, BrianLittrell.com as well as the Backstreet Boys site at http://www.backstreetboys.com/