Ernie Hudson is one of the most sought-after actors with an impressive list of credits and awards whose body of work has diverse range. He is a beloved star in film, television and stage, long considered one of Hollywood's iconic working actors.
In his early years, Hudson served in the Marine Corps and then moved to Detroit, Michigan. He became the resident playwright at Concept East, the oldest black theatre company in the U.S. He established the Actors' Ensemble Theatre where he and other talented young black writers directed and appeared in their own works. Later, he enrolled and subsequently graduated from the Yale School of Drama.
Hudson first met Ivan Reitman on "Spacehunters." It wasn't long before he was asked to join Bill Murray, Dan Akroyd and Harold Ramis in the 1984 feature film "Ghostbusters gained fame playing 'Winston Zeddemore,' the fourth 'Ghostbuster.' The 1989 sequel, "Ghostbusters 2," cemented his stardom as both films ultimately became two absolute fan favorite blockbuster films.
After "Ghostbusters" Ernie went on to critically lauded roles in diverse films soon followed from his standout role as the mentally challenged 'Solomon' in "The Hand that Rocks the Cradle" to 'Munro' in "Congo" and 'Police Sgt. Albrecht' in the award-winning film, "The Crow." Hudson continued to expand industry attention by changing gears again showing amazing range in his role as 'Harry McDonald,' the FBI superior of Sandra Bullock's character in the feature film, "Miss Congeniality" and its hit sequel, "Miss Congeniality 2: Armed & Fabulous" in 2005.
In recognition of Easter, TV One will premiere a program reflecting the faith, family and music of the season. On Saturday, April 4, 8PM/ET, Ernie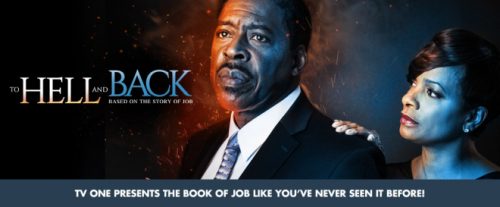 Hudson and Vanessa Bell Calloway headline To Hell and Back, a TV One original movie.
Based on the Book of Job, To Hell and Back tells the story of Joe Patterson (Hudson), a successful businessman, loving father and humanitarian who has been blessed with every good fortune. Despite living a life of great faith, he is tormented by Satan and made to suffer terribly. In rapid succession, catastrophic events devastate the lives of Joe, wife Janine (Bell Calloway) and children as the family encounters deaths, deterioration of physical wellbeing and a downward spiral of the prosperity they have worked tirelessly to attain. But even in his darkest hour, Joe refuses to curse God and remains steadfast in his faith.
I got to talk with Ernie about "To Hell and Back," "Ghostbusters," comic cons, and fatherhood.
Art Eddy: Let's first talk about the film, "To Hell and Back." Tell me about your character and a little about the film.
Ernie Hudson: It is kind of the story of Job. The Bible story from the Book of Job. For those who know the story it is all the things that happen to Job. It was really a testimony to his faith. Being able to hold onto his faith and his belief in God even when all these horrendous things happen to challenge him. In the Bible it is almost a bet between God and the Devil. The Devil is saying this is a righteous man and he is loyal to you. If bad things happen to him he will curse You to Your face.
Of course God allows these things to happen. Job still holds onto his belief and faith. So it is really a test to those things we believe at our core. The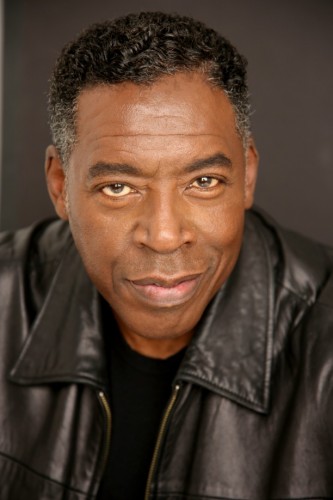 temptation to turn and to see the negative, but he still holds to his beliefs, his belief in God, belief in family, and his belief on who he is as a man. My grandmother who raised me was very religious. When I read this script I knew that this was something that she would really want me to do.
AE: I got to watch the film. It has a very powerful message. To me it shows me that you need to stop and look at what you have that is of real value. It is not money or possessions. I feel that there needs to more films like this that show how faith can help a person through the tough times in life. What is your takeaway from this film playing the lead role?
EH: Ideally I would love for people to see this and see what this guy goes through and really take a look at their situation and circumstances. Just value what we have. We really do have so much. We think that a lot of negative things happen to us. When you really take the sum total and a real good look at our lives and see that we are just blessed. Then we see things in this film that we can't even imagine.
I think in this movie we get a chance to see that. You say this couldn't happen, but it does happen. We have so much stuff that we are blessed with especially when we have family. Even if all of that is removed we are still blessed just to live this life. For God, if you believe in God or for those who don't believe in God than the universe. We are so blessed to have this experience. To have this opportunity. Just to be a reminder of that. To just really appreciate what we have and who we are.
AE: There are many emotional scenes in the film. I felt you and the rest of the cast did a brilliant job portraying what these characters were going through. As an actor how do you draw upon those emotions while filming certain scenes?
EH: I identified with the character because I have four sons. I have been very, very blessed. I tell people that I have had a charmed life. Now that is not to say that I haven't gone through difficult things. I think a lot of it has to do with how you look at it. My kids are healthy. I am healthy. I have been able to accomplish a lot of things that I set out to do as a young man.
When he goes through things in the film and the difficulties that he runs into with his family you use your imagination. I guess it is life. Just having lived life and having raised a family. Having achieved things and having lost things. It is life. I just related it to what he was going through yet still wanting to give those life lessons that you believe. You want your family to hold onto that anchor that you believe will keep them grounded. It was difficult for me to portray that. I pray that I will never have to experience anything he had to. It was difficult, but we use our imagination. That is what we do as actors.
What I loved about the script was that I thought Rhonda Baraka did a realistic portrayal. Sometimes I see things and I am like that really wouldn't happen. She really did set it up in a way that you are like yeah that could happen. She did another movie that I did called "Pastor Brown." I think she is a wonderful writer. I thought she did a great job on this script.
AE: Besides "Ghostbusters" which show or film do people ask you about when they meet you?
EH: I have been very blessed. Even though I did the two "Ghostbusters" movies that people relate to and ask about most of the time it didn't exactly launch my career in some super stardom stratosphere. I always had to go out and work. There are huge fans from "The Crow." It was a very popular movie with Brandon Lee. Fans love that film. Anytime that I am on the streets someone will mention it.
I did the series "Oz." There were a lot of fans that loved "Oz." I did a movie "The Hand that Rocks the Cradle." There were fans from that. I also did a movie called "Congo." I did a movie called "The Substitute" with Tom Berenger and there are fans from that.
Over the years it has been a number of things. Last Sunday I was on "Once Upon A Time." So fans will come from a variety of things. I haven't been one of those actors who has been fortunate enough to make a big movie and become this action star. I sort of had to do a little bit of a lot of things; sitcoms, dramas, comedies, and whatever God has sort of presented me with and put in front of me. You do the best that you can do to the best of your ability and give praise for all of it.
AE: Do you have a favorite moment whether it is in the film or behind the scenes from "Ghostbusters?"
EH: I remember coming in to audition for the film. I went through a lot of changes in getting that role. Meeting the guys. I thought that they were a great bunch of guys. They already attainted a certain level of success. I was sort of starting out in my career. I have been acting for a long time, but most of it was on stage.
It was great just getting the opportunity to work with them and shoot in New York. To see how Bill Murray especially dealt with the fans and how they loved him so much. Just as an observer and to be a part of that and watch that unfold the way it did was just a great experience for me.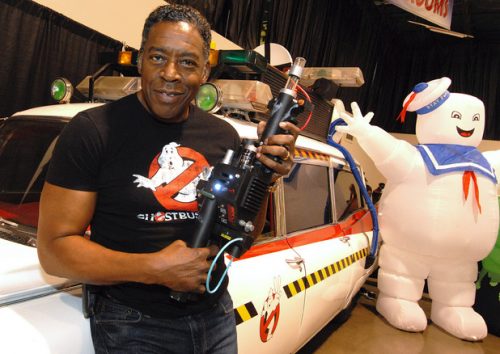 AE: You go to a lot of comic conventions. They seem to get bigger and bigger each year. What do you look forward to when you go to these conventions?
EH: I love the fact that it is an opportunity and environment set up specifically to meet people. When I am on the street, shopping, or with my family and people come up they are really excited. It makes me a little nervous to be honest about it. (Both laugh.) When people are following me around I am like wait a minute.
When I am at a convention it is for that. So fans come up and tell me their stories. It is fun. It is great meeting people because they really, really do love the movies. When you live in Hollywood everyone is a little bit jaded. The studios say well you did that last year why should we hire you now? Nobody remembers that. When you go out to these conventions you see people that not only remember, but love these movies. They value your work. It is uplifting and I really appreciate them. To me it is a blessing to just be able to attend them. It is always a joy.
AE: Now switching to fatherhood, what are some of the morals you look to pass on to your children as they grow up?
EH: We see what is going on in society nowadays. How do you walk this walk in this society and still hold on to your dignity and your respect and yet be respectful? How do you survive? How do you live to be an old man? How do you carry yourself? You can tell people about it. It is not so much what you tell kids, but it is what they seen in us and how we carry ourselves.
Animals are the same way. I remember that there was a report on elephants where these young elephants were going crazy. The older elephants came in and the way the older ones conducted themselves the younger ones learned from that. So it is just basic life stuff.
The kids in the movie, "To Hell and Back" I loved them all. They really felt like my kids. My oldest son is now in his forties. He will call me and say that he was thinking. Then he will tell me something that is exactly word for word what I told him 30 years ago. He finally just gets it. He owns it. It takes a while. We instill these things. We teach these things. You can't hear what you can't hear, but it is still a part of you.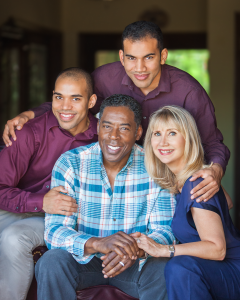 My grandmother raised me. There still are things where I say oh I get it. I thought I got it then, but I really get it now. We are not alone. We are not going through this journey alone. The people that we love are still a part of us. They walk this journey with us. You can give your children the gift of your presence and love. Sometimes they don't seem to appreciate it, but you are with them. It is so important. I have four sons. They could not be alike in anyway. You wouldn't think that they are related. They are four very uniquely, different guys, but they are really cool. The greatest blessing is being able to share my life with these amazing men.
AE: How do you balance work and family?
EH: Some people tell me that I might have been a bigger star if I hadn't been home as much. With my first two boys, my marriage ended. They were really young. They were like seven and ten. The kids came to live with me. So a lot of the times when we finished shooting we would wrap and everyone went to hang out and party. I had to go home to my sons. I didn't want to look up one day and lose connection with them. I had to be there as a single dad.
With my second set of kids that I raised with my wife, if you are gone too much as a dad the kids will start to form a bond and suddenly you are outside of that. I didn't want that to happen. I am dad okay. It was important for me to do the work because that is a part of me and is who I am, but it was more important for me to stay connected with my family and to my kids.
My boys until they were grown, there was never a week where I wouldn't communicate or talk to them. It was important to be there. It was important to do the job. I grew up without a dad. I knew that emptiness that nobody else could quite fill. It was so important to me to try and do the best job I could. Kids will tell you about the things you didn't do right or that you could have done better, but I did the best I could. (Both laugh.)
I would tuck them into bed until they didn't want to be tucked into bed. All I knew was from friends and shows like "Father Knows Best." It was important to me that I do this thing right. I am still dad. I talk to my kids at least once a week. That was more important. The work is nice, but if I got all the work and became successful but lost connection to my children I don't think that would be much of a success. We are in it together. I am a part of them and they are a part of me. They are extensions of me. They are their own people, but we are all in this together. I see so many young guys who have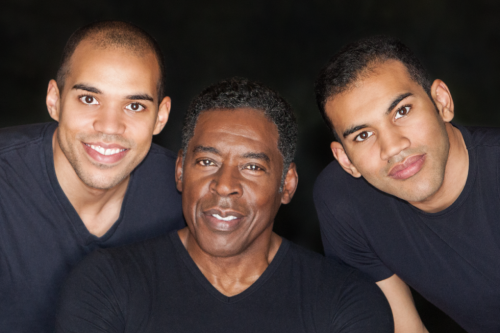 children that want that success and walk away from their family. I think you lose. I really do. I think you lose things that you can never ever get back.
AE: I think you answered this already from the previous question, but what advice do you have for new dads out there? Is it mostly to be there for them?
EH: Absolutely. Some guys will be like once I get my thing together I will be able to come back and give them all these great things. I can then be the cool dad. No man, you are the cool dad. Your presence just in that home or with them makes all the difference in the world. It isn't about what is right by someone else's standards. Just knowing that you did the best you could. I think the universe blesses you. I really do.
Life of Dad Quick Five
AE: What is your favorite family movie you guys like to watch together?
EH: Well now with the grandkids we watch "Ghostbusters," "It's a Wonderful Life." My wife's favorite is "The Wizard of Oz." It's great when the family movie becomes a movie that I am involved in. All my kids love "The Crow." We will watch it together sometimes. My older boys saw me build my career. The younger boys, by the time that they were born it was already in bloom. We love watching movies and being able to spend that time together.
AE: Do you guys have a favorite song that you all like to sing and dance to as a family?
EH: It is funny. I don't do that too much with the younger boys. Before it was like "One Nation Under A Groove" and we would just like to party. It was a good time. Especially for me growing up with the Rhythm and Blues. For my older boys at that time it was rap like the Sugar Hill Gang. When Rap was starting to come out the boys got into that.
With my younger boys they just took to Rock, which I totally did not get. Kids keep you young because they introduce stuff to me. I was like wow this stuff is kind of cool. Suddenly I am dressing like them. They all play instruments. They all love music. I think that is so important.
AE: Describe the perfect family vacation.
EH: I don't take a lot of vacations because so much of the work that I have done has been on location. The perfect family vacation for me is when I can go to some resort and I won't turn the phone all the way off, but I can get away from having to be somewhere and just hang with the kids. Especially near the ocean. I love the mountains as well. I can just be with the family. I can be with the grandkids. Everybody is together. We are cooking together. Just really connecting.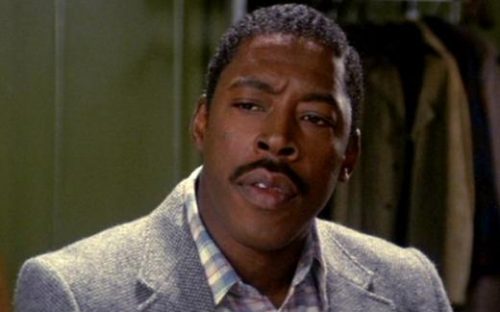 AE: Was there a movie or actor that made you want to become an actor?
EH: Yeah, Gary Cooper. He was a cowboy. He did other stuff too, but I love Gary Cooper. He was kind of the every man. I think that in some ways it reflects in my work. I had my uncles and guys in my neighborhood who I learned from and that I emulated from, but he would teach you the cool thing to say to the chick when you really like her. It goes beyond race or social ladder. I always loved Gary Cooper for whatever reason. He wasn't so cool and wasn't so good looking. He was just a guy. He was a good dude.
AE: Do you believe in UFOs, astral projections, mental telepathy, ESP, clairvoyance, spirit photography, telekinetic movement, full trance mediums, the Loch Ness monster and the theory of Atlantis?
EH: If there's a steady paycheck in it, I'll believe anything you say.
Follow Ernie on Twitter @Ernie_Hudson
Remember to check out "To Hell and Back" that airs on TVOne on Saturday, April 4th at 8PM/ET.