Felipe Alou is this week's guest on The Life of Dad Show.
On The Show
MLB great Felipe Alou talks with The Life of Dad Show hosts, Art Eddy and Jon Finkel about the ups and downs of fatherhood, losing a son, and the relationships he forged while playing in the MLB. Felipe talks about his introduction into baseball and how he and his brothers bonded over the game.
Alou talks about his new book, Alou: My Baseball Journey he wrote with Peter Kerasotis, his thoughts on Pedro Martinez and his favorite moments playing in the MLB.

About Felipe Alou
Alou played seventeen years in the Major Leagues, accumulating more than two thousand hits and two hundred home runs, and then managed another fourteen—four with the San Francisco Giants and ten with the Montreal Expos, where he became the winningest manager in franchise history. Alou became a special friend of Roberto Clemente, roomed with Willie McCovey, Orlando Cepeda, Juan Marichal, and Joe Torre.
About His Book, Alou: My Baseball Journey
Growing up in a tiny shack in the Dominican Republic, Felipe Alou never dreamed he would be the first man to go from his country to play and manage in Major League Baseball—and also the first to play in the World Series. Today, the Dominican Republic produces more Major League players than any country outside the United States.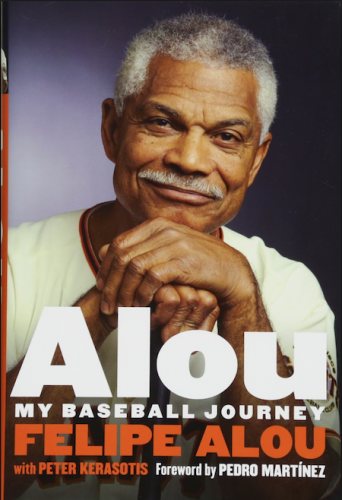 In this extraordinary autobiography, Alou tells of his real dream: to become a doctor. An uncle was funding his university education when an improbable turn of events intervened at the 1955 Pan American Games. There as a track and field athlete, Alou was pressed into service on the baseball field to replace a player sent home for disciplinary reasons. A scout noticed Alou and offered him two hundred pesos to sign a pro contract. Knowing his father owed the grocer exactly two hundred pesos, Alou signed.
Battling racism in the United States and political turmoil in his home country, Alou persevered, paving the way for younger brothers Matty and Jesús and scores of other Dominicans, including his son Moisés. A fourth Alou brother, Juan, might have joined the historic trio if not for the improbable direction his own life took.
Alou's pioneering journey is embedded in the history of baseball, the Dominican Republic, and a remarkable family.
Pick up Alou: My Baseball Journey wherever books are sold. Felipe Alou and Peter Kerasotis are the authors of this book.
About The Life of Dad Show
The Life of Dad Show is the multimedia flagship property of the world's largest network for fathers. With 600,000 downloads of its popular podcast and 300,000+ viewers of the Facebook Live show since 2017, The Life of Dad Show has gathered advice, stories and strategies from an unparalleled list of household names, from Shaq to Jim Gaffigan, to Michael Strahan and Mark Hamill, each offering a glimpse into their personal life as a dad. The show airs Mondays and Wednesdays on Facebook Live, YouTube and Instagram TV. The podcast comes out weekly.
Subscribe to The Life of Dad Show on iTunes and leave a review and you could win a Life of Dad prize pack.