What's better than the solace of preparing a meal in the kitchen after a tiring day working, running errands and taking care of the kids? I'll tell you what, preparing a delicious meal for friends and family in almost no time at all.
Life of Dad and the NFRA (National Frozen and Refrigerated Foods Association, Inc) have partnered up for the upcoming March Madness Tournament to create the #FrozenChefMadness Challenge where one chef's court-side cuisine will win a $800 Visa gift card! With all of the activities a parent has on a daily basis, preparing a delicious dinner for the family can be tough.  When you throw in the time we have to devote to March Madness, you're lucky if the kids are getting a PBJ once the action starts. Now, however, with the vast array of Easy Home Meals, preparing something the family will love is incredibly simple and won't cut in on precious game time.
Want to get in on the Frozen Chef action? Prepare your own original meal that incorporates at least 3 of the hundreds of products listed here to be in the running. Add whatever other ingredients you need to make the perfect game day meal/ snack/ appetizer. This contest is not just for busy parents, but is open to anyone!  Click here to enter the #FrozenChefMadness Challenge!
I did mine today. I present to you the Super Fantabulous Taquito and Rice Casserole with Pineapple Avocado Salsa Boom Shackalacka Boomtacular!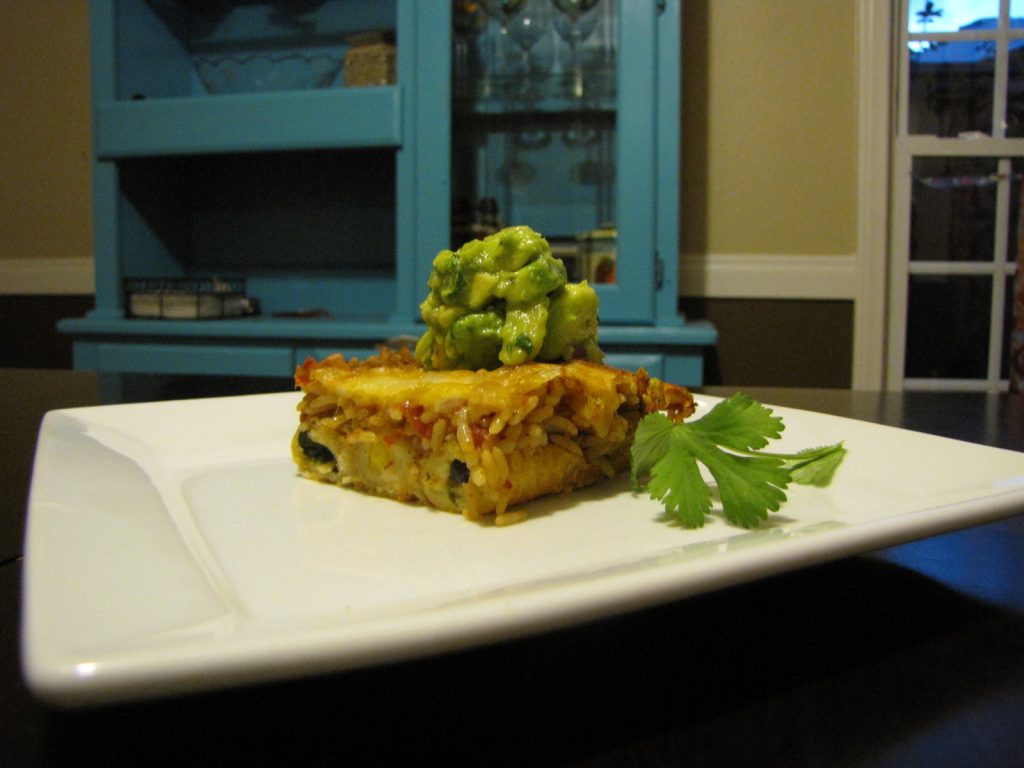 For this meal, my main ingredients were
-El Monterey Chicken Taquitos
-Zatarain's New Orlean's Style Spanish Rice
-Dole Tropical Gold Pineapple Chunks
Other ingredients needed:
-1 10-oz can stewed tomato chunks
– Shredded cheese
– 1-2 Avocados
– 1/2 Red Onion
– Cilantro
– Lime Juice
– Jalapeno
Directions:
-Pre-heat oven to 400
-Prepare the rice in the microwave as per instructions including stewed tomatoes
-Put a layer of El Monterey Chicken Taquitos at the bottom of a casserole dish. 9X13 or something like that…. I don't know, whichever casserole dish your mom bought you one day when you finally moved out 10 years ago.
-Add the prepared Zatarain's rice on top of the taquitos. Make it level and even.
-Smack some cheese on that lovely layer of rice as evenly as you can.
-Stop eating the cheese. You need it for the meal dummy.
-Pop it in the oven for 25 minutes or until cheese is lightly browned.
-While casserole is cooking, chop the delicious Dole frozen Pineapple Chunks into smaller pieces. Give some to your kids and tell them they are Pineapple Ice Cubes. They'll love it.
-Cut your avocados into small chunks. Don't know how? That's what these magical internets are for.
-Chop up 1/4 cup cilantro and add it to the pineapples and avocados.
-Take the pits out of your Jalapeno and chop 1/2 of it into very small pieces. Add to the mix. Or keep the pits in if you like it spicy. Who am I to say what you should do??
-Add 1/2 red onion chopped finely.
-Squeeze in 3 tbsp of lime juice.
-Add salt and pepper to taste.
-Mix that bad boy up and plop it on top of a slice of the magnificent casserole you just made.
-Congratulate yourself on supreme awesomeness and for being so dang good looking.
-Sit down and watch the games and enjoy the deliciousness.
Please be sure to follow all of the contest rules listed on this link to be eligible.  Good luck beating what is definitely my winner of a meal………… "what do you mean I'm ineligible because I'm running the contest….????  Oh, SON OF A %*$#!!!!!!"