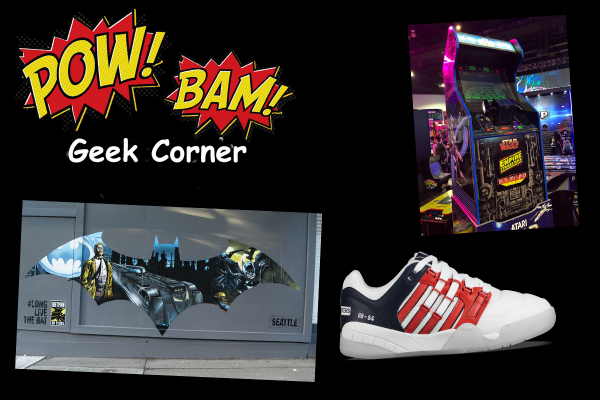 What up fellow geeks? Lot of cool things coming out that I think you will love to check out. From more celebration of Batman turning 80 to a vintage Star Wars cabinet to K-Swiss creating Ghostbuster sneakers you need to read this week's Geek Corner.
The Worlds Oldest Detective
Heading into the summer celebrations of Batman 80th, DC is bringing fans a series of murals inspired by The World's Greatest Detective in four cities across the country. The first mural was unveiled last week in Seattle at the city's landmark music venue, The Crocodile. Painted by locally celebrated artist, Joey Nix, the 10-foot painting is currently on display for fans to visit through the end of June. Batman also appeared in a life-size mural that was revealed today in Bentonville at 116 E. Central Ave. by local muralist, Octavio Logo. Additional installations from a collection of local artists will also debut in Dallas and at the Warner Bros. Studios lot in Burbank later this summer.
Featuring locally-inspired iterations of the iconic Bat symbol, fans can visit the Instagrammable murals and pose in front of giant Bat wings to celebrate Batman in their city and share photos on social media with the hashtag, #LongLiveTheBat. Local artists in the various cities will pay homage to Batman's 80-year legacy in pop culture through the immersive murals.
One of Seattle's most prominent muralists, Joey Nix is behind the Emerald City's newest tribute to the Dark Knight. Known for his photorealistic style in portraits of local heroes, Nix focuses on emotional realism by highlighting personal stories and revealing the inner truths of his subjects. As a longtime advocate for the Seattle graffiti art and mural scene, Nix has also curated an alley beautification program in the local neighborhood of Belltown, featuring artwork by well-known muralists from around the world.
Acclaimed Mexican artist, Octavio Logo brings his signature dramatic style to the Batman mural in Bentonville, mixing vivid colors with bold designs. Growing up in Mexico City, Logo is known for combining his cultural experiences in Mexico and the U.S. through street art, using elements of magical realism and incorporating social commentary into his work. Logo has been contributing to the Bentonville street art scene since 2012, where he actively participates in public murals, local art exhibits, galleries and more.
For the latest news and updates about Batman's 80th anniversary global celebration and city mural series, visit www.Batman80.com.
You Got A Movie On Me!
Have you noticed that Fandango has been offering exclusive advance screenings for certain movies this year? It is a really cool thing. I have been checking out some of movie early screening which is great for me and my family because we love movies. Toy Story 4 is one of the most highly anticipated family films of the summer and is out now in theaters. If you were on the Fandango movie list you would have gotten an email to gain early access. So make sure you follow them for all movie announcements. Thanks to Fandango I am giving away a few $25 gift cards. To enter to win a $25 gift card tweet at me at @ArtEddy3 the answer to this question: which comedy duo make their debut in this movie franchise in Toy Story 4?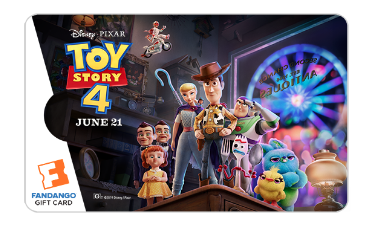 Woody has always been confident about his place in the world, and that his priority is taking care of his kid, whether that's Andy or Bonnie. So, when Bonnie's beloved new craft-project-turned-toy, Forky (voice of Tony Hale), declares himself as "trash" and not a toy, Woody takes it upon himself to show Forky why he should embrace being a toy. But when Bonnie takes the whole gang on her family's road trip excursion, Woody ends up on an unexpected detour that includes a reunion with his long-lost friend Bo Peep (voice of Annie Potts).
After years of being on her own, Bo's adventurous spirit and life on the road belie her delicate porcelain exterior. As Woody and Bo realize they're worlds apart when it comes to life as a toy, they soon come to find that's the least of their worries.
A Long Time Ago….

At E3 Arcade1Up is showcasing a lot of new cabinets. A few days ago they released the Teenage Mutant Ninja Turtles and Marvel Super Heroes arcade cabinets. Now Arcade1Up today added a new Atari Star Wars machine to its catalogue.
The new Arcade1Up Star Wars cabinet looks to be released this fall and is the only at-home arcade cabinet that uses the original arcade software, and features the X-Wing pilot controller. The new cabinet is something of a departure from other more standard controls. The iconic X-Wing flight stick is put to good use in the three Star Wars games:
Star Wars

Empire Strikes Back

Return of the Jedi
The Path to the 31st Century Begins This September with 'Legion of Super-Heroes: Millennium

This September, DC fans will embark on a journey into the future(s) of the DC Universe and the 31st century, as the publisher announced plans for a two-part monthly series, LEGION OF SUPER-HEROES: MILLENNIUM. This two-issue prelude, written by Brian Michael Bendis and featuring art by Jim Lee, Ryan Sook, Nicola Scott and others, paves the way for an all-new LEGION OF SUPER-HEROES ongoing series by Bendis and Sook.
The series focuses on a most unlikely tour guide to the 31st century, a familiar face to DC fans who finds herself suddenly immortal. As she learns to cope with her newfound immortality and the reason she was chosen for this quest, her 1,000-year odyssey will connect all of DC's future timelines for the very first time. Along the way she encounters a host of DC heroes from the future, as drawn by some of comics' most popular artists:
Supergirl, drawn by Jim Lee

Batman Beyond, drawn by Dustin Nguyen

Kamandi, drawn by Andrea Sorrentino

Tommy Tomorrow, drawn by André Lima Araújo
"Since its Silver Age origin, the Legion of Super-Heroes has been the cornerstone of the future DC Universe," said Bendis. "Over time, a wealth of future characters and stories have emerged since the Legion's beginnings and connecting these threads to an updated version of the Legion is a story Ryan and I can't wait to tell."
The second issue is scheduled for October and continues this mystery quest, making additional stops in the future DCU, rendered by an equally talented roster of artists:

Booster Gold, drawn by Nicola Scott

OMAC, drawn by Jim Cheung

A DC "off-world" chapter, drawn by Jeff Dekal

Legion of Super-Heroes, drawn by Ryan Sook
LEGION OF SUPER-HEROES: MILLENNIUM #1 debuts in comic book stores and online retailers on Wednesday, September 18. For more news and updates on the World's Greatest Super Heroes, visit www.dccomics.com, the DC YouTube channel or follow @DCComics on social media.
I Ain't Afraid Of No Sneakers
Last weekend to celebrate the 35th anniversary of "Ghostbusters," K-Swiss teamed up with Foot Locker to launch a limited-edition sneaker collaboration. Designed by sneaker customizer Alexander-John, the Ghostbusters x K-Swiss collection will include the Classic 2000 and Si-18 International silhouettes inspired by the two infamous villains of the classic film, Slimer and the Stay Puft Marshmallow Man.
The first of the batch is a tonal neon green low-cut silhouette boasting the five K-Swiss stripes on each side of the sneaker. Additional details include the "Ghostbusters" logo printed on the tongue and a caricature of Slimer on the insole.