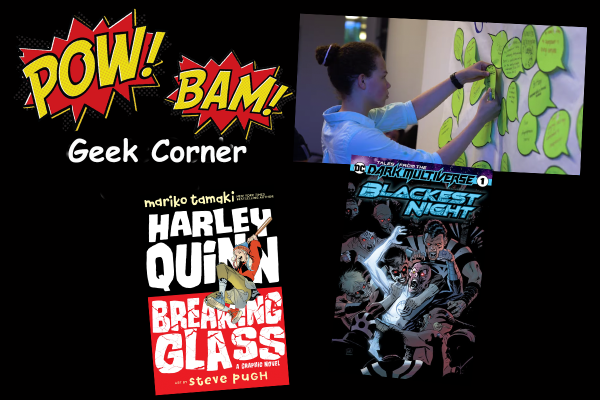 What up fellow geeks? Hope your week was FANTASTIC! For this week's Geek Corner I am showcasing a new Harley Quinn book, a new side to DC Multiverse and how DC is looking for the next female writers. This last one hits close to home for me since I can see my daughters getting into the comic book industry as writers.
Breaking Glass
"You wanna make change? You gotta be change!"
On September 3, the newest young adult graphic novel from DC's Books for Young Readers Collection, HARLEY QUINN: BREAKING GLASS, will be available in comic and book stores nationwide. In anticipation of its upcoming release, DC today launched its trailer, giving fans a sneak peek of Harleen Quinzel and her family as they attempt to take down the Kane corporation. With themes around found family, gentrification and justice, the high-anticipated title is penned by Eisner Award and Caldecott Honor-winning author Mariko Tamaki (SUPERGIRL: BEING SUPER) and Eisner Award-nominated artist Steve Pugh (THE FLINTSTONES).
HARLEY QUINN: BREAKING GLASS is a coming-of-age story about choices, consequences, fairness, and progress and how a weird kid from Gotham's poorest part of town goes about defining her world for herself. Harleen is a tough, outspoken, rebellious kid who lives in a ramshackle apartment above a karaoke cabaret owned by a drag queen named Mama. When the cabaret becomes the next victim in the wave of gentrification that's taking over the neighborhood, Harleen is faced with two choices: join high school friend Ivy, who's campaigning to make the neighborhood a better place to live, or join The Joker, who plans to take down Gotham one corporation at a time.
To celebrate the upcoming launch, Tamaki will host signings in various cities, including the recently announced San Francisco book signing event at Dr. Comics & Mr. Games on August 31. New York residents will also have the opportunity to see Tamaki this weekend as she participates in two panels – The Great YA Debate and Sickening! Queer Horror Comics – at FlameCon in New York, NY. The fan-favorite writer is also scheduled to attend New York Comic-Con in October.
The Dark Side
Born from the pages of the bestselling event Dark Nights: Metal, the Dark Multiverse continues to play havoc with some of the most memorable events in DC's comic book history as the publisher announced today two more additions to the Tales from the Dark Multiverse series of prestige format one-shots.
TALES FROM THE DARK MULTIVERSE: BLACKEST NIGHT #1
Writer Tim Seeley (Nightwing) and artist Kyle Hotz (Swamp Thing: Roots of Terror) team up with cover artist Lee Weeks (Batman) to retell the tale of the Green Lantern event that changed the DC Universe forever, only this time the Black Lanterns emerge triumphant! Twenty-three days after the cataclysm, Sinestro, trapped between life and death as a White and a Black Lantern, emerges as the world's last hope—the Limbo Lantern! In order to save the universe or end his life, he'll need the help of some unlikely survivors—Dove, Lobo, and Mister Miracle—all of whom will put their lives on the line to give their world one final chance! This 48-page one-shot goes on sale November 13 for $5.99, and fans can also pick up a reprint of the original Blackest Night #1 the same day for just $1.
TALES FROM THE DARK MULTIVERSE: INFINITE CRISIS #1
Writer James Tynion IV (Justice League, Justice League Dark) and artists Aaron Lopresti (Wonder Woman) and Matt Ryan (Damage) team up with cover artist Lee Weeks for this dark turn on DC's mega-event Infinite Crisis. The destruction of Superman, Batman, and Wonder Woman, the rise of Alexander Luthor and Superboy-Prime, and the rebirth of the Multiverse all began with Ted Kord, the Blue Beetle. Kord saw it all coming and died with secrets that could have saved the world. But in the Dark Multiverse, Blue Beetle survives, and with the death of Maxwell Lord by his hand, Ted sets off events that irreversibly alter the lives of not only the Justice League, but also his best friend, Booster Gold. In trying to prevent a crisis, Blue Beetle becomes the crisis, and the Dark Multiverse will never be the same. A $1 reprint of the original Infinite Crisis #1 will also be available when this 48-page one-shot goes on sale November 27, also for $5.99.
Looking For The WriteGirl
On Friday, August 2, DC welcomed 40 teen storytellers from the award-winning creative writing mentorship organization, WriteGirl, into the publisher's legendary halls to learn about the World's Greatest Super Heroes and the art of graphic storytelling. This full-day writing workshop was developed to inspire these Los Angeles-area girls, ages 13-18, to unleash their unique superpowers through pen and paper and envision potential careers in comics and graphic novels.
The event kicked off with a welcome speech by Michele Wells, vice president and executive editor of DC's Books for Young Readers program, followed by a series of breakout sessions taught by representatives from DC's editorial team and several of the comics industry's top writers and artists including Mariko Tamaki (Harley Quinn: Breaking Glass), Cecil Castellucci (Female Furies), Sarah Kuhn (Shadow of the Batgirl), Nicole Goux (Shadow of the Batgirl), Amy Wolfram (DC Super Hero Girls), Monica Kubina (DC Super Hero Girls), and Cat Staggs (Adventures of Supergirl).
Teen mentees gained firsthand experience of the collaborative nature of graphic storytelling, working together with the help of their professional mentors to develop original stories for Wonder Woman, Batgirl, Harley Quinn, Supergirl, and other iconic DC characters. From learning how to write captivating pitches, to discovering key elements of a superhero story, to writing their first comics script, the girls gained a new set of graphic storytelling tools to add to their writing toolbox.
"DC is a big fan of WriteGirl and the work they do in the community, and we are honored to have partnered with them for this event," said Wells. "Beyond the technical skills taught in the workshop, we also wanted to show the girls there's a place for them in this industry, whether that be as a writer, illustrator, colorist, or editor. We hope the girls hone their newfound skillsets and feel empowered to one day continue DC's rich storytelling legacy and tell the next great Batman, Superman, or Wonder Woman story…or maybe create a brand-new character all their own!"
WriteGirl is a free program for aspiring female writers ages 13 to 18, many of whom are from at-risk and underserved communities. Girls participating in the program get guidance and mentorship from women who volunteer to share their expertise. The August 2nd event with DC was part of WriteGirl's monthly mentoring workshop series.