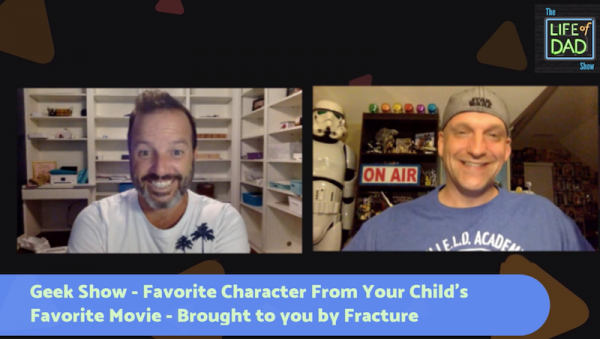 What is your favorite character from your child's favorite movies?
On The Show:
All parents know that they will be watching one movie over and over again with their child. Do you have a favorite character from that film? The Geek Show hosts, Art Eddy and Patrick Quinn share their favorite characters. This week's show is brought to you by Fracture.
Fracture looks to help you share your stories and savor your memories. Fracture believes that sharing stories with one another is an essential part of being human. Fracture creates prints that are perfect gifts for birthdays and special occasions. For more information go to fractureme.com.
What some of our viewers said:
Jorge DeMoya · When Frozen and Moana are on repeat because you are Dad with girls… Easily Olaf and HeyHey are my spirit characters!
Brian S. Marks · Pinky pie from my little pony. Hands down best character ever.
Andrew Gilbert
Maximus from Tangled.
Brandyn Shoemaker
I relate to Hei Hei from Moana more than I have any other character from any other movie ever.
Camron Reigelsperger
Madagascar 2 a ton of adult jokes really funny!
About The Geek Show Hosts:
Art Eddy
Art Eddy is one of the co-founders here at Life of Dad. He hosts and produces all of the Life of Dad podcast as well as hosting a few Facebook Live Shows on the Life of Dad Facebook page. He is one of the main writers on the site. Art loves Star Wars, football (49ers fan), baseball (Red Sox fan), Air Jordans and all things Geek.
Patrick Quinn
Patrick Quinn is one of the co-founders here at Life of Dad. He is one of the funniest writers here at Life of Dad. He has a weekly article called Playlist Elevated where he introduces you to bands that you might not know, but totally should.
For more on The Geek Show click here.