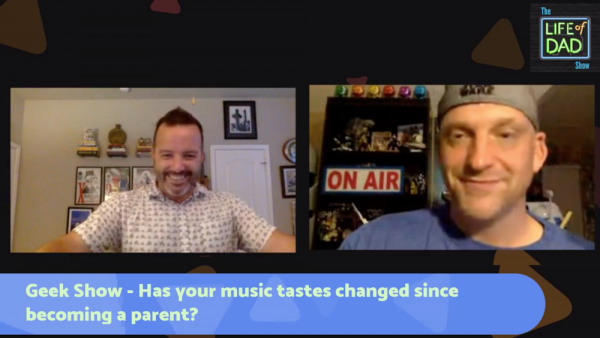 Has your music tastes changed since you became a parent?
On The Show:
The Geek Show hosts, Art Eddy and Patrick Quinn share the evolution of their love for music since becoming dads.

Here is what some of our viewers said:
Diana Morrison · Nope. My music taste has always been the same since my early teens. Iron Maiden, Deep Purple, The Who, Maiden….Maiden….did I mention Iron Maiden??
Cliff Marshall
I listen to a lot more wiggles, fruit salad is the jam!
Joey David
No. My taste in music changed when modern music started to suck.
Colin Richard Crittenden
nope in dads truck its what dad lissens too, metlaica, korn, slayer, lamb of god, god, smack, etc… you know your kids are your when they are say " dad!! crank it !!! lol.
Marc Bradley Mitchell
My son plays Crazy train on key board and fancy xylophone
About The Geek Show Hosts:
Art Eddy
Art Eddy is one of the co-founders here at Life of Dad. He hosts and produces all of the Life of Dad podcast as well as hosting a few Facebook Live Shows on the Life of Dad Facebook page. He is one of the main writers on the site. Art loves Star Wars, football (49ers fan), baseball (Red Sox fan), Air Jordans and all things Geek.
Patrick Quinn
Patrick Quinn is one of the co-founders here at Life of Dad. He is one of the funniest writers here at Life of Dad. He has a weekly article called Playlist Elevated where he introduces you to bands that you might not know, but totally should.
For more on The Geek Show click here.