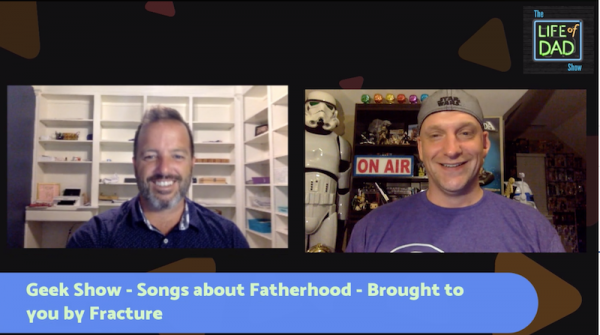 We are talking about the songs that remind us of fatherhood.
On The Show:
Do you have any songs that when you hear it you immediately think of your kids and your journey as a father? The Geek Show hosts, Art Eddy and Patrick Quinn give you their fatherhood playlist. This week's show is brought to you by Fracture. We are giving you a chance to win a $70 Fracture gift card.

Fracture looks to help you share your stories and savor your memories. Fracture believes that sharing stories with one another is an essential part of being human. Fracture creates prints that are perfect gifts for birthdays and special occasions. For more information go to fractureme.com.
Here is what some of our viewers said:
Shawn L Pearson · The Best of Times, by Styx. I sang it to my son in the womb, and when he was a baby, often altering the words according to the circumstances. When he was able to speak, he began singing with me, and it's his favorite song to this day.
Shawn W Olson
Beautiful Boy, by John Lennon.
Wayne L. Oakley I'll be your man (song for a daughter) – zac brown bad
any time we play the song my daughter runs up to me to dance.
Joseph Cabrera
(Criss/cross Jump Jump). It reminds me of my baby boy in the Johnny jumper. He was all about it.
Steve King
Haven't Met You Yet – Michael Buble
About The Geek Show Hosts:
Art Eddy
Art Eddy is one of the co-founders here at Life of Dad. He hosts and produces all of the Life of Dad podcast as well as hosting a few Facebook Live Shows on the Life of Dad Facebook page. He is one of the main writers on the site. Art loves Star Wars, football (49ers fan), baseball (Red Sox fan), Air Jordans and all things Geek.
Patrick Quinn
Patrick Quinn is one of the co-founders here at Life of Dad. He is one of the funniest writers here at Life of Dad. He has a weekly article called Playlist Elevated where he introduces you to bands that you might not know, but totally should.
For more on The Geek Show click here.