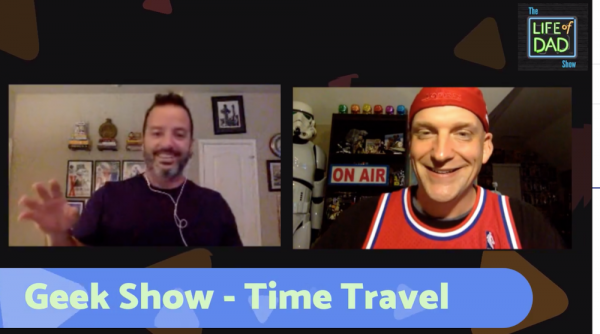 Geek Show – Time Travel – Past Or Future
On The Show:
If you could time travel and only go into the past or future which time would you choose? The Geek Show hosts, Art Eddy and Patrick Quinn weigh in on this issue.
What some of our viewers said:
Kelly Clark 1978…….and hang out with that weird George Lucas dude.
Christopher Dilloway · Go back to the 80s, buy up all the LEGO, Transformers and GI Joe stuff I can, put it in a storage area, and have it waiting for me when I get back to the present 🙂
Victor Aragon · I'd buy a sports almanac and bet on games. No one has ever thought of that!
Gage Carroll
Past to go meet Babe Ruth and Jackie Robinson.
Bill Fedele
Back in time to see my dad and all my grandparents
About The Geek Show Hosts:
Art Eddy
Art Eddy is one of the co-founders here at Life of Dad. He hosts and produces all of the Life of Dad podcast as well as hosting a few Facebook Live Shows on the Life of Dad Facebook page. He is one of the main writers on the site. Art loves Star Wars, football (49ers fan), baseball (Red Sox fan), Air Jordans and all things Geek.
Patrick Quinn
Patrick Quinn is one of the co-founders here at Life of Dad. He is one of the funniest writers here at Life of Dad. He has a weekly article called Playlist Elevated where he introduces you to bands that you might not know, but totally should.
For more on The Geek Show click here.