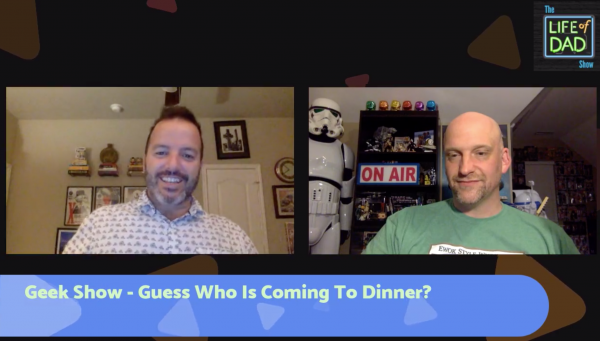 If you could have dinner with three fictional characters who would they be?
On The Show
This week our Geek Show hosts, Art Eddy and Patrick Quinn share the fictional characters they would have dinner with. The audience did a great job of bringing some interesting characters to the table.
Here is what some of the viewers said:
Shawn Kingbird
Magneto, Wolverine and Krang.
Patrick Tellez
Batman, Borat and Beavis and Butthead.
Dennis Snider
Arthur Dent from hitch hiker guides to the galaxy, Alex from a Job a comedy of Justice by Robert Heinlein, Honor Harrington from David Weber's Honorverse lol.
Christian Ross
Stallone, The Rock and Schwarzenegger.
Kelly Clark
chow (from the hangover movies), emperor palpatine, and newman (from seinfeld)
About The Geek Show Hosts:
Art Eddy
Art Eddy is one of the co-founders here at Life of Dad. He hosts and produces all of the Life of Dad podcast as well as hosting a few Facebook Live Shows on the Life of Dad Facebook page. He is one of the main writers on the site. Art loves Star Wars, football (49ers fan), baseball (Red Sox fan), Air Jordans and all things Geek.
Patrick Quinn
Patrick Quinn is one of the co-founders here at Life of Dad. He is one of the funniest writers here at Life of Dad. He has a weekly article called Playlist Elevated where he introduces you to bands that you might not know, but totally should.
For more on The Geek Show click here.