Slap!
Slap!
That is the sound of my kids trying to hit mosquitos while we are looking to enjoy a meal outside in our backyard.
Slap!
My oldest says to me, "Daddy, these mosquitos are attacking me."
We just finished getting our backyard set up with a grill, picnic table, fire pit, etc. For years now we wanted to enjoy cooking on the grill in our own backyard. Now that summer is here we are trying to take advantage of the fantastic weather.
Picture this. A few burgers and hot dogs on the grill. We have a tent up in the yard for our kids so they can get used to camping. The lemonade is chilling in a pitcher. My wife and I are able to chat and carry on a normal conversation without getting interrupted since our kids are running around the yard. It is perfect. Well almost perfect. The problem is that we are getting bombarded by mosquitos. They are trying to bite us while we are eating dinner outside.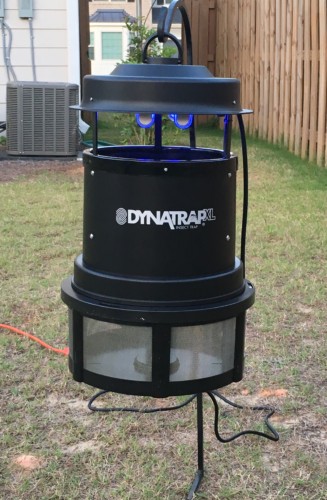 That is where the DynaTrap comes into play. You might be asking yourself what is DynaTrap? DynaTrap is how you can get a backyard that is bug free. I am talking about the kind of bugs that annoy you when you are trying to enjoy the outdoors. The DynaTrap uses cutting edge technology. It is a simple way to eliminate mosquitos and other flying insects without the use of chemicals or propane, providing relief from bugs. Pretty sweet right? The big takeaway for me is not using chemicals! That is huge for me and my family. We get to have a pest free lawn without the use of any harmful chemicals.
They have both indoor and outdoor models that are available to reduce the mosquito population. All I did was simply plug in the DynaTrap in my backyard. I turned the switch on and my family and I were getting ready for a mosquito free zone. You let it run 24/7. In about six weeks' time, the lifecycle of mosquitos in the area will be broken and you can enjoy your yard without being swarmed by mosquitos and other flying insects. My neighbor loved the design of the DynaTrap. He thought the way it worked was pretty cool. I am guessing he also liked the thought of not having a lawn filled with mosquitos.
Trust me as a father of two young kids it is hard enough to get your kids to eat. When you add in pesky mosquitos into the mix getting them to eat is even a bigger ordeal. In our family we want our yard to be a place where we can just chill and grill. We don't want to douse ourselves in bug spray. We have enough of an issue putting on sunscreen. The DynaTrap is a great way to keep the mosquitos out of our lawn. If you have annoying bugs taking over your yard you might want to invest in a DynaTrap. It is time to #GuardYourYard
Disclosure: We here at Life of Dad have partnered up with DynaTrap for this promotion.