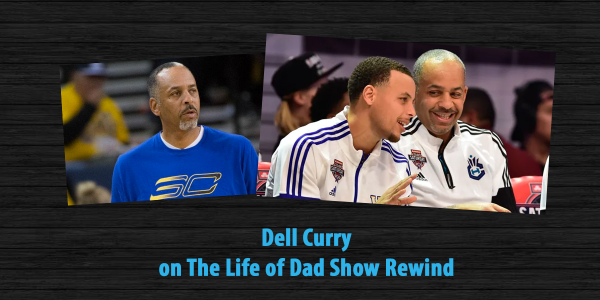 Dell Curry is this week's guest on The Life of Dad Show – Rewind Edition
On The Show
The Life of Dad Show, host Art Eddy shares an interview he did a few years back with former NBA star Dell Curry. The guys talk about fatherhood, his time in the NBA, what lessons he learned about the game that he passed to his kids and some of the values he looked to instill into his kids as they were growing up.

About Dell Curry
Dell Curry was one of the best shooters in the NBA during his time in the league. Curry would play either at the shooting guard position or at small forward. He played for five NBA teams, most notably for the Charlotte Hornets. In 1994 he won the NBA Sixth Man of the Year award. To this day he still holds some team records.
Now working for FOX Sports as a commentator he gets to still be around the game he loves. His son, Steph Curry currently plays in the NBA for the Golden State Warriors. Like father, like son, Steph has a sweet shot and is a force to be reckoned with on the court.
Follow Dell on Twitter at @DC_for3.
About The Life of Dad Show
The Life of Dad Show is the multimedia flagship property of the world's largest network for fathers. With 600,000 downloads of its popular podcast and 300,000+ viewers of the Facebook Live show since 2017, The Life of Dad Show has gathered advice, stories and strategies from an unparalleled list of household names, from Shaq to Jim Gaffigan, to Michael Strahan and Mark Hamill, each offering a glimpse into their personal life as a dad. The show airs Mondays and Wednesdays on Facebook Live, YouTube and Instagram TV. The podcast comes out weekly.
Subscribe to The Life of Dad Show on iTunes and leave a review and you could win a Life of Dad prize pack.