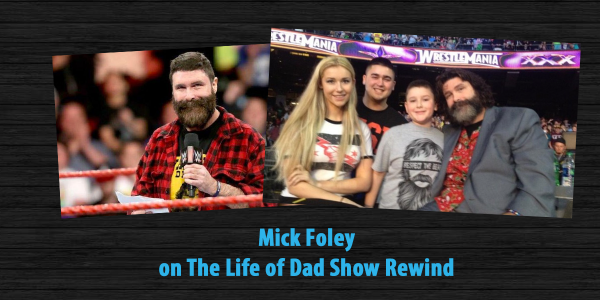 Mick Foley is this week's guest on The Life of Dad Show – Rewind Edition.
On The Show
The Life of Dad Show, host Art Eddy shares an interview he did a few years back with Mick Foley. Art talks with Mick about fatherhood, his great career in the WWE, becoming a stand-up comedian and more!
About Mick Foley
Mick Foley, who is a 3-time WWE champion and 2-time New York Times #1 best-selling author has a one-man stage show called Hardcore Legend: An Evening with Mick Foley. In this show Foley tells his incredible stories of is time in the WWE using humor and intensity. I had a great conversation with Mick about fatherhood.
Follow Mick on Twitter @RealMickFoley. For more info on Mick's tour check out his website, www.realmickfoley.com
This week's Art of Conversation is brought to you True Growths True Tot Tower.

Encourage creativity and imagination with True Growths True Tot Tower- a learning platform and step stool. The True Tot Tower fuels your child's desire to be independent and learn, allowing your child to safely interact in counter height activities such as, baking or washing dishes. True Tot Tower's adjustable base and closed sides make it a safer option for your child to stand at optimal counter height, helping them learn, explore and grow in child and brain development. For more information please visit www.true-growth.com.
About The Life of Dad Show
The Life of Dad Show is the multimedia flagship property of the world's largest network for fathers. With 600,000 downloads of its popular podcast and 300,000+ viewers of the Facebook Live show since 2017, The Life of Dad Show has gathered advice, stories and strategies from an unparalleled list of household names, from Shaq to Jim Gaffigan, to Michael Strahan and Mark Hamill, each offering a glimpse into their personal life as a dad. The show airs Mondays and Wednesdays on Facebook Live, YouTube and Instagram TV. The podcast comes out weekly.
Subscribe to The Life of Dad Show on iTunes and leave a review and you could win a Life of Dad prize pack.