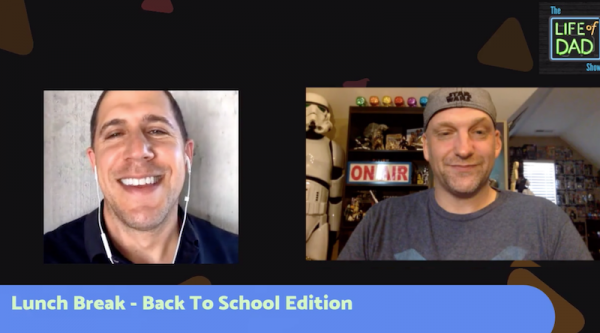 We are talking all things BACK TO SCHOOL!
On The Show
What were some of the things that you were excited about school starting when you were a kid and now as a parent? What are some things that you did not like about school starting as a kid and now as a parent? The Lunch Break hosts, Art Eddy and Jon Finkel share their thoughts on this subject.
What some of our viewers said:
Casey Jones
Homeschool , always learning.
Jean-Paul Mosquera
As a parent now, i'm looking forward to how my child progresses during the school year. It's always great when your kid comes to you with their mind blown factoid they learned at school.
Ronda Holleman
We kept a bed time all through our sons school even on the summer his last couple of years of high school he was in bed by ten. He's 26 now and he has made a habit of in bed by 8:30 and up at 4:30am to be at work at 6am. I'm grateful he was great at getting up and getting out the door for school. Now his dad is a different story that man sleeps like he's in a coma.lol
Jared Robinson
The best feeling teaching your child a new skill and watching them master it and showing them that they can learn anything. Watching them building self confidence. Becoming little women and men.
Angela Myers Briand
I call my middle son N.P. short for nerd patrol.

🤣

Gotta let him know being a nerd is COOL! He always gives me facts that I have no clue about

🤦‍♀️
About The Lunch Break Hosts:
Art Eddy is one of the co-founders of Life of Dad. He hosts and produces all of the Life of Dad podcasts as well as several Facebook Live Shows. He has been responsible for securing nearly two hundred guests for a variety of Life of Dad platforms, including dozens of A-List fathers throughout the pop culture, sports and business landscape. He is also an editor and featured blogger on Life of Dad and has grown with the brand since its inception. His background is in Radio and Journalism. Art has worked in radio in New York City, New Jersey and New Hampshire.
Jon Finkel's books have been endorsed by everyone from Tony Dungy and Spike Lee, to Jerry Jones and Jeff Van Gundy. He is the author of The Athlete: Greatness, Grace and the Unprecedented Life of Charlie Ward. He also wrote "Mean" Joe Greene: Built By Football with 4x Super Bowl Champion Joe Greene, Heart Over Height with 3x NBA Dunk Champion Nate Robinson and Forces of Character with 3x Super Bowl Champion and Fighter Pilot Chad Hennings. He also wrote the popular fatherhood fitness book, The Dadvantage. As a feature writer, he has written for Men's Health, Men's Fitness, The New York Times, GQ, Details, Yahoo! Sports and many more. He is an avid speaker, writer and creative strategist for some of the biggest brands in sports and health. Visit: www.jonfinkel.com
Follow Art on Twitter at @ArtEddy3 and Jon on Twitter @Jon_Finkel