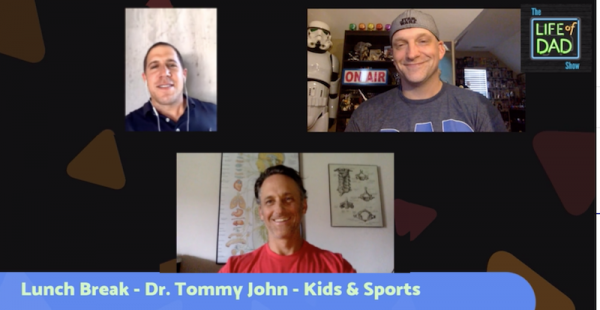 Dr. Tommy John is our guest on this week's Lunch Break show.
On The Show:
What sports do your kids play? Do they play a variety of sports or just do one sport year round? The Lunch Break hosts, Art Eddy and Jon Finkel bring on Dr. Tommy John to talk about how parents need to make sure their kids play a variety of sports.
Here is what some of our viewers said:
Barbara Ketcherside · Young kids need to do this for fun and exercise and to learn team membership–not to get the illusive college scholarships. My kids tried a little of everything–loved basketball though and even reffed. That showed them how horrible sports parents can be–even worse than theatre parents.
John Keating · I think variety is good when their young. they can choose later on what they like.
S.E. Morgan
Since kids started to specialize in sport earlier there has been an increase overuse injuries.
Matt Sullivan
My son plays Baseball and Basketball. I coach his Baseball team, and I have a blast doing it.
Blake Sutherland
Lacrosse, Box and Field
About Dr. Tommy John

Dr. Tommy John operates Tommy John Performance and Healing Center out of San Diego, a private practice that provides both athletes and entire families with integrative, individualized care plans and treatment to improve their quality of life by reducing physical and emotional pain from injury and aging and minimizing the use of pharmaceuticals or surgery. Dr. John has Master Degrees in Health and Exercise Science from Furman University and a Doctor of Chiropractic Degree from Life University, in Marietta, Georgia.
About The Lunch Break Hosts:
Art Eddy is one of the co-founders of Life of Dad. He hosts and produces all of the Life of Dad podcasts as well as several Facebook Live Shows. He has been responsible for securing nearly two hundred guests for a variety of Life of Dad platforms, including dozens of A-List fathers throughout the pop culture, sports and business landscape. He is also an editor and featured blogger on Life of Dad and has grown with the brand since its inception. His background is in Radio and Journalism. Art has worked in radio in New York City, New Jersey and New Hampshire.
Jon Finkel's books have been endorsed by everyone from Tony Dungy and Spike Lee, to Jerry Jones and Jeff Van Gundy. He is the author of The Athlete: Greatness, Grace and the Unprecedented Life of Charlie Ward. He also wrote "Mean" Joe Greene: Built By Football with 4x Super Bowl Champion Joe Greene, Heart Over Height with 3x NBA Dunk Champion Nate Robinson and Forces of Character with 3x Super Bowl Champion and Fighter Pilot Chad Hennings. He also wrote the popular fatherhood fitness book, The Dadvantage. As a feature writer, he has written for Men's Health, Men's Fitness, The New York Times, GQ, Details, Yahoo! Sports and many more. He is an avid speaker, writer and creative strategist for some of the biggest brands in sports and health. Visit: www.jonfinkel.com