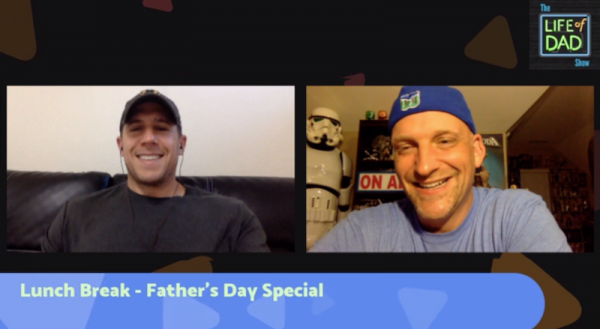 Lunch Break Show – Father's Day Special. We had a very special Lunch Break Show where we celebrate dads!
On The Show
We are doing a special Father's Day show here at Life of Dad. The Lunch Break hosts, Art Eddy and Jon Finkel talk about all things fatherhood. From advice to priceless moments to how fatherhood has changed their lives.


Here is what some of our viewers said:
Chubz Oddsock Hales · I love the random moments my boys just want a hug from me. The way my kids want to give up but keep going because they to succeed you gotta push through. Their interest in superheroes and their little creative minds working over time to create something amazing!
Veronica Caputo · I love the comment of letting your kids pick the thing they learn from you. As a mom, I read your posts regularly. I work out of the house and thankfully my husband stays home. My husband and I met in a band, now in 4th grade our oldest wants to pick an instrument. We are thrilled and haven't pushed, but he asked if "once I practice can I join the band".
Kelly Clark · fathers day is a mixed bag for me….i hate to say. I love being a dad, and I have 2 great boys, but grew up in a single parent house with a great mom….but no dad there.I lived in Hawaii, and he was on a different island, didnt pay child support, ect….just not a presense in my childhood…..i still cant remember what day fathers day is to this day. But its all good, I look at it this way though…….it makes me appreciate being a dad, knowing the experiences my boys are getting🤙
Steve Ackley
My favorite thing about being a dad to my 4-yr old is finally getting the opportunity to be his tee ball coach. Baseball is something we both love.
Christopher Dilloway
My favorite thing about being a dad is seeing my kids grow and learn and become their own person. They can read and they use their imaginations and they ask interesting questions that sometimes I have to come up with quick answers. I love that they like science things and geeky things, like they know all the planets in the solar system and at least a dozen superheroes and villains, and I have been able to share my love for things like Transformers and Batman with them. they both are their own person with their own ideas and thoughts, but they both are part of me.
About The Lunch Break Hosts:
Art Eddy is one of the co-founders of Life of Dad. He hosts and produces all of the Life of Dad podcasts as well as several Facebook Live Shows. He has been responsible for securing nearly two hundred guests for a variety of Life of Dad platforms, including dozens of A-List fathers throughout the pop culture, sports and business landscape. He is also an editor and featured blogger on Life of Dad and has grown with the brand since its inception. His background is in Radio and Journalism. Art has worked in radio in New York City, New Jersey and New Hampshire.
Jon Finkel's books have been endorsed by everyone from Tony Dungy and Spike Lee, to Jerry Jones and Jeff Van Gundy. He is the author of The Athlete: Greatness, Grace and the Unprecedented Life of Charlie Ward. He also wrote "Mean" Joe Greene: Built By Football with 4x Super Bowl Champion Joe Greene, Heart Over Height with 3x NBA Dunk Champion Nate Robinson and Forces of Character with 3x Super Bowl Champion and Fighter Pilot Chad Hennings. He also wrote the popular fatherhood fitness book, The Dadvantage. As a feature writer, he has written for Men's Health, Men's Fitness, The New York Times, GQ, Details, Yahoo! Sports and many more. He is an avid speaker, writer and creative strategist for some of the biggest brands in sports and health. Visit: www.jonfinkel.com
Follow Art on Twitter at @ArtEddy3 and Jon on Twitter @Jon_Finkel