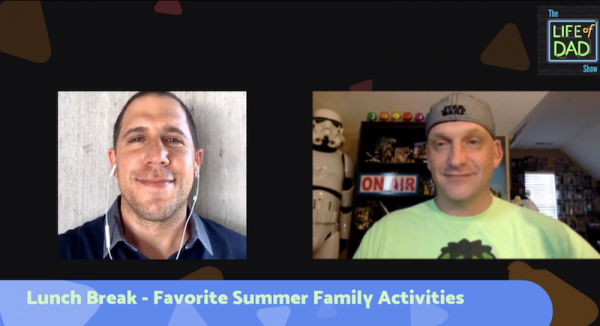 What are your favorite summer activities with your family?
On The Show
The Lunch Break hosts, Art Eddy and Jon Finkel talk about their top activities and also the ones that they are not really that fond of doing during the summer.

What some of our viewers said:
Brock Lusch · My family loves to go camping. We stay in a tent and bring our Teton Sports camping gear/equipment and cook over a fire. Cask iron skillet cooking is the best!!
Jaime Osborne · We camp inside! 😂 we also like to go picking fruit (ourselves) at local farms. Then my girls like to help me make and can jellies. Summer reading programs at the local libraries.
Shawn Kingbird · The STATE FAIR! Hands down something to look forward to. If you're a Foody. This is the place to be.
Gary Bowman · Camping at the lake. Something that brings us together, no tv, no net, dad mom, kids, and nature. Resetting the internal clock and strengthening the family bond.
Adam Fortino
Fishing so far, the 5 month old thinks the fish are hilarious! Out here listening from Mid-California
About The Lunch Break Hosts
Art Eddy is one of the co-founders of Life of Dad. He hosts and produces all of the Life of Dad podcasts as well as several Facebook Live Shows. He has been responsible for securing nearly two hundred guests for a variety of Life of Dad platforms, including dozens of A-List fathers throughout the pop culture, sports and business landscape. He is also an editor and featured blogger on Life of Dad and has grown with the brand since its inception. His background is in Radio and Journalism. Art has worked in radio in New York City, New Jersey and New Hampshire.
Jon Finkel's books have been endorsed by everyone from Tony Dungy and Spike Lee, to Jerry Jones and Jeff Van Gundy. He is the author of The Athlete: Greatness, Grace and the Unprecedented Life of Charlie Ward. He also wrote "Mean" Joe Greene: Built By Football with 4x Super Bowl Champion Joe Greene, Heart Over Height with 3x NBA Dunk Champion Nate Robinson and Forces of Character with 3x Super Bowl Champion and Fighter Pilot Chad Hennings. He also wrote the popular fatherhood fitness book, The Dadvantage. As a feature writer, he has written for Men's Health, Men's Fitness, The New York Times, GQ, Details, Yahoo! Sports and many more. He is an avid speaker, writer and creative strategist for some of the biggest brands in sports and health. Visit: www.jonfinkel.com
Follow Art on Twitter at @ArtEddy3 and Jon on Twitter @Jon_Finkel