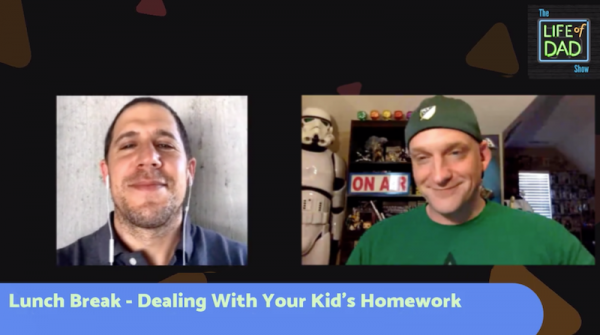 Lunch Break – Kids, Homework & School Apps
On The Show
On today's Lunch Break Show, Art Eddy and Jon Finkel talk about their kid's homework. The highs and lows and everything in between. As a parent what you most frustrated about with your child's homework?

Here is what some of our viewers had said on today's topic:
Barbara Riffe · We just had a conversation about the kids getting books at school with 50 chapters and weights 5 pounds. There is no way they can read 50 chapters in 1 year.
Jim Irwin · I hate the required reading for English classes. The books they assign are garbage. Like let my kid read his own interests. As long as he proves he understands what the story is and concepts who cares what he does it with.
Rob Ainbinder · We get the Remind app for High School. Plus weekly phone calls.
Patrick Tellez · My kids gets packets, plus nightly homework.. Kids are in Kinder and 2nd grade.. then they grade us, the parents, if we don't acknowledge their work.
Simon Dolan · My 7 yr old daughter had a spelling test last week, 10 words. She decided to test me on the words then I tested her and she got a higher score. Apparently I couldn't spell committed right!
About The Lunch Break Hosts:
Art Eddy is one of the co-founders of Life of Dad. He hosts and produces all of the Life of Dad podcasts as well as several Facebook Live Shows. He has been responsible for securing nearly two hundred guests for a variety of Life of Dad platforms, including dozens of A-List fathers throughout the pop culture, sports and business landscape. He is also an editor and featured blogger on Life of Dad and has grown with the brand since its inception. His background is in Radio and Journalism. Art has worked in radio in New York City, New Jersey and New Hampshire.
Jon Finkel's books have been endorsed by everyone from Tony Dungy and Spike Lee, to Jerry Jones and Jeff Van Gundy. He is the author of The Athlete: Greatness, Grace and the Unprecedented Life of Charlie Ward. He also wrote "Mean" Joe Greene: Built By Football with 4x Super Bowl Champion Joe Greene, Heart Over Height with 3x NBA Dunk Champion Nate Robinson and Forces of Character with 3x Super Bowl Champion and Fighter Pilot Chad Hennings. He also wrote the popular fatherhood fitness book, The Dadvantage. As a feature writer, he has written for Men's Health, Men's Fitness, The New York Times, GQ, Details, Yahoo! Sports and many more. He is an avid speaker, writer and creative strategist for some of the biggest brands in sports and health. Visit: www.jonfinkel.com
Follow Art on Twitter at @ArtEddy3 and Jon on Twitter @Jon_Finkel