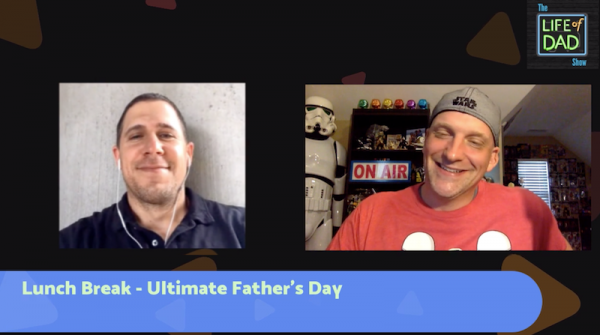 Lunch Break – The Ultimate Father's Day edition. What does your ultimate Father's Day look like?
On The Show:
Would you take the family to a baseball game? Go golfing or fishing? We want to hear from all you dads on what you would love to do on Father's Day as the Lunch Break hosts, Art Eddy and Jon Finkel share what they would love to do on the day that celebrates fatherhood!
Here is what some of our viewers said:
Chris Seastrand · I just like going out to dinner someplace I want to go. And any type of pro wrestling is the ultimate Father's Day for me. I got a little bit early this year and a big book of dad jokes.
Shawn Kingbird · Being with my Kids, Grilling awesome foods, drinking Brews with the Bro-tato Chips, Bonfire, Some fireworks and sleeping in til noon the next day.
Melissa Hansen Murrell · Watching from Las Vegas. My husband enjoys his alone time. We work out days throughout the year for him to just go and do his thing, on his own. He works hard, and some time to decompress is good for everyone. As for Father's Day, much like Mother's Day, we have the kids take special care of and do kind things for dad.
Hristos Chris Papastamos
from London Ontario. spend time with the family by a lake, canoeing and fishing.
Johnathon Sullivan
A relaxing day at the lake, cloudy and with a slight breeze and still warm enough to swim, a grill and a medley of meats and veggies to cook and the kiddo and family all around laughing and having a good time.
About The Lunch Break Hosts:
Art Eddy is one of the co-founders of Life of Dad. He hosts and produces all of the Life of Dad podcasts as well as several Facebook Live Shows. He has been responsible for securing nearly two hundred guests for a variety of Life of Dad platforms, including dozens of A-List fathers throughout the pop culture, sports and business landscape. He is also an editor and featured blogger on Life of Dad and has grown with the brand since its inception. His background is in Radio and Journalism. Art has worked in radio in New York City, New Jersey and New Hampshire.
Jon Finkel's books have been endorsed by everyone from Tony Dungy and Spike Lee, to Jerry Jones and Jeff Van Gundy. He is the author of The Athlete: Greatness, Grace and the Unprecedented Life of Charlie Ward. He also wrote "Mean" Joe Greene: Built By Football with 4x Super Bowl Champion Joe Greene, Heart Over Height with 3x NBA Dunk Champion Nate Robinson and Forces of Character with 3x Super Bowl Champion and Fighter Pilot Chad Hennings. He also wrote the popular fatherhood fitness book, The Dadvantage. As a feature writer, he has written for Men's Health, Men's Fitness, The New York Times, GQ, Details, Yahoo! Sports and many more. He is an avid speaker, writer and creative strategist for some of the biggest brands in sports and health. Visit: www.jonfinkel.com
Follow Art on Twitter at @ArtEddy3 and Jon on Twitter @Jon_Finkel