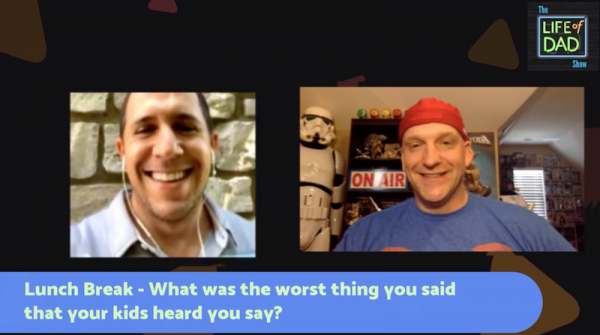 What's the worst thing your kids have overheard you saying?
On The Show:
The Lunch Break hosts, Art Eddy and Jon Finkel talk about their experience with their kids hearing them that shocked their kids.

What some of our viewers said:
Rahul Walia
My 5 yrs old heard me saying will get new mommy for her and she told my wife next day.
Justin Herrin
Spent the first 2 years trying to teach my son to say I love you goodnight and got nothing, I called a guy a fu*kbag in the parking lot and he mimicked me right on the spot without missing a beat.
Ran Kilpatrick
When my dad was with us he would take my son and I everywhere! Well he was a very aggressive driver!! My son would sometimes ask or repeat Papas phrases while in the middle of random places!!
Dad or Alive
We're packing to move and I just found my old NWA and 2LIVECREW tapes – does Finkel recommend those as road trip listening material?
Jenn Townes
car turned into the road we were crossing at full speed while I was crossing with my two children and the baby, I yelled you nearly hit us I've got a f**cing baby!! My daughter repeated this at the supermarket when someone hit our trolley with theirs pure mortification both on my part and the other person!
About The Lunch Break Hosts:
Art Eddy is one of the co-founders of Life of Dad. He hosts and produces all of the Life of Dad podcasts as well as several Facebook Live Shows. He has been responsible for securing nearly two hundred guests for a variety of Life of Dad platforms, including dozens of A-List fathers throughout the pop culture, sports and business landscape. He is also an editor and featured blogger on Life of Dad and has grown with the brand since its inception. His background is in Radio and Journalism. Art has worked in radio in New York City, New Jersey and New Hampshire.
Jon Finkel's books have been endorsed by everyone from Tony Dungy and Spike Lee, to Jerry Jones and Jeff Van Gundy. He is the author of The Athlete: Greatness, Grace and the Unprecedented Life of Charlie Ward. He also wrote "Mean" Joe Greene: Built By Football with 4x Super Bowl Champion Joe Greene, Heart Over Height with 3x NBA Dunk Champion Nate Robinson and Forces of Character with 3x Super Bowl Champion and Fighter Pilot Chad Hennings. He also wrote the popular fatherhood fitness book, The Dadvantage. As a feature writer, he has written for Men's Health, Men's Fitness, The New York Times, GQ, Details, Yahoo! Sports and many more. He is an avid speaker, writer and creative strategist for some of the biggest brands in sports and health. Visit: www.jonfinkel.com
Follow Art on Twitter at @ArtEddy3 and Jon on Twitter @Jon_Finkel