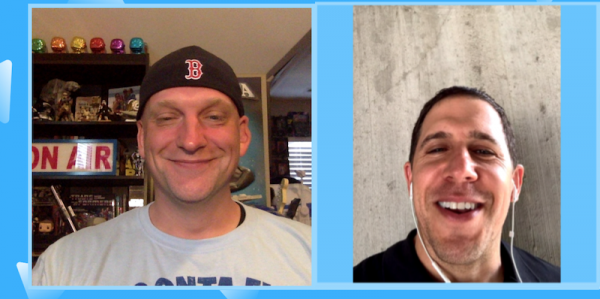 Lunch Break – What Was The Biggest Mess Your Kid Created?
On The Show
On today's Lunch Break Show, Art Eddy and Jon Finkel talk about worst mess you've ever had to clean up from your kids.

Here is what some of our viewers said:
Ngwane Khanyile
My son decided to basted himself with butter all over

?
Jorge Machado
Any time I clean up my daughter's mess, I think that I'm retroactively cleaning my mess when I was a kid and my mom had to clean.
Swar Rishabh
The scribbles on the walls are endless, good thing is I don't want that to stop

?
Patrick Tellez
changing a diaper and that horrific diaper splatter.. my son squirts poop everywhere.
Terry Romero
I am 55, my kids are adults. Why is it I NOW fine all this hilarious, but if my kids would have done back in the day, I know I would have had a totally different view/reaction.
About The Lunch Break Hosts:
Art Eddy is one of the co-founders of Life of Dad. He hosts and produces all of the Life of Dad podcasts as well as several Facebook Live Shows. He has been responsible for securing nearly two hundred guests for a variety of Life of Dad platforms, including dozens of A-List fathers throughout the pop culture, sports and business landscape. He is also an editor and featured blogger on Life of Dad and has grown with the brand since its inception. His background is in Radio and Journalism. Art has worked in radio in New York City, New Jersey and New Hampshire.
Jon Finkel's books have been endorsed by everyone from Tony Dungy and Spike Lee, to Jerry Jones and Jeff Van Gundy. He is the author of The Athlete: Greatness, Grace and the Unprecedented Life of Charlie Ward. He also wrote "Mean" Joe Greene: Built By Football with 4x Super Bowl Champion Joe Greene, Heart Over Height with 3x NBA Dunk Champion Nate Robinson and Forces of Character with 3x Super Bowl Champion and Fighter Pilot Chad Hennings. He also wrote the popular fatherhood fitness book, The Dadvantage. As a feature writer, he has written for Men's Health, Men's Fitness, The New York Times, GQ, Details, Yahoo! Sports and many more. He is an avid speaker, writer and creative strategist for some of the biggest brands in sports and health. Visit: www.jonfinkel.com
Follow Art on Twitter at @ArtEddy3 and Jon on Twitter @Jon_Finkel