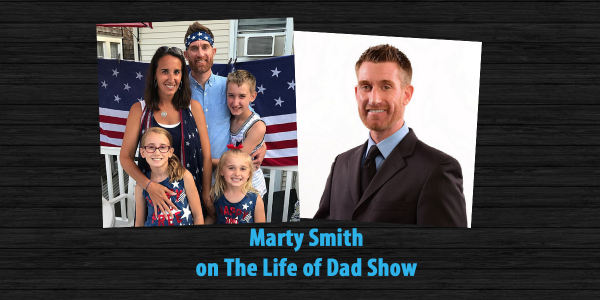 Marty Smith is this week's guest on The Life of Dad Show.
On The Show
Marty Smith talks with The Life of Dad Show host, Art Eddy about about fatherhood, his new book Never Settle: Sports, Family, and the American Soul, working at ESPN and how he balances work and family. Marty answers the Life of Dad Quick Five to close out the interview.

About Marty Smith
Marty Smith is one of ESPN's most popular and recognized reporters and hosts who currently covers a variety of sports including college football, basketball, both the NFL and NBA, NASCAR and others. Smith's features and reporting are often seen on ESPN platforms including SportsCenter and ESPN.com. Smith, who joined ESPN in 2006, launched his own show Marty Smith's America in August 2017 on ESPN2. Smith also co-hosts the popular radio show Marty and McGee on ESPN Radio.
From 2007-2014, Smith was ESPN's lead NASCAR reporter for both SportsCenter and the former NASCAR Now program. Prior to joining ESPN, Smith was a senior writer for NASCAR.com. A Radford University graduate, Smith covered sports for daily newspapers in Roanoke and Lynchburg, Va., before joining NASCAR.com.
Follow Marty on Twitter at @MartySmithESPN and go pick up his book Never Settle: Sports, Family, and the American Soul.

About Never Settle: Sports, Family, and the American Soul
You know Marty right? The guy during College GameDay hanging off the back of a pickup truck while zooming around the Clemson athletic facilities. The guy who visits Nick Saban's lake house and somehow gets Coach to jump in the lake. The guy who sits down with Dale Jr. at Daytona to talk through tears about his miraculous return to racing. The guy who interviews Tiger Woods, Tim Tebow, Peyton Manning and Jimmie Johnson — the guy who gets paid to live the fantasy of every sports fan in America.
Never Settle is the funny but oh, it's true story of how Marty got here, and a revealing look at his journey. Never Settle includes all the best stories and behind-the-scenes moments from Marty's wild life, covering topics including: college football, racing, fathers and sons, how sports can bring us together, and how it all goes back to growing up on a farm and playing high school ball in Pearisburg, Virginia.
About The Life of Dad Show
The Life of Dad Show is the multimedia flagship property of the world's largest network for fathers. With 600,000 downloads of its popular podcast and 300,000+ viewers of the Facebook Live show since 2017, The Life of Dad Show has gathered advice, stories and strategies from an unparalleled list of household names, from Shaq to Jim Gaffigan, to Michael Strahan and Mark Hamill, each offering a glimpse into their personal life as a dad. The show airs Mondays and Wednesdays on Facebook Live, YouTube and Instagram TV. The podcast comes out weekly.
Subscribe to The Life of Dad Show on iTunes and leave a review and you could win a Life of Dad prize pack.