Mike Alstott was known as a powerful runner who made career of gaining tough yards between the tackles. He was drafted by the Tampa Bay Buccaneers in 1996. The six time Pro Bowler helped the Bucs win Super Bowl XXXVII over the Oakland Raiders. He ranks second all-time on Tampa Bay's rushing list with 5,088 yards, while his 305 career receptions place him third in team history. Alstott is also a member of the Purdue University Hall of Fame.
Mike created the Mike Alstott Family Foundation to assist others in uplifting the minds, hearts and spirits of families and children on their way to realizing their full potential through various events, assistance programs, and celebrations.
Mike and I talk about his playing days, fatherhood, his work as the head football coach for a local high school in Florida, winning the Super Bowl with the Buccaneers, and what inspired him to start up his foundation.
Art Eddy: Before we talk about your foundation and fatherhood let's talk some football. The Buccaneers looked to have some promise before the season started. What do you think went wrong for them this season?
Mike Alstott: I think it is just growing pains. They are very, very competitive. The coaching staff were trying to find their core guys. At the same time they had some injuries. Their starting quarterback went out for a handful of games. Mike Glennon did do a good job coming in. You are trying to come in and build that chemistry and team unity with those core guys and have them lead each and every day. Also there are different systems, defensively and offensively and having those guys gel to that system and understand them in a short period of time.
AE: Do you remember your first NFL game and all the emotions that were running through you?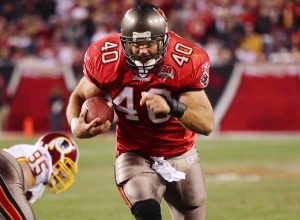 MA: Anxious. Excited. Nervous. Really wasn't proven. I was just trying to do the little things right and trying to make an impact for my team. It was a tough scenario going into an atmosphere that you are unfamiliar with and trying to set the stage. A lot of us going into the pros worked hard for those four or five years in college. You were the guy or you established yourself and now you have to start all over again.
It takes some time, but I was very fortunate to come to the Tampa Bay Buccaneers and be with a bunch of young guys that cared. They wanted to change the atmosphere and culture in the locker room. All the things behind the scenes we wanted to change was displayed on Sunday.
AE: Not saying the NFL got easier for you the more you played, but when did you feel comfortable with competing in the league?
MA: I don't think there is. If you are complacent and comfortable you are giving up that opportunity to someone else. You always have to be living on the edge. I always wanted to be the best. I never said I just want to make it in the NFL and be an average guy. I wanted to be the best. I wanted to prove myself each and every opportunity that I get. When I touch the ball, block, or whatever is asked of me that was my mindset.
We are very competitive in the weight room. We were very competitive during OTA's. It was all that stuff. I don't think that there was ever a time where I felt that comfortable. Comfortable in the means of yes I feel comfortable with the team. I feel comfortable around these group of guys. I feel wanted. When it comes to feeling comfortable in your occupation that is when you lose it. That is when you give the opportunity to someone else.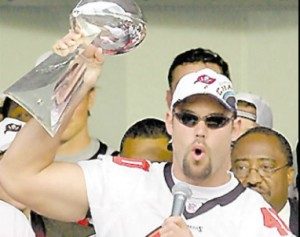 AE: You and the Bucs won Super Bowl XXXVII as you guys beat the Oakland Raiders 48-21. Even though the Raiders were favored by four points you guys won by a decent margin. When did you feel that you guys had the game in hand?
MA: It was a mission. It was many years built up of over and over of losing in the first round, losing in the NFC Championship game in 1999. It was many years of just hard work that was built up on that one center stage. We were not giving that up.
Guys felt focused. That was where the interceptions came in and the fight. Oakland didn't give up either. They were starting to come back and our defense stepped up immensely during that game. It was just a great group of guys. The chemistry, the leadership, and the locker room. You have to have all those things to be a successful team.
AE: I heard you do some coaching at a local high school. How much fun do you have teaching the game that you love?
MA: I am the head coach at Northside Christian School in St. Petersburg, Florida. It is my third year. It is awesome. It was more than I even imagined it would be. I am very blessed. At the same time I get to make an impact on these kids' lives and change some things for the better. We are giving them opportunities that they never thought would be an opportunity for them. They are seeing a different life and what football can give them other than the X's and O's.
We are teaching life skills. The best thing about coaching is seeing the year to year progression of kids growing up and maturing. They are becoming young men and becoming leaders. They are focused and have goals. Everything that I was taught in my high school, college, and pro days I am putting into these kids. I am pouring my heart into them. They are getting better. My first year we went 0-10. My second year we went 3-7. This year we went 8-2. We made the first round playoffs and came up short. I have a young group of guys that are hungry. We are working right now for next year.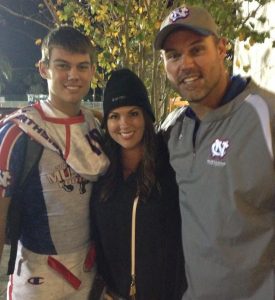 AE: That is fantastic. Nice work. You also started up the Mike Alstott foundation. Tell me what inspired you to start that up?
MA: When I came to Tampa, Coach Dungy was very community orientated. He instilled that in us as young players. Ever since I came into the league and even in college I wanted to do things for others. My motto is trying to put smiles on people's faces. We try to uplift the minds, hearts, and spirits of family and children.
We work with different charitable organizations or work on different programs of our own. We work on mentoring or work with sick kids or adverse situations with family life. Anybody that we can possible touch and make a positive influence on. Hopefully we can change their lives in some form.
I was very blessed and this is a family foundation. We are teaching our kids to give back do their part. Usually family or other kids are with us and they support us. We are not very huge, but we believe that we are very impactful. It is a great scenario here in Tampa.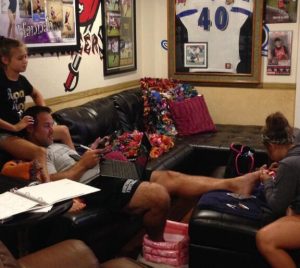 AE: Switching to fatherhood now, what are some of the morals you look to instill in your children as they grow up?
MA: I think it is the daily grind. Daily hard work each and every day. My wife and I are just keeping on our children so that they are doing more right than wrong. You can't take a day off. There is no such thing. You always got to strive hard to do well with your education and if you are community or sports orientated. Doing those thing will make you a better person, but at the same time you will be a leader. Good things come from that.
AE: Now let's flip the script on that last question. What have you learned from your children?
MA: I have learned a lot. There is no question, but for me I was always a different bird. I always had high expectations. Sometimes I can go overboard in certain situations, but they take me down a little bit. They bring me back to reality.
My kids are very, very caring and hard working. They teach me, my football kids and my personal kids in just how life has changed in a little bit in this generation. I am still trying to get used to all this social media. It is crazy. We both learn from each other in every aspect. It is a great scenario here and I am really enjoying each and every day.
AE: What advice do you have for new dads out there?
MA: (Laughs.) What advice would I give to new fathers? I would say listen. Sometimes I don't take the time to listen. I am more of an instructor or a coach. That is my nature. Sometimes I just sit back and listen to my kids. Maybe take some advice from them on how to do things a different way or the way that they want to do it. I learned that a lot recently.
I have a 15 year old son, 12 year old daughter, and an 11 year old daughter. They feel like their opinion matters and it does. To an extent though. (Both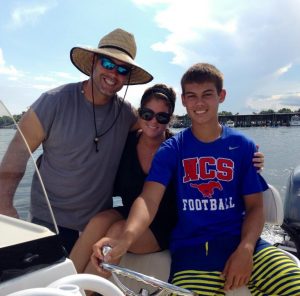 laugh.) Enjoy it. It goes by fast. It goes by real, real fast. I remember when my 15 year old was just born. In a blink of an eye it is gone. I am just trying to enjoy the last couple of years with him and my daughters before they are off in college. Enjoy it. It goes by fast and listen.
Life of Dad Quick Five
AE: What is your favorite family movie you guys like to watch together?
MA: There is a whole bunch, but I don't think that there is a favorite one. My wife and my daughters watch shows on Lifetime. There are shows like "Scandal." For us it just has to be a good flick. There isn't really a favorite one.
AE: Do you guys have a favorite song that you all like to sing and dance to as a family?
MA: My wife is a music freak. (Both laugh.) When they are in the car with my wife they got it going on. When they are in my car the radio is not on. I am continually thinking. The day is very busy for me especially during football season. I like the conversation piece, but I am a classic rock guy. I grew up in that era.
AE: Describe the perfect family vacation.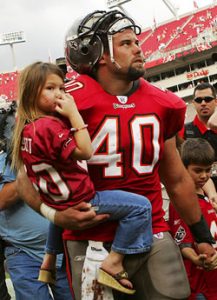 MA: I think it is somewhere secluded. Maybe take off and rent a house in the mountains or for us we can go to Orlando. We could rent a house and spend one day at Disney World or one of the water parks and just hang out by the pool. Then we would come to the house and cook and sit around and play games. We bring the grandparents and friends and just hang out and cook. It would be very laid back.
AE: Did you ever pay attention to fantasy football?
MA: Yeah, I just heard about it two weeks ago. I was at a charity golf tournament and someone mentioned that I was on their fantasy team. It is big time now I guess. I tried to do it one year and I never kept it up. I got my butt kicked.
AE: Do you still have the football that you scored in Super Bowl XXXVII?
MA: Oh yeah. I have every touchdown football besides three. I gave one to a kid in a wheelchair who was in the stands. I gave one to my brother and one to my friend. With the Pro Bowls I think I have about 73 or 75, but yeah I kept everyone.
Follow Mike Alstott on Twitter and you can learn more about his foundation here.