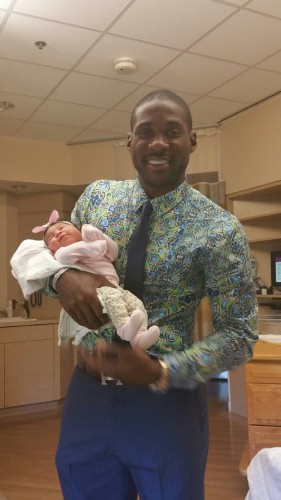 Now in his fifth-year Arizona Cardinals cornerback, Patrick Peterson is a 3-time pro bowler and holds the NFL record for most punt return touchdowns in a season. Peterson was drafted fifth overall in the 2011 NFL Draft out of LSU, where he was an All-American.
Last week Patrick worked with Old Spice for their "Greatest Smell in the NFL" campaign. Old Spice grooming products are found in locker rooms across the NFL including in Santa Clara for Super Bowl 50. This past week Old Spice brought Peterson to the Super Bowl festivities to talk about Old Spice's new Hardest Working Collection performance lineup. Old Spice's new Hardest Working Collection performance lineup including Odor Blocker and Sweat Defense anti-perspirant/deodorants and Dirt Destroyer body wash deliver the most powerful Old Spice products on the planet.
Patrick and I spoke about the work he was doing with Old Spice, fatherhood, and much more. Peterson lives in Phoenix with his wife, Antonique, and 3-month-old daughter, Paityn, named after Broncos' QB Peyton Manning.
Art Eddy: You are teaming up with Old Spice for the new Hardest Working Collection performance lineup. Tell me a bit about your work with them.
Patrick Peterson: I am here in San Francisco promoting the Hardest Working Collection performance lineup, which is going to include the Odor Blocker, the Sweat Defense and Dirt Destroyer body wash, which will provide legendary protection for legendary men.
AE: Which is your favorite Old Spice product?
PP: They have so many of them. I would probably go with the latest and greatest one right now. It is the lasting legend, which is the body wash that helps me smell good after I get out of the shower.
AE: Let's talk about the NFL and your great career so far in the league. Take me back to your first NFL game. What do you remember the most about it?
PP: My first real live NFL game actually fell on September 11th if I am not mistaken. It was against the Carolina Panthers, the team I just recently lost to.
It was a very, very close game. It went right down to the fourth quarter. There was about seven minutes to go in that ball game. I was a punt returner.
The Cardinals drafted me as a punt returner and as a defensive back. I emerged as a punt returner before I did as a defensive back. They punt the ball back deep to me. There was about seven minutes left in the game. It was an 89 yard punt return. It was my first punt return for a touchdown in the NFL. It was the go ahead touchdown to go win that ball game. We won 28-21. It was a great feeling to have that in my first NFL game.
AE: I have been watching football for years with my family. From the mid 80's to now. I have seen the NFL change with the way it has been played. I know that they are looking to make the game safer, but as a defensive player are you happy with the way the game is played now?
PP: I am happy the way the game is being played because the league is trying to find a conscious way to make the game safer for us and make it enjoyable for guys. You see guys now retiring at a very young age. It possibly can be from the concussions. The league, in my opinion, is doing a very good job trying to make the game safer and keep their superstars in the game as long as possible.
AE: I saw a fantastic image on your Twitter account of you going up against Calvin Johnson. You were wishing him well with his retirement from the league. We as fans know that Calvin must be a challenge to cover, but for you who is your toughest wide out to cover?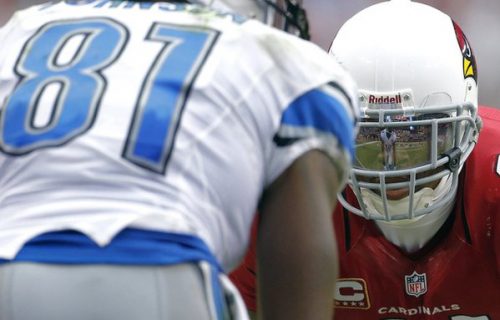 PP: I am going to go back to the first part of the question. That is by far my favorite picture of all time of having Calvin Johnson being reflected off my visor. That is an unbelievable and incredible picture. I want to see if I can get that printed out and send that over to him and get him to sign it.
Calvin Johnson as an athlete, as an ambassador of the NFL has done nothing but good things to better the game. He is a huge role model not only in the NFL world, but in the Detroit community. Being a fan of his growing up in high school and watching him play on Sundays I knew that if I did everything that I needed to do to get into the NFL that I would have an opportunity to go up against him.
Over the last three years having the opportunity to guard him was definitely a pleasure. In my opinion he is definitely a Hall of Famer. He is by far the toughest to guard for me in my career. He is big. He is strong. He is fast. You can throw the ball anywhere and he is going to catch it. His football IQ is unbelievable.
The game is going to miss Megatron. I can call him that now since he is retired. (Both laugh.) I tried consciously to call him Calvin Johnson when we were playing against each other. I never wanted to call him by his nickname, but now that he is done I can call him Megatron. He is definitely a freak of nature.
AE: You hold two NFL records. One is the for the most punt return touchdowns in a single season with four and the other is having the longest overtime walk-off punt return touchdown which was 99 yards. Out of those two do you have a favorite? I am guessing it is the 99 yard touchdown return.
PP: I would say the 99 yarder is my favorite because not only was that my rookie year, but it happened at a very pivotal time in that game. That was the year that they implemented the overtime rule if I am not mistaken. So St. Louis, they didn't score. They punted the ball. I don't know what in the world made me field the ball at the one yard line, but I felt that someone on the team needed to make a play. I just took matters in my own hand and the next thing you know the rest is history.
AE: Switching to fatherhood now, what are some of the core values you look to instill in your daughter as she grows up?
PP: Being a girl you are going to have a bullseye on your back because you are very vulnerable. I just want to teach her the core values where she watches her surroundings. Making sure she picks her friends very wisely. First and foremost I want to make education for her is first. In my opinion guys are the jocks and girls are the brains of the world. Other guys have different opinions. There are some really, really smart guys in this world, but I just think the world revolves around women.
I want to make sure that she has all the tools that she needs to be successful. She understands the power of that she does have and will have as a young lady.
AE: What is the best piece of advice on fatherhood you got when you became a dad?
PP: There was so many pieces of advice that people want to give you especially when you are young and you are having your first child. The best piece of advice was what I had gotten from a couple of teammates. I had the opportunity to watch my siblings grow. So I have been around kids. I understand the importance of teaching them right from wrong.
The biggest thing is that this time is very pivotal for because I had her during the season in November. I was still running around with practice and getting treatment. The best advice that I have received from my teammates is just watch her grow in the offseason. When football starts back up again I am going to have to sleep in a separate bedroom because having me be at a tip top shape when I reach the field I will need to get my sleep.
Mommy gives me the permission to sleep in another room. I don't do that. I would rather sleep in a room with them. In the offseason just watch them grow because during the season you rarely get to see them. When we did have her in November she was fairly new. Every time that I came home she was asleep. The next thing that I knew was it was time for me to get into bed. I really never had that time to enjoy her, feed her and do certain things that I would like to with her. So this time of the year I will definitely watch her grow.
AE: What was going through your mind when you found out that you were going to be a dad?
PP: My wife and I were practicing for about a year and a half. I didn't realize getting pregnant is a job. It is very tough. (Both laugh.) When she first told me that she was pregnant I was getting ready for a golf trip. I was going on a golf trip with my boys to Carolina. She did her little deal on the stick. The stick gave us the positive sign. Immediately I dropped down to my knees and thanked the Lord.
We have been trying for so long. Having the Lord present you with that gift is unbelievable. That is a life that is growing inside another human being. Just seeing the process that it takes and the different stages the baby goes through each and every week. Developing the pigment of the skin and then the hair is coming in the next week. Seeing that process is just unbelievable. Once she told me I just dropped down on my knees and thanked the Man upstairs because it was definitely him who made this all possible.
AE: What is your favorite family thing that you like to do with your daughter?
PP: She is very talkative. She likes to coo a lot. She likes to coo with dad before she goes to sleep. When she is very stressed out or crying I am the only one that can put her down. If my wife is not nursing her she gives her to me. Immediately when I put her in my arms close to my chest and everything just stops.
AE: Do you have a favorite song that you like to sing to your daughter?
PP: A couple. My wife made this song up. I don't want to sing it. I will go back to a normal song. Smokey Robinson's Quiet Storm. I like to sing that to her.
Thanks to Old Spice for setting up time with Patrick Peterson. Go to oldspice.com and follow Patrick on twitter @RealPeterson21