Emmy-nominated writer and producer  is the creator and executive producer of Disney Junior's "Miles from Tomorrowland," an intergalactic animated series that follows the outer space voyages of young adventurer Miles and his family as they help connect the universe on behalf of the Tomorrowland Transit Authority.
An accomplished children's television writer, Paladino was most recently story editor and consulting producer on Disney Junior's "Henry Hugglemonster." Paladino developed and served as head writer and producer for Nickelodeon's "Ni Hao, Kai-lan." His additional writing credits include Disney Junior's acclaimed "Doc McStuffins," "Team Umizoomi," "Wonder Pets," "Winx Club," "Tickety Toc," "Blue's Clues" and "Sid the Science Kid." Paladino also wrote the theme song lyrics for "Henry Hugglemonster" and "Ni Hao, Kai-lan," among many songs for other series.
Paladino has also worked on a number of arts education projects, including teaching Shakespeare and acting in public schools and prisons. An award-winning film director, his most recent documentary feature, "Throw Down Your Heart," about American banjo virtuoso Béla Fleck, won the Audience Award at the South by Southwest Film Festival, Best Music Documentary at AFI Docs and the Audience Award at the Vancouver International Film Festival. In addition, Paladino has created a variety of documentary shorts that have garnered accolades at Woodstock Film Festival, Newport Beach Film Festival and Mill Valley Film Festival.
A New York City native, Paladino is a graduate of The High School of Performing Arts (aka the "Fame" school) and Wesleyan University. He recently spent two years living and working in Ireland, and currently resides in Los Angeles with his wife, author Erin Torneo, and their five-year-old twin boys.
Tommy Riles and I got to chat with Sascha about his new show, the process of getting the show from an idea to on TV, and fatherhood.
Art Eddy: You are the creator of the new animated show called "Miles from Tomorrowland." We have heard that you came up with the initial concept for the series just a few months after the birth of your twin sons. What was it about the birth of your sons that triggered ideas for this show?
Sascha Paladino: I think the biggest aspect about my sons being born was the fact that I had a total freak out. (All laugh.) I realized that I was going to be a dad and not only that, I was going to have two kids at once. I lost it. I was like my life is over. How is this going to work? What am I going to do?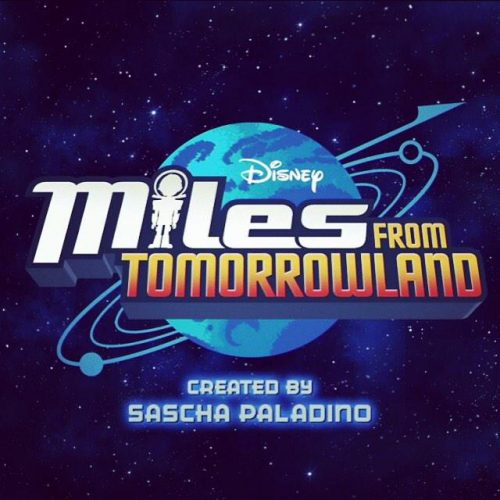 Before we had our kids my wife and I traveled a lot. We had a lot of adventures. We were all over the world. The first thing I thought of was that I am never going to have another adventure again. It is all over. I know that it is a horrible thing to say. It is true. Soon it turned into joy and happiness and of course they are awesome.
Yet that initial impulse led me to think about what is the best adventure you could have as a family. I started daydreaming. My mind went to outer space just because it often does. I have always been obsessed with outer space. That's what led to this show, "Miles from Tomorrowland." It is just the idea of the greatest adventures you could have with your family would be out in outer space and going on missions with them. That is what the show is about.
Tommy Riles: Your sons are now five years old. Do they help you out now with ideas for the show?
SP: Oh yeah. They are great. My sons just turned five. Their names are Cole and Gianluca. It is kind of amazing since they were three months old when I pitched the show. Now that it is airing they are five. So it tells you how long it takes to get a show on the air and made. It has been quite a journey. They have grown up with Miles.
A lot of their personalities are in the show. Miles is kind of a creative thinker, out of the box and looking at things from a strange angle. My son Cole is just like that. He will take the box of LEGO's and make the craziest shape that you can imagine. Whereas my son Gianluca, he is much more of a scientific thinker. He will follow the LEGO directions exactly. That personality I put into Miles' sister, Loretta. One way of thinking isn't better than the other. They kind of complement each other. So it was a nice balance to have those personalities come out in the show.
Miles is our hero, but Miles and Loretta are siblings. They work together, but they also argue. That is something that is in my family. As in many families siblings don't always get along. They are family. That creates a deep and very meaningful bond. Hopefully what is special about the show is that the family is on these missions together. That makes the missions even more meaningful since they are on them together. The mom is the captain. The dad is the pilot. They all each have a job to do and they do it well because they are a family.
AE: I love that cast you guys put together for "Miles from Tomorrowland." You have the great Tom Kenny as Miles' dad. You have Olivia Munn playing Miles' mom. Tell us how you put this cast together.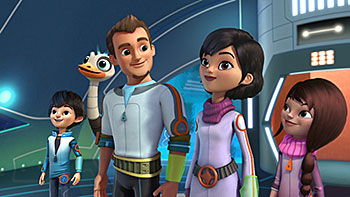 SP: We were really lucky to have such an amazing cast. Tom Kenny as you know is the voice of Sponge Bob and three thousand other characters. He plays the dad. I had worked with him on another show called "Henry Hugglemonster," where he also plays a dad. He is my go to dad. He is just an amazing guy. He really has a lot of this character Leo in him. He is a solid guy. He is a good dad. He is kind of laid back. He is not a guy that gets stressed out. That is what I wanted for Miles' father. He is a surfer. Back on Earth he surfed. Now in outer space he still likes going surfing. Tom was just perfect for it.
The added bonus with Tom is that he can play aliens as well. We have a lot of aliens that come up later in this season. He has the craziest voices you can imagine. We were working on an episode and we were watching a scene. I realized that he was voicing four different characters in that scene. You would not know it. The voices are so different. He is just on a whole other level. So that is amazing.
Then the mom, Phoebe is the captain of the ship. She is kind of the captain of the family. I think it is a good description for moms. They keep the ship running. We were just really lucky that Olivia Munn was really interested in doing an animated voice. She has been in the sci-fi scene being on G4. So she already had this sci-fi, geek, tech cred so to speak. She is just an awesome actress and a really nice person. All of that has gone into her character.
We also are really lucky to have other sci-fi related voice actors. Mark Hamill is doing a voice. George Takei from "Star Trek." Wil Wheaton from "Next Generation." So it is really great to feel like we have the DNA of "Star Trek" and "Star Wars" in our show. Those shows were so important to me growing up. Even if the kids might not get it hopefully the parents will catch that in the credits and some of the Force will be with us. We can only hope.
TR: Can you tell us the process from start to finish on creating a show?
SP: Sure. I went into Disney Junior with just a written pitch. There was no artwork. It was just an idea of a family in outer space working together on missions. That was all I had. I can't draw. That has never been my strong suit. I have worked as a writer in television for a while.
What I went into was really the concept and the characters. Not a lot has changed since then. When Disney Junior said that they were interested that was when we would go in on developing the show together. The next step was writing the pilot, which I did over the next year or so. Once we had a pilot script that everyone liked, it was then on to be greenlit to be produced.
We had a bunch of different artists do tests. They came up with what Miles and his family might look like. We found one that was really quirky. It felt really different from what we have seen before. After that we had to search for an animation studio that would be able to pull it off. We found a great studio called Wild Canary here in Burbank. I think of it as you are building your fantasy football team. You are getting the best players you can as you go. Hopefully by the end you have this awesome team. Luckily that is what happened.
That whole process from pitching it to making the pilot to green lighting it took three years. Producing it and actually starting to work on the show to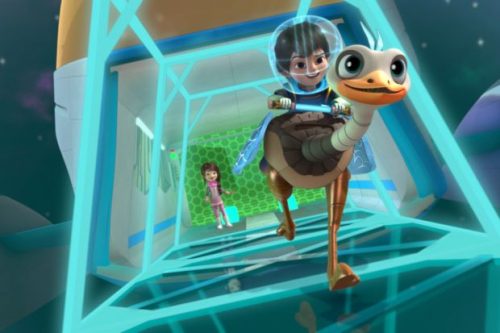 where it will air now took another two years.
AE: Parents are always looking for good shows that they can feel good about for their children to watch. What do you want parents to know about this show?
SP: That is a great question. I want parents to know that it is a solid, nutritional meal for your kids, but it has also got a lot of fun too. There are science elements. We have NASA consultants who help us. It is pretty amazing on how to figure out how things work in outer space. There is one science fact per show.
Really the emphasis is on the storytelling. It is about telling good stories with great characters. I think of each episode as a mini action movie. I would say that is how Miles thinks of it too. Miles sees himself as an action hero in his own movie every day. Every day is a new action sequence for him.
What I really wanted to do with this show is get that feeling across. I hope that kids get those both things. That feeling of being immersed in that exciting story and also getting some science out of it. Another important thing is the idea of family. That is the glue that holds it all together. The heart of the show is really the family's relationship.
TR: Switching to fatherhood now, how did you balance work and family?
SP: That is a great question. It is challenging. I bring my boys to preschool in the morning. Then I head straight to work. I am usually at work until seven or eight, if I am lucky. It puts a lot on my wife to do dinner and get them ready at night. It is hard.
I don't know if there is a perfect balance. I feel lucky that I have a job where I get to show things that I am working on to my kids. Sometimes they get to come into the office and draw on the computer screens and help the artists. Well not really help them, but you know think that they are helping them. I feel lucky that I am able to include my kids in my work. I know that it is not always the case.
The most important thing to me is when I go home at night and then on the weekends that I turn off the computer and turn off the phone. I know that it is hard to do when everyone is asking you questions and needs something from you. It is just so clear when you don't give your kids the full attention. When you are at dinner and an email comes in. You check it. They know that you are not there one hundred percent. I have done that. They are like dad why are you not looking at me? It breaks my heart. I am hoping that this show works and it is successful and a lot of kids connect with it. If I can't connect with my own kids then why am I doing it? It is trying to find that right balance.
AE: What are some of the morals you look to instill in your children as they grow up?
SP: That is something that I have thought about a lot. I am lucky because I get to think about that every day when I am coming up with stories for the show. The one thing that is important to me is the idea of being open to other cultures. Being really open minded about meeting different kinds of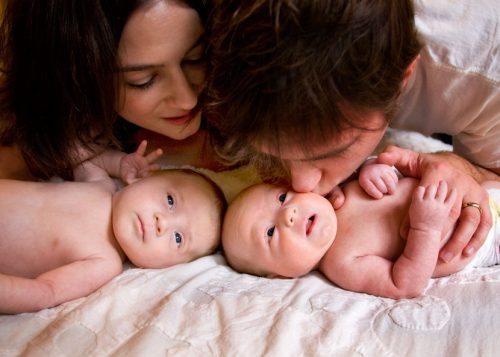 different people. People who are different than us.
That is something that I have tried to work on in the show. The idea that Miles and his family are on this intergalactic adventure. They are making contact with other alien cultures that are really different from them. How do you do that? They might not all be as open as you are. What is the best way to navigate that? So that is something that is really important to me and how my kids are developing. I am trying to work that into the show as well.
TR: What advice do you have for new dads out there?
SP: I would say don't freak out like I did if they can. (All laugh.) It probably doesn't matter because I am sure that there is a lot of freaking out that is happening. I would say that it is important to make sure that you have a good balance of time for yourself and time for you and your partner to be together so that it is not all about the kid. I think that you are a better parent when you can step away for a little while from your kid. Then you can go back and be a hundred percent there.
Life of Dad Quick Five
AE: What is your favorite family movie you guys like to watch together?
SP: "Nightmare before Christmas."
AE: Do you guys have a favorite song that you all like to sing and dance to as a family?
SP: Well, they hear the "Miles from Tomorrowland" theme song a lot. They have probably heard it about 700 times so that has to be their favorite song. They don't have a choice. (All laugh.)
AE: Describe the perfect family vacation.
SP: The perfect family vacation would be going to a faraway place that has a new culture and exploring that new culture together.
AE: What was your favorite cartoon when you were growing up?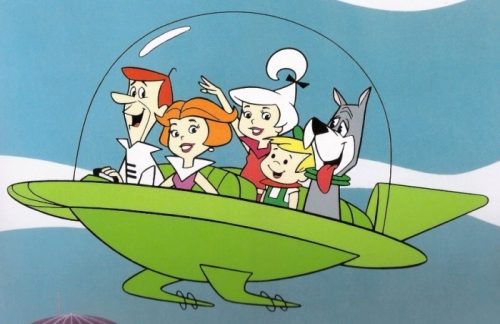 SP: My favorite cartoon was probably "The Jetsons," which won't come as a surprise.
AE: Ever think about using your voice for an animated series?
SP: I would love to. I actually went to a high school for performing arts. So I did study acting when I was a kid. I have done one voice on a cartoon. The first show that I did was on "Blue's Clues." I actually played a nurse. I played a male nurse named Nurse Kenny. That is my one voice over claim to fame.
Follow Sascha on Twitter @saschapaladino
Check out the "Miles from Tomorrowland" homepage HERE!