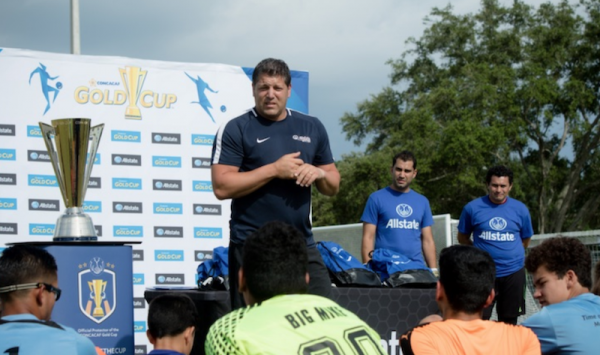 Right before the first US Men's National Team's match of the 2019 Concacaf Gold Cup Tony Meola sat down with me to talk about him teaming up with Allstate once again for the Day of Play. Meola, a former member of the Gold Cup winning U.S. squad chats with me about the state of soccer in the United States and why he likes working with Allstate for this great campaign.
Ahead of select Gold Cup matches this year including St. Paul, Allstate is working with athletes like Meola and other local cities to designate a "Day for Play" that celebrates the county's shared love for soccer. The Allstate Day for Play will encourage fans of soccer in St. Paul to get outdoors and celebrate their passion for the sport through fun activities including shooting on goal against Meola, taking photos with the Gold Cup trophy and exchanging old worn out soccer balls for new ones, courtesy of Allstate. Fans will have an opportunity to meet Meola while they play soccer with him and snap a photo with him and the trophy.
Talking to Tony one of the biggest things he enjoys from this campaign is hosting a soccer ball exchange where people can trade in an old or worn out soccer ball for a new one. All used soccer balls collected on-site will be recycled as part of the community initiative.
About the event Tony says, "This day of play is essentially a day to celebrate and to enjoy playing the game. This is your day. Just enjoy the game and be around people who enjoy the game. We will be doing this throughout the whole Gold Cup. We got a lot of things going on during this event. One of the cool things is and I love giving things away in the community is a soccer ball exchange program. People can come and bring in their old soccer balls and exchange for a new one. We have been doing things like this with Allstate for years. It is a great opportunity to be around people who love the game of soccer."
This is Allstate's third time sponsoring the biennial tournament, continuing the company's long-time dedication to protecting the future of the game and its passionate fanbase.
Allstate will host official "Day for Play" events in the following cities:
Monday, June 17 – St. Paul, Minn. (Lower Mall Minnesota State Capitol, 11 a.m. – 2 p.m. CT)
Friday, June 21 – Charlotte, N.C. (NASCAR Hall of Fame Plaza, 11 a.m. – 2 p.m. ET)
Tuesday, June 25 – Kansas City, Mo. (Power & Light District, 11 a.m. – 2 p.m. CT)
Friday, June 28 – Philadelphia, Pa. (Cherry Street Pier, 11 a.m. – 2 p.m. ET)
Wednesday, July 3 – Nashville, Tenn. (Walk of Fame Park, 12 – 5 p.m. CT)
Saturday, July 6 – Chicago, Ill. (Maggie Daley Park, 11 a.m. – 2 p.m. CT)
Make sure you download The Life of Dad Show podcast for my interview with Tony Meola and other great dads like Pete Holmes and Walter Jones.